What COVID-19 Underscores About How Broadband Connectivity Affects Educational Attainment
Johannes Bauer of the Quello Center for Media & Information Policy discusses what leaders can do to prepare for long-term remote learning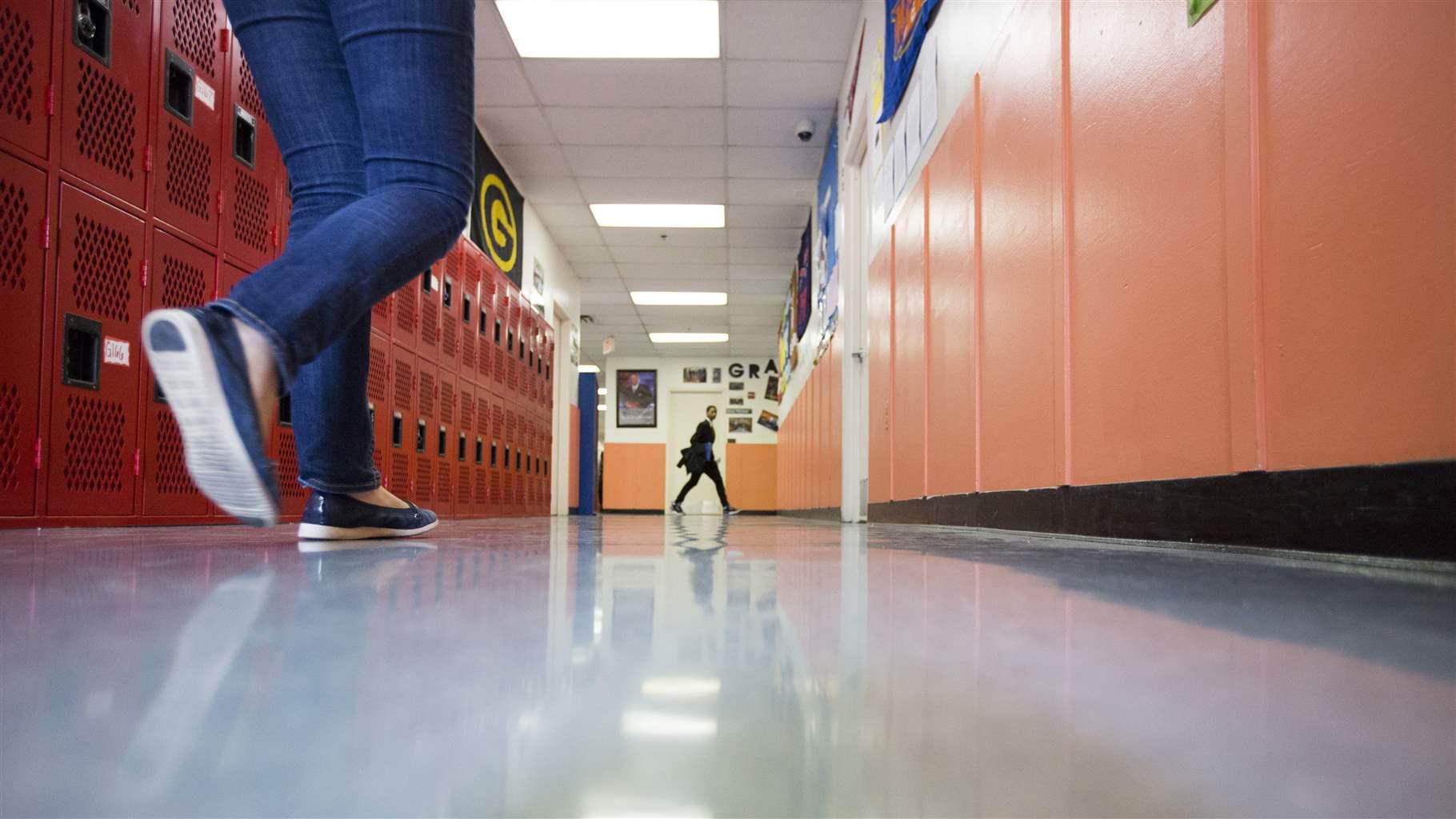 The COVID-19 pandemic has increased attention on the crucial role that high-speed internet access plays in American life. In a time of social distancing, people need broadband to work from home, access health care services, apply for public assistance, order groceries or prescriptions—and connect with classrooms.
To learn more about how broadband access is affecting K-12 education, The Pew Charitable Trusts recently spoke with Johannes Bauer, director of the James H. and Mary B. Quello Center for Media and Information Policy at Michigan State University.
This interview has been edited for clarity and length.
Q. Tell us about your research on what has become known as "the homework gap" between students who do and don't have high-speed internet access.
A. Our research is based on a survey conducted in May and June of 2019—before the pandemic—of 3,258 students in grades 8-11 in 25 Michigan school districts. Fifty-six percent of the students in the sample reported having fast broadband access at home, 23% slow internet, and 14% only cellphone access. And 7% said they had no internet access at all.
Q. Was there a geographic difference?
A. Forty-seven percent of students living in rural areas and 59.9% of students living in small towns reported having fast internet access. In comparison, 70.3% of students living in cities and 76.7% of students living in suburbs said they had fast internet access at home.
Q. What does this mean for students who said they had no internet access at home?
A. Sixty-four percent of students with no home internet access said they often or sometimes left their homework unfinished because they lacked internet access or a computer.
Q. And those who do have home internet access?
A. Almost half—49%— of those who relied on cellphones, 39% with slow home connections, and 17% of students with high-speed home internet access said they often or sometimes left their homework unfinished.
Q. Did you find that the lack of high-speed internet has an impact beyond getting homework done?
A. One of our key findings is that broadband access affects educational achievements indirectly and in combination with other factors. Even if we control for socioeconomic and other factors that might be in play, students with no home access, slow home access, or cell-only access had approximately half a letter grade lower overall GPAs than students with fast home internet access—essentially the difference between a B- and a B average.
And we found evidence that these disparities in home internet connectivity are associated with other educational achievement measures. For example, students with no internet access at home typically had lower digital skills, scoring about three points lower on a 64-point digital skills scale than those with either fast or slow internet at home. Those who had only a cellphone to access the internet scored four points lower, and performed lower on the SAT and the grades 8/9 and 10 versions of the preliminary SAT.
On the other hand, students who had higher digital skills performed significantly better on these standardized tests.
Q. Are there reasons why students need connections and the appropriate devices in their homes specifically, as opposed to accessing the internet on their phones or via hotspots?
A: Students engage in numerous activities and tasks online, from conducting research, working with peers on a project, watching and reading education materials, and checking grades. But they also use the internet to email teachers, message their classmates for help, and video chat with classmates to solve homework problems—and the data shows that students with fast internet access at home utilize these opportunities more regularly and more often than students without that access. Students with no internet access and students who rely on cellphones only use their online networks significantly less than students with fast internet access.
Our work suggests that home internet use helps students develop digital skills that aren't developed at school. For example, students with only cellphone access have lower internet and social media skills, lower rates of homework completion, and lower interest in school, which in turn are associated with lower grade point averages (GPAs) and standardized test scores. Measures such as loaning out notebooks and hotpots to students to use at home support these beneficial uses of technology. In contrast, installing Wi-Fi hotspots in school buses or using school buses to provide decentralized Wi-Fi access will likely be less effective, because these uses are time-limited and not fully comparable to home use.
Q. In some places, students have been engaged in online learning for several months now. What have we learned?
A: We've learned that we need to address connectivity and technology issues, pedagogy, and the social conditions in which learning takes place.
More specifically, we know that at the beginning of this online learning period, few schools and communities had the resources and preparation to adapt. This was exacerbated by a poor initial understanding of the virus and considerable discrepancies in how to respond effectively.
Over time, a diversity of approaches emerged across schools, school districts, states, and the country. Although it's too early to draw systematic conclusions, we can glean several early insights.
We know that a necessary precondition for K-12 students working remotely is to overcome the disparities in home internet and device access. A second step is to adapt the curriculum and pedagogy to take advantage of the increasing capabilities of online technology. We also need to increase the ability to quickly mobilize backup resources, such as emergency funding and a reserve of people trained to assist in providing educational support. Finally, many parents, even if they have the skills to help with online learning, can't afford to quit their jobs or work from home. So we need to find innovative solutions to address these socioeconomic inequalities.
Q. Are there efforts underway to address these issues?
A. Numerous stakeholders have responded; the engagement of private and public sector players, communities, and civil society groups has been encouraging and inspiring. Service providers have modified their service conditions temporarily, including expanding low-cost programs, eliminating data caps, not enforcing service termination, and waiving late fees. The Federal Communications Commission has relaxed rules around the E-Rate program, a federal effort that provides broadband to schools and libraries; this rule change allowed schools and libraries to support extending Wi-Fi access. Funding from the Coronavirus Aid, Relief, and Economic Security (CARES) Act has enabled many schools to purchase devices and hotspots. Additional philanthropic giving has provided funds for cities or school districts to procure internet access services for users. Some states, such as Utah or Connecticut, have coordinated statewide responses.
These activities are tremendously helpful, and they've accelerated the development of innovative approaches to overcoming digital inequalities. But it's not clear whether and how they'll scale to a long-term solution. For one, CARES funding won't be available on a recurring basis, and that potentially threatens the continuation of many of the initiatives.
Q. What do schools need to consider as next steps?
A: One important next step will be to discern which approaches have worked and which ones haven't.
Some schools developed programs to work with parents and caretakers to improve the effectiveness of online education. Affluent school districts purchased online teaching materials. Others coordinated the development of online teaching materials to free teachers to focus on working with students and caretakers. On the other hand, there are also examples of schools that required each teacher to develop their own materials.
Many of these measures helped alleviate the immediate negative impacts of the pandemic on schools. But sustainable forward-looking solutions will require more effective coordination between local, statewide, and national initiatives. And neither bottom-up nor top-down solutions alone can address the challenges before us; instead, we need all layers of the social and political system to address issues that they can address best.
Q: So you don't see broadband access for students as just a schools issue?
A: Broadband access doesn't just benefit K-12 education but communities at large. That means that schools and communities need to work together to develop solutions to the two interrelated barriers to universal broadband connectivity—the high costs of connecting some areas and the limited affordability of broadband service to some income groups.