Americans Want Federal Government to Make Sharing Electronic Health Data Easier
Survey shows clear majorities support better patient matching and access to records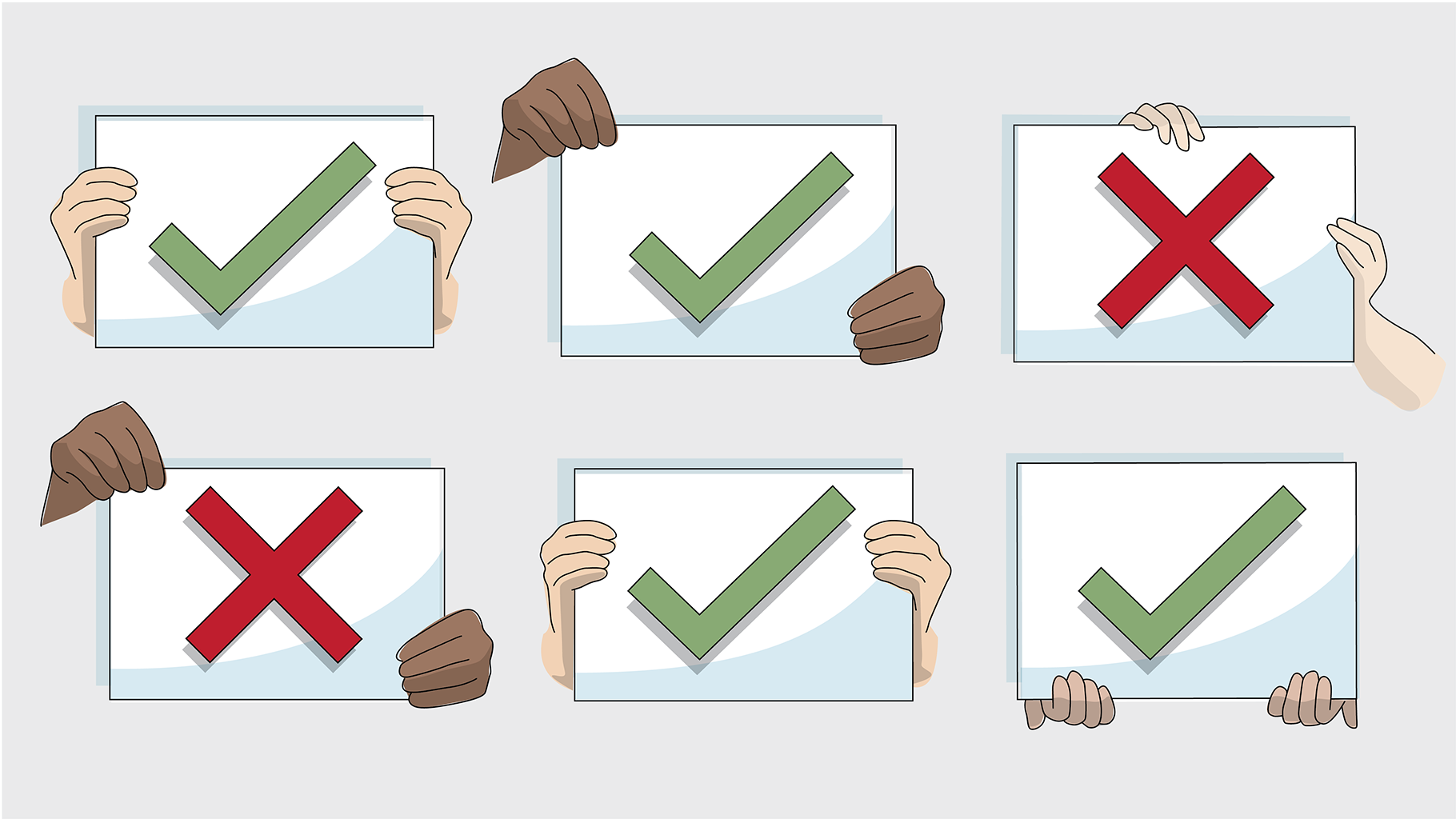 A survey released Sept. 16 shows that clear majorities of Americans support efforts to improve how their medical information is shared among doctors and clinicians, and that they want greater access to their own health data.
A majority said they are comfortable with the use of technologies such as smartphone applications to access their own electronic health records (EHR), but they voiced significant concerns about privacy when federal health data protections are not in place. Likewise, respondents expressed support for several methods to improve the accuracy of how their medical records are linked from place to place—including the use of biometrics like fingerprints.
The survey, commissioned by The Pew Charitable Trusts, included a nationally representative sample of 1,213 adults (ages 18+). It was conducted online and by phone between June 1 and July 3, 2020, with a margin of error of +/- 3.49%. Public Opinion Strategies and Hart Research Associates designed and administered the survey in conjunction with Pew. The survey was conducted using NORC at the University of Chicago's AmeriSpeak panel, a nationally representative, probability-based panel of the U.S. household population.
Here are a few key findings:
Patients want access to their health data
Sixty-one percent of adults said they would want to be able to download their records to applications on mobile devices to help them manage their own health. Although older respondents were slightly less likely to express interest, a majority of those between ages 56 and 74 (53%) still said they would like to download their records.
Recently released federal rules will make that easier, although some data will not be available in an easily accessible way. For example, the new federal rules don't require that images such as CT scans and X-rays be available for download, although 87% of respondents said they want to be able to electronically access these types of images in their EHR.
Despite a desire for their health records, respondents also indicated significant privacy concerns that policymakers would need to consider. When informed that their health information might not be covered by existing federal privacy laws—such as the Health Insurance Portability and Accountability Act (HIPAA)—once downloaded to an app, 9 out of 10 voiced at least some concern. To help address that, apps could be pre-approved by individual health care providers or independent certification boards; respondents expressed a clear preference for apps that had been pre-approved and strong discomfort for those with no third-party approval. However, this could introduce additional barriers to individuals accessing their data, as providers have previously expressed reservations about patient-facing apps.
Please indicate how comfortable you would feel downloading and storing your medical information and data on the different types of health apps that you select to use on your smart phone, computer or tablet with the specifications below.
| | Very comfortable | Somewhat comfortable | Not too comfortable | Not comfortable at all | Total comfortable | Total not comfortable | Refused/skipped |
| --- | --- | --- | --- | --- | --- | --- | --- |
| Apps pre-approved by doctors/hospitals | 27% | 49% | 14% | 9% | 76% | 23% | 1% |
| Apps pre-approved by independent board | 17% | 44% | 25% | 14% | 61% | 39% | NA |
| Apps not pre-approved | 4% | 11% | 28% | 56% | 15% | 84% | 1% |
Patients support allowing providers to share data
Most adults (81%) said they would support enabling different health care providers to share patient health record information between their EHR systems when they are caring for the same patient. Generally, respondents support sharing key information that federal interoperability policies don't currently prioritize. For example, more than two-thirds want their different doctors, hospitals, and other health care providers to share advanced care plans or end-of-life preferences, images, and family medical histories.
However, respondents expressed some concern with how certain information would be treated, such as any history of substance use, their behavioral health backgrounds, or details on social determinants of health such as income levels or access to food.
The survey highlights differences in how Americans perceive the documentation and sharing of data on various social determinants of health. Although 75% of all adults say they would be comfortable providing their own doctor with this information, less than half–48%–wanted that information shared among their providers. That includes 53% of White people and only 41% of non-White people. Previous Pew-led focus groups revealed concerns about sharing data on social determinants because participants felt they could be prejudged by their health care provider.
Broad support for allowing federal spending on patient matching
Respondents were also asked whether the federal government should be able to spend money on methods to better identify patients when they seek care, a hotly debated issue. With regards to patient matching—linking an individual's records held in one facility to those in another—74% said they support the federal government setting national standards to more accurately match up a patient's health records across multiple providers. In particular, two-thirds of respondents, including majorities of Democrats and Republicans, said the government should be allowed to spend money on methods to improve patient matching.
Do you think that the federal government should or should not be allowed to spend money on the development of new ways for health care providers to more accurately match up a patient's electronic health records across multiple health care providers? (Do you feel that way strongly or not-so-strongly?)
| Strongly should | Not-so-strongly should | Not-so-strongly should not | Strongly should not | Total should | Total should not | Don't know | Refused/skipped |
| --- | --- | --- | --- | --- | --- | --- | --- |
| 34% | 33% | 14% | 16% | 67% | 30% | 1% | 2% |
Up to this point, the federal government has been less supportive of such spending. Although Congress required the creation of a unique patient identifier—which could address poor matching rates—lawmakers have consistently included language in appropriations bills blocking any spending on developing or finalizing standards for such an approach for more than two decades. The U.S. House of Representatives voted to remove that prohibition in July, but the U.S. Senate has not followed suit.
When asked about several possible methods for improving patient matching, about two-thirds of respondents said they would be comfortable using fingerprint scans or a unique code or number assigned to each patient.
Listed below are some of the different ways being considered that would more accurately match up a patient's electronic health records across multiple health care providers. For each one, please indicate how comfortable you would be with your health care provider using it to match up your electronic health records across multiple health care providers.
| | Very comfortable | Total comfortable (sum of very and somewhat comfortable) | Total not comfortable (sum of very and somewhat uncomfortable) |
| --- | --- | --- | --- |
| Fingerprint scan | 32% | 65% | 34% |
| Unique number or code | 27% | 66% | 33% |
| Smartphone or app | 22% | 53% | 46% |
| Eye scan | 21% | 51% | 47% |
| Facial photos | 18% | 53% | 46% |
When asked which approach they would most like to see implemented, 54% selected a biometric option—such as fingerprints, iris scans, or using photos—as their first choice. However, non-White respondents were less likely to support such biometrics, with 50% of Hispanics and 41% of African Americans selecting a biometric as their first choice compared to 58% of White respondents.
The overall support for biometric options echoes the results of earlier focus groups. Still, as controversies around racial bias in the use of facial recognition technology have shown, questions about its effectiveness and implementation must be addressed. Pew is conducting further research on biometrics to understand how they work in other fields and what lessons could be learned for using them to support data exchange, maintain privacy, and promote equity in health care.
Attitudes in an environment changed by COVID-19
Respondents took the survey early this summer as the COVID-19 pandemic was unfolding. When asked whether the outbreak made them more or less likely to support efforts to improve data sharing, a plurality said the pandemic made them more likely to support enabling providers to share EHRs, but pluralities also said it did not have much of an impact on their views of improving patient matching or patients having greater access to their records.
Please select whether the coronavirus situation makes you more likely or less likely to support each of the following or if the coronavirus situation does not make a difference in your opinion of these things one way or the other.
| | More likely to support | Less likely to support | Does not make a difference | Refused/skipped |
| --- | --- | --- | --- | --- |
| Provider sharing of data | 46% | 11% | 42% | 1% |
| Patients downloading data to apps | 39% | 11% | 48% | 2% |
| Government standards to improve matching | 35% | 22% | 42% | 1% |
This survey shows that Americans recognize the importance of getting their own health data and sharing it with the clinicians that care for them. They want the government to make that process easier and more accurate—and to include more data than is being transmitted today. Recent federal rules that encourage sharing EHRs with patients are a first step, but future policies should focus on ensuring the right data goes where it's needed, while respecting and addressing privacy concerns.
Ben Moscovitch directs The Pew Charitable Trusts' health information technology initiative.