Antibiotic Resistance Is Not Theoretical: It's Here and Getting Worse
Leader of global research nonprofit discusses urgent need for new treatments as superbug threat grows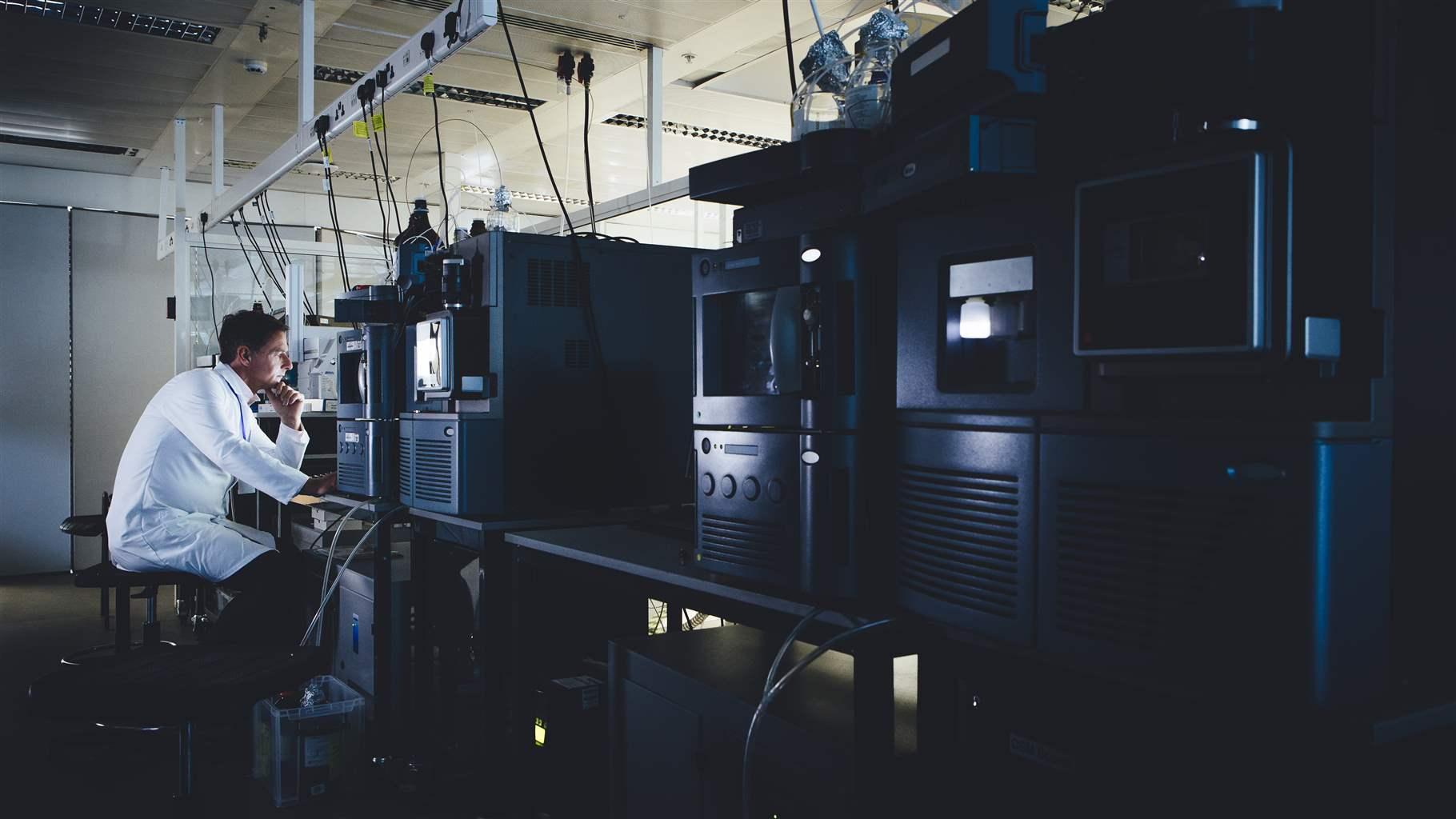 Doctors around the world are increasingly seeing patients with antibiotic-resistant infections, but the task of finding effective treatments to keep up with rapidly evolving superbugs is made more difficult by the economic challenges facing pharmaceutical companies seeking to develop new antibiotics.
Dr. Manica Balasegaram serves as executive director of the Global Antibiotic Research & Development Partnership (GARDP), a not-for-profit organization based in Geneva focused on developing new treatments to counter the emergence of dangerous drug-resistant bacteria. Over the course of his career, he has focused on clinical and public health practices in infectious diseases.
Balasegaram recently spoke with Pew about GARDP's work to stabilize and revitalize the antibiotic pipeline, the challenges antibiotic developers face, and what lessons can be applied from the COVID-19 pandemic to efforts to combat the superbugs that are increasingly resistant to antibiotics. This interview has been edited for clarity and length.
Q: Why was GARDP formed and how does the organization support development of new antibiotics?
A: We are a direct output of the World Health Organization's 2015 Global Action Plan on Antimicrobial Resistance. GARDP was established the following year to help achieve the objectives of that plan, with a focus on supporting development of new types of urgently needed antibiotic treatments and ensuring that they are available to everyone who needs them.
Development of and access to these treatments are both critical to addressing antimicrobial resistance. We must ensure it is economically viable to develop a new antibiotic and create a stable post-market ecosystem. That second part is essential to ensuring that vital new drugs remain available to patients and that the companies making them don't just survive but thrive—and are able to reinvest in urgently needed innovation.
We do this in different ways: providing funding for clinical development, connecting leaders from the public and private sectors to strengthen the search for novel antibiotics, advocating for policy change, and more.
Q: How can nonprofits such as GARDP help companies address antibiotic development challenges?
A: I see the ability to mobilize public-private partnerships as a key benefit that nonprofits can bring to the challenge of antibiotic development. This approach creates synergies, mitigates risk, and maximizes our collective chances of success.
Let me give you a couple of examples: Over the past few years, as three Japanese pharmaceutical companies were reflecting on how to re-engage in antibiotic research and development, GARDP went to them and said, "Hey, you guys have something of huge value: your chemical libraries." We proposed that, rather than abandon their antibiotic resources or leave them locked away in the company archives, they let us screen their libraries as part of a broader joint effort to find promising drug candidates. This approach was a win-win. It offered the possibility of new insights that can benefit public health with minimal risk or cost to the companies, which, if we're successful, will have a promising candidate that they didn't have before.
We also partner with small companies in antibiotic research, especially those entering clinical development. GARDP identifies opportunities for joint ventures and public-private partnerships where we can provide a public health perspective, technical expertise, and help that accelerate aspects of development where possible. This type of partnership is greatly needed and highly valuable to the small, often resource-strapped companies that dominate antibiotic development today.
Q: What more needs to be done to stabilize and revitalize the antibiotic pipeline?
A: There have been a lot of important advances in just the past several years since the inception of GARDP. Investments from governments, creation of initiatives like CARB-X, more information and knowledge sharing, and greater attention to and recognition of the problem we're facing. But there's still a lot of work to do from beginning to end of what GARDP calls the "public health pathway." This ranges from generating the right evidence to better understand and demonstrate the added value of novel drugs to finding new ways to pay for antibiotics that more accurately reflect their worth to global health and sustaining modern medicine as we know it. We need to think of the fight to revitalize the antibiotic pipeline as a generational project, but there is no quick fix or magic solution. We need to remain committed to the hard work of catching up in the race against bacteria that are rapidly becoming resistant.
Q: What do you wish policymakers better understood about the search for new antibiotics?
A: Policymakers need a better understanding of how antibiotics are procured and paid for and why the current system is not working. The landscape today is quite perilous for antibiotic developers. Even after companies overcome the many barriers to finding a new antibiotic and getting it to market, they may still fall right off a cliff.
Developing new, innovative antibiotics is scientifically difficult and very resource-intensive. But sales are typically low—in part because of public health considerations, which require us to hold new antibiotics in reserve to help preserve their effectiveness. As a result, companies are increasingly unable to recoup their investments, leading most major pharmaceutical companies to abandon antibiotic research and development. And the remaining small companies struggle to sustain their operations. Last year's bankruptcy filing by San Francisco-based Achaogen is a perfect example of this and the catastrophic problem we face.
Although no single sector can solve the challenges of antibiotic resistance, governments are uniquely positioned to address this piece of the problem. For example, the UK has set an important new precedent with its subscription-style approach, in which antibiotics are paid for based on their public health value, not the quantity used. Ultimately, we need a system in which companies say, "This new antibiotic is not going to be a blockbuster, but it's interesting enough for us to invest in."
Q: What impact, if any, has the COVID-19 pandemic had on development of GARDP's portfolio candidates?
A: Like a lot of research and development initiatives around the world, GARDP has had to pause efforts such as clinical trial recruitment. There already have been, and will undoubtedly continue to be, delays, and the global antibiotic pipeline is going to be in an even more difficult situation as a result.
Q: What lessons can we learn from the pandemic as we work to prevent antibiotic resistance from becoming another public health crisis?
A: What COVID-19 clearly shows us is that the world can mobilize and do what's needed when a crisis hits. That is encouraging. But COVID-19 has also taught us that it is much preferable to prepare in advance rather than waiting until we're in crisis mode. For a significantly smaller investment now, we can prevent a much bigger problem down the line.
This is not theoretical. Antibiotic resistance is very real. It's a slower burn than COVID-19, but the threat of resistant bacteria is magnifying, and we know it's coming.
Going forward, we must think of the fight against superbugs as an essential part of pandemic preparedness. I hope that COVID-19 has created a greater sense of urgency to act now. If we do, we'll save lives and save money.