Florida Algae Blooms May Harm Places Where Fish Find Food
Scientist dissects effects of seagrass loss on prey and predators in the Indian River Lagoon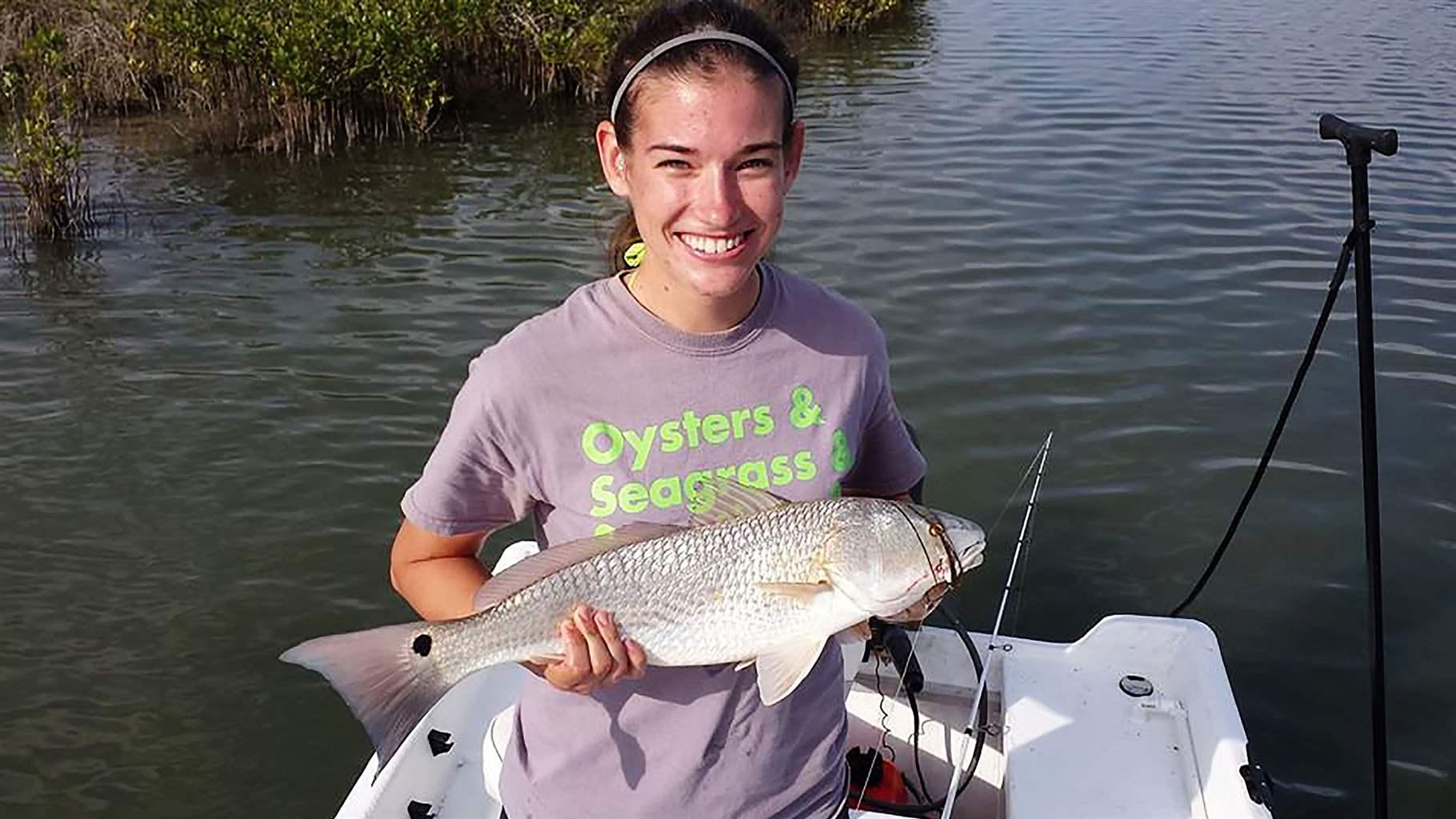 The Indian River Lagoon in east Central Florida is one of the most biodiverse estuaries in North America—home to more than 4,300 species of plants and animals, including manatees, dolphins, roseate spoonbills, tarpon, and red drum.
The 156-mile-long lagoon covers 40% of the state's east coast and draws tourists from around the world, many of whom come to fish. But in recent years, harmful algal blooms fueled by nitrogen pollution have taken a toll on this ecosystem and its resident wildlife. One of the worst blooms, in 2011, wiped out 32,000 acres of seagrass.
That catastrophic event captured the attention of Michelle Shaffer, a University of Central Florida Ph.D. student in integrative biology who is analyzing the effects of seagrass loss in the Indian River Lagoon on predator fish and their forage fish prey.
She's found that in some places, populations of predator and prey fish have decreased since the decline of seagrass habitat in 2011. Seagrass hosts varieties of small prey fish, such as pinfish and mullet, also called forage fish. Larger fish such as snook and spotted seatrout visit the grasses to shelter, breed, and eat forage fish.
Shaffer, 29, is also documenting the dietary needs of some of the larger predator fish and which of their prey depend upon seagrass. This research will help identify important foraging linkages between seagrass habitat and large predator fish, many of which are highly sought by recreational anglers.
The Florida native is creating an interactive mapping tool that will help the public and fishery managers track the abundance of predator and prey and how that correlates with seagrass coverage over time. Such data will help inform management decisions and allow the public to better understand how science can illuminate the workings of the lagoon, which contributes $7.6 billion to the state's economy through jobs and activities such as fishing, boating, and other water-related activities.
"My eyes are open to how much we can do with these computer tools now," says Shaffer, the daughter of a computer scientist and computer-aided design technician. "We can see how this all fits together."
Her work is part of the Forage Fish Research Program, which awards annual fellowships to students to improve knowledge of the roles of forage fish in Florida's marine ecosystems. The program is a partnership among leading academics, scientists from the Florida Fish and Wildlife Research Institute, and the Florida Forage Fish Coalition, which is led by the International Game Fish Association and includes The Pew Charitable Trusts, the Florida Wildlife Federation, the Angler Action Foundation, Wild Oceans, and the American Sportfishing Association.
Shaffer believes that her project will help put the public and scientists on the same page by providing information about the lagoon in a format that appeals to both audiences. That could improve communication between these groups, giving them a better chance at finding long-term solutions for the lagoon's continuing pollution and algae bloom problems.
"There are conflicting values and perspectives within the Indian River Lagoon that often drive a wedge between scientists and the public," says Shaffer, who hopes to pursue a career in government research and science communications. "We need to bridge gaps in information between scientists and the public and break down the barriers we've built. You have to communicate differently to find solutions."
Holly Binns directs The Pew Charitable Trusts' conserving marine life in the United States program in the Gulf of Mexico and U.S. Caribbean.