New Bill Seeks to Protect Lands and Rivers Across California
Bill would improve access for many communities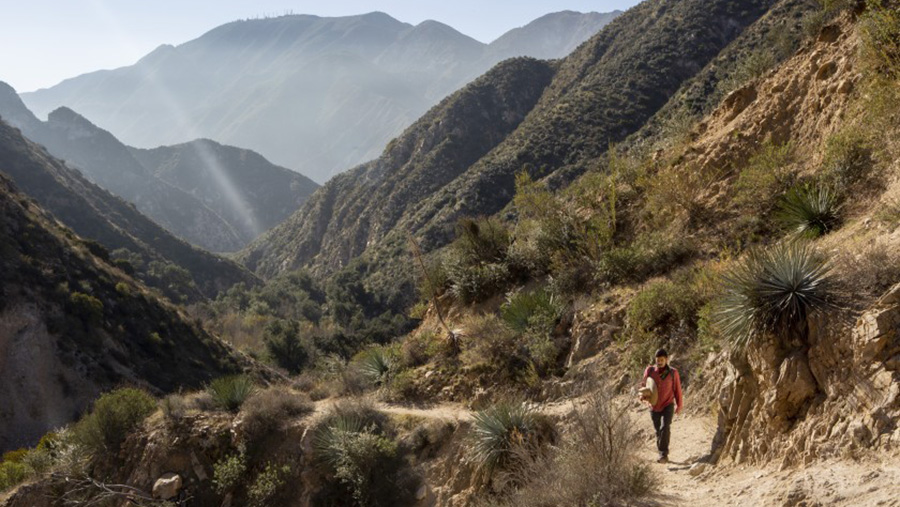 The coronavirus pandemic has reminded us all how much we value getting outdoors to walk, bike, picnic, or bird-watch. Yet even in the best of times, not all people have equal access to recreational areas. In California, for example, some communities are underserved because nearby open spaces are unprotected and inaccessible. But that may be changing with a trio of bills that would help to safeguard mountains, forests, and rivers in the state while ensuring that more people have opportunities to experience these resources.
For years, communities have been working to protect and secure public access to more than 1 million acres of lands and some 500 miles of rivers in the San Gabriel Mountains near Los Angeles, the Los Padres National Forest and Carrizo Plain National Monument along California's Central Coast, and key forests in northwestern California. On Feb. 12, measures to safeguard these three regions passed the U.S. House, sponsored by California Representatives Judy Chu (D), Salud Carbajal (D), and Jared Huffman (D). Later that day, California Senators Kamala Harris (D) and Dianne Feinstein (D) combined these efforts into one piece of legislation: the Protecting Unique and Beautiful Landscapes by Investing in California (PUBLIC) Lands Act (S. 3288).
Opportunities to get outdoors—whether through hiking, fishing, hunting, climbing, boating, or other types of recreation—are vital for public health. However, access to protected lands and rivers remains limited for many people in California, including some economically disadvantaged populations and communities of color. The heavily developed Los Angeles area is also one of the country's most under-resourced for parks, with the San Gabriel mountains providing 70% of its open space. As Rep. Chu noted, "Having such beautiful rivers, forests, and mountain trails so close to the density of Los Angeles is a true gift, especially for the millions who have little to no access to parks or any green space."
The rivers that flow through the mountains are also a critical drinking water source for communities, and the PUBLIC Lands Act would ensure protection of these important natural resources. Through expansion of the San Gabriel Mountains National Monument by over 109,000 acres, creation of a new national recreation area, and designation of wilderness and wild and scenic rivers, the act also would invest in equitable access in the Los Angeles region.
Along California's Central Coast, the PUBLIC Lands Act would protect wild lands and rivers and designate the new 400-mile Condor National Recreation Trail in the Los Padres National Forest and Carrizo Plain National Monument. As Graciela Cabello of Los Padres ForestWatch, a regional conservation group, wrote of the additional land protection in a recent commentary: "Many of these lands are near developed communities with less access to green space, and are more accessible than national parks in the region. That's incredibly important to all communities but especially under-resourced families."
Designating the Condor Trail would create new opportunities for residents and visitors to access the Los Padres by connecting the northern and southern portions of the forest through a single hiking route. The legislation would also help conserve the headwaters of rivers that provide drinking water to communities in Ventura, Santa Barbara, and San Luis Obispo counties. A recent proposal from the U.S. Forest Service would remove important old-growth forest and chaparral, demonstrating the urgency to pass permanent protections for this proposed wilderness area, which is also significant for the Chumash culture, ecological resiliency, and recreation.
Northwestern California's woodlands, wildlife, and clean water are essential to the region's well-being. The PUBLIC Lands Act would protect wilderness and 379 miles of new wild and scenic rivers and designate over 700,000 acres of forests to be managed to reduce the risk of wildfire and increase community safety, and to improve resilience to climate change. The bill would also authorize construction of over 295 miles of new trails, increasing recreation opportunities in rural areas where residents currently lack quality access. The bill also calls for a study of the feasibility of a Bigfoot National Recreation Trail to help visitors explore the area's world-renowned botanical and biological diversity.
Protected public lands and waters also help make nearby communities more desirable—often resulting in additional jobs and business opportunities in recreation, tourism, and local service industries—and increase property values. According to the Outdoor Industry Association, California's outdoor recreation economy generated $92 billion in consumer spending and 691,000 million jobs before the COVID-19 pandemic. By investing in public land and river protections throughout the state, the PUBLIC Lands Act would support an important economic engine for the local and state economies as California seeks to recover from the economic downturn. Additionally, the legislation would provide jobs in restoration, fuel reduction, and trail construction to help people get back to work in northwestern California.
The Pew Charitable Trusts has long supported the conservation of California's public lands and waters and looks forward to further Senate action this year to ensure that they are protected for future generations.
John Seebach is a project director and Jackie Feinberg is a principal associate with The Pew Charitable Trusts' U.S. public lands and rivers conservation project.