Resilience Hubs Can Help Communities Thrive—and Better Weather Disasters
Baltimore and Minneapolis among cities trying new approach to better coordinate critical services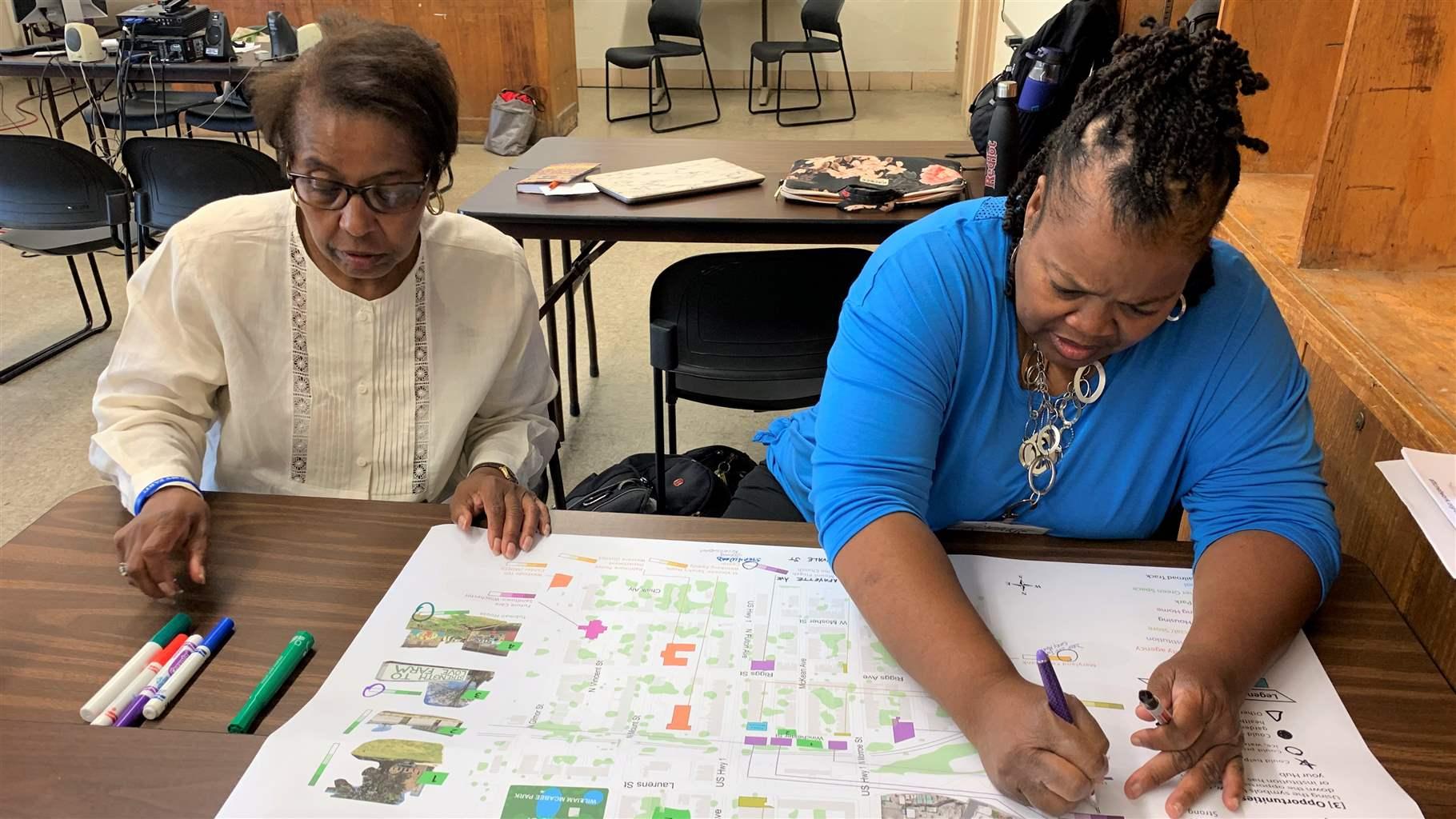 Communities can be more resilient in responding to natural and other disasters if they put in place mechanisms to boost local capacity to recover, rebuild, and ultimately thrive. Baltimore and Minneapolis, for example, are among the cities now using or exploring what are known as resilience hubs to address gaps in services or resources in certain communities—both during and between disasters such as hurricanes, pandemics, or floods.
Created as partnerships between local governments and nongovernmental organizations, resilience hubs are typically housed in trusted, community-managed facilities, such as a church or civic center. The hubs are designed to strengthen relationships between governments and the people they serve, shift power to local residents to identify and drive solutions, and, longer term, address the existing health inequities that disasters highlight and exacerbate.
Success in weathering the health impact of disasters depends on a community's ability to design and lead approaches that best meet its needs. Research indicates that social, economic, and community conditions affect health as well as the quality and length of people's lives. Strong evidence collected by the federal government and others shows persistent and long-standing disparities in health among different groups. African Americans, indigenous people, and other people of color, for example, experience worse outcomes than the population as a whole. The same is generally true for low-income and uninsured people.
Resilience hubs are neighborhood centers that are designed to coordinate culturally sensitive, multilingual services to better meet the needs of diverse groups of community members. In addition to the day-to-day benefits, hubs can provide a safe place for temporary shelter and relief during days of extreme heat, or operate as centers for distributing necessities such as food and multilingual information after disaster events such as floods. Year-round, they can offer space and programming for community-building efforts that increase resilience when emergencies occur.
City leaders in Baltimore collaborated with civic groups to originate the concept of resilience hubs in 2014 and were the first to put them in place. Other cities then expressed growing interest. In 2018, Minneapolis started to explore this approach to support community preparedness and sustainability. With funding in 2019 from the Health Impact Project, a collaboration of the Robert Wood Johnson Foundation and The Pew Charitable Trusts, both cities have used health-related data and engaged with community organizations to evaluate, improve, and refine the hub concept.
In Minneapolis, the city's Sustainability Office and two Health Department divisions—Emergency Preparedness and Environmental Services—have partnered with Little Earth of United Tribes, the only public housing community in the U.S. where Native Americans are given preference. A resilience hub typically refers to one building, but by engaging residents in preparedness trainings, applying infrastructure investments, and facilitating relationship-building activities, the city wants to apply the concept to the whole Little Earth community, helping residents to better meet their needs and prepare for disasters.
Using the grant, the city agencies and the Little Earth Residents Association (LERA) formally established mechanisms for communication and coordination in a disaster through a memorandum of understanding. City staff worked with the association to conduct workshops that engaged residents in emergency preparedness exercises. The grant also supported development of specifications for energy efficiency upgrades, which then informed installation of LED light bulbs, weather stripping, and high efficiency showerheads. In collaboration with LERA and renewable energy businesses and funders, Minneapolis initiated a feasibility study to look at installation of solar panels and battery backup to supply temporary electricity if the local power grid goes down during an emergency.
Meanwhile, Baltimore's Health Department and Office of Sustainability collaborated with hub leaders to expand and improve services at six existing hubs and select locations for three new ones in 2019. The city used quantitative and qualitative information to set its strategy. Surveys and workshops with neighborhood residents identified ways that hubs could improve, such as by increasing awareness of existing community assets, strengthening local partnerships, and broadening awareness of the hubs and the resources they can provide through these partnerships. City staff mapped climate, health, and demographic data to identify gaps in hub locations and inform site selection. The process highlighted three neighborhoods where new hubs could bring essential services closer to residents in need.
While this general approach shows promise, there are challenges. Staff turnover, funding, and limited resources in marginalized communities have all posed difficulties in maintaining and expanding hubs. At a convening in Washington, D.C., in March, officials from Minneapolis and Baltimore emphasized key factors that have contributed to hub success, including development of strong ties across agencies and sectors to help streamline research and assessment efforts.
Officials also stressed the importance of identifying additional community-based resources when working to improve hub services and operations. They said the hubs work best when there are strong relationships between city agencies and community networks led by residents. The hubs also benefit from detailed documentation that can help minimize disruptions caused by frequent government staff transitions, as well as well-designed strong engagement plans that include support services such as language translation, food, and child care, which all can help hard-to-reach populations overcome barriers to participation.
Miami; Washington, D.C.; San Francisco; and Vancouver also have put resilience hubs in place in recent years and more cities are likely to join them. If successful, resilience hubs could play an important role in ensuring that all people and communities have the resources they need to endure and recover from disasters and then thrive.
Bethany Rogerson is a senior manager and Mimi Majumdar Narayan is a principal associate with the Health Impact Project.