Mangrove Conservation Can Help Countries Meet Emissions Reduction Goals
New research highlights the economic and societal value of protecting coastal forests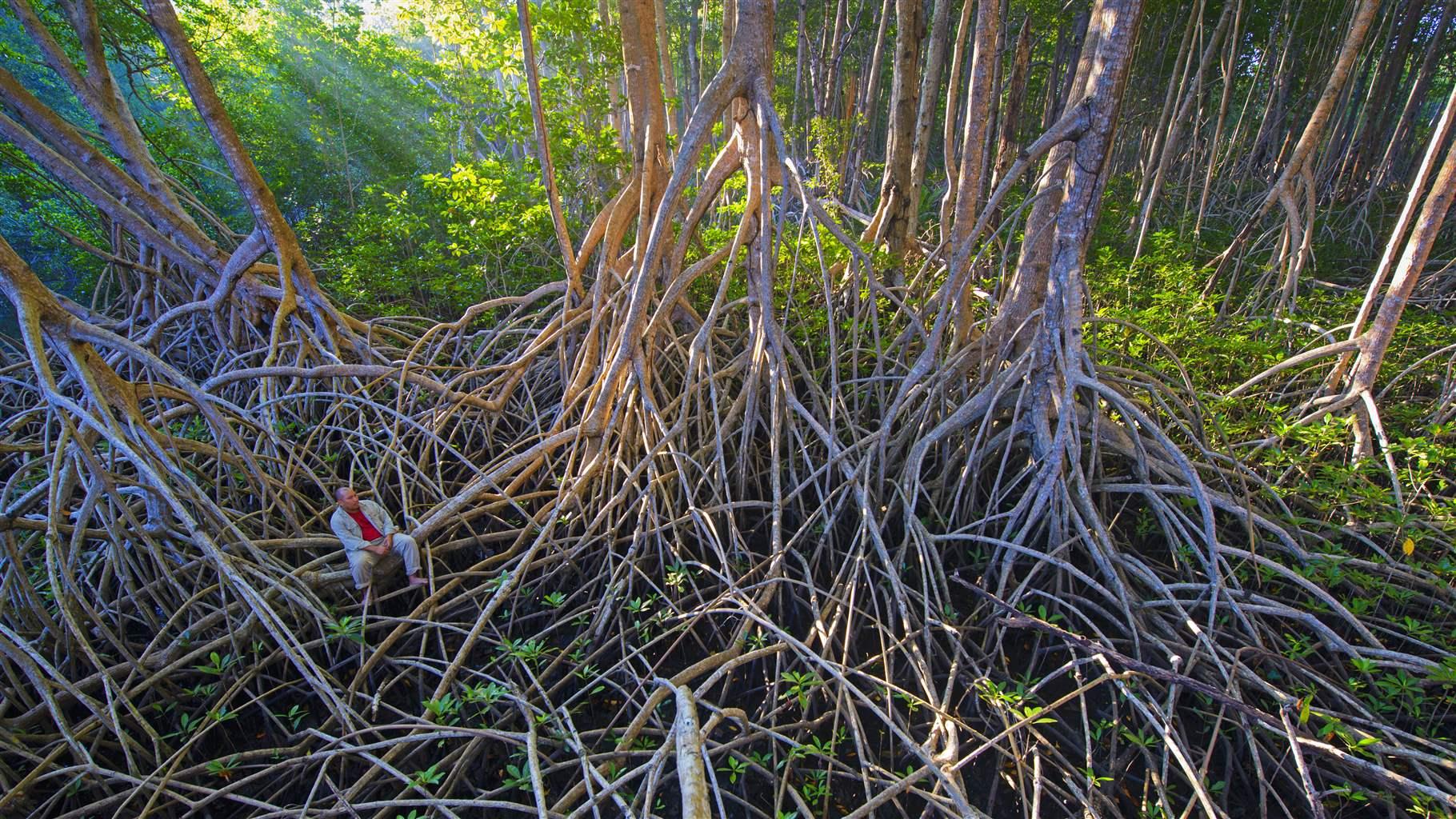 Protecting mangrove forests—one of the planet's most effective habitats for capturing and storing atmospheric carbon dioxide—could help countries meet their goals for reducing carbon emissions while providing other ecosystem benefits, according to new research.
A team of researchers, including 2018 Pew marine fellow Octavio Aburto-Oropeza, used Mexico as a case study to demonstrate how countries can use the carbon storage potential of their mangrove forests to estimate the climate-related costs of deforestation. This type of accounting, the team says in its article published in the peer-reviewed journal Ambio, can enable countries to make progress toward emissions reduction targets by conserving their coastal habitats. The research was led by Joy Kumagai at the Scripps Institution of Oceanography at the University of California, San Diego, where Aburto-Oropeza is an associate professor of marine biology.
Mexico is ranked fourth globally for total area of mangrove forests, which are found in more than 100 tropical and subtropical coastal countries. Unfortunately, Mexico is losing its mangrove habitats to human activities, including timber harvesting, pollution, and deforestation, to make room for shrimp aquaculture, palm oil plantations, and coastal development. Mexico has a well-developed system for monitoring its coastal habitats, making it a good location to study how local management efforts can connect to global carbon policies.
To better understand the value of Mexico's mangrove forests, the researchers first assessed the amount of carbon stored in these ecosystems, both above and below ground. Mangroves can sequester at least three times as much carbon as terrestrial tropical forests, with most of this organic material stored in the soil beneath the trees. When mangroves are deforested, these large carbon stocks can quickly begin to re-enter the atmosphere.
The researchers evaluated the carbon stocks for each of Mexico's coastal municipalities, or municipios, which are similar in size and function to U.S. counties. They then identified the deforestation rate of each municipio and estimated the amount of carbon that would be released by continued habitat destruction in these areas over the next 25 years. Based on these values, they estimated the costs of local deforestation—measured in terms of the damages from climate impacts such as coastal flooding and extreme weather events that could be avoided by maintaining mangroves in the area.
The team's results led them to prioritize certain municipios for mangrove conservation due to their relatively high risk of degradation and potential to benefit economically from conservation programs—such as those in which landowners are paid to manage mangrove forests and maintain their ability to sequester carbon. The researchers found that while current deforestation patterns are likely to produce carbon emissions that will cause nearly US$400 million in global damages over the next 25 years, further conservation efforts concentrated in just 26 of Mexico's 175 mangrove-containing municipios could prevent 50% of those costs.
To make this information more accessible to environmental managers and policymakers in Mexico, the researchers have also made their results available through an interactive web-based tool.
Aburto-Oropeza hopes that the research will inform future decision-making about how and where conservation resources are applied to maximize environmental and societal benefits, which extend well beyond carbon sequestration. As the authors wrote in their article, "If the costs of these programs are less than the projected damages, the benefits far outweigh the investment, as mangroves provide numerous other valuable ecosystem services."
The approach may also be useful to researchers and policymakers in other countries with significant mangrove forest cover. As Kumagai writes in the research paper, "By protecting their natural ecosystems, countries can mitigate emissions while increasing their adaptation capacity [and] taking an important step to secure a more sustainable future."
Polita Glynn is director and Nathan Fedrizzi is a senior associate with The Pew Charitable Trusts' Pew Fellows Program in Marine Conservation.