State Leaders Discuss How to Sustain Evidence-Based Policymaking Reform
Experts and stakeholders share ideas and challenges at Results First event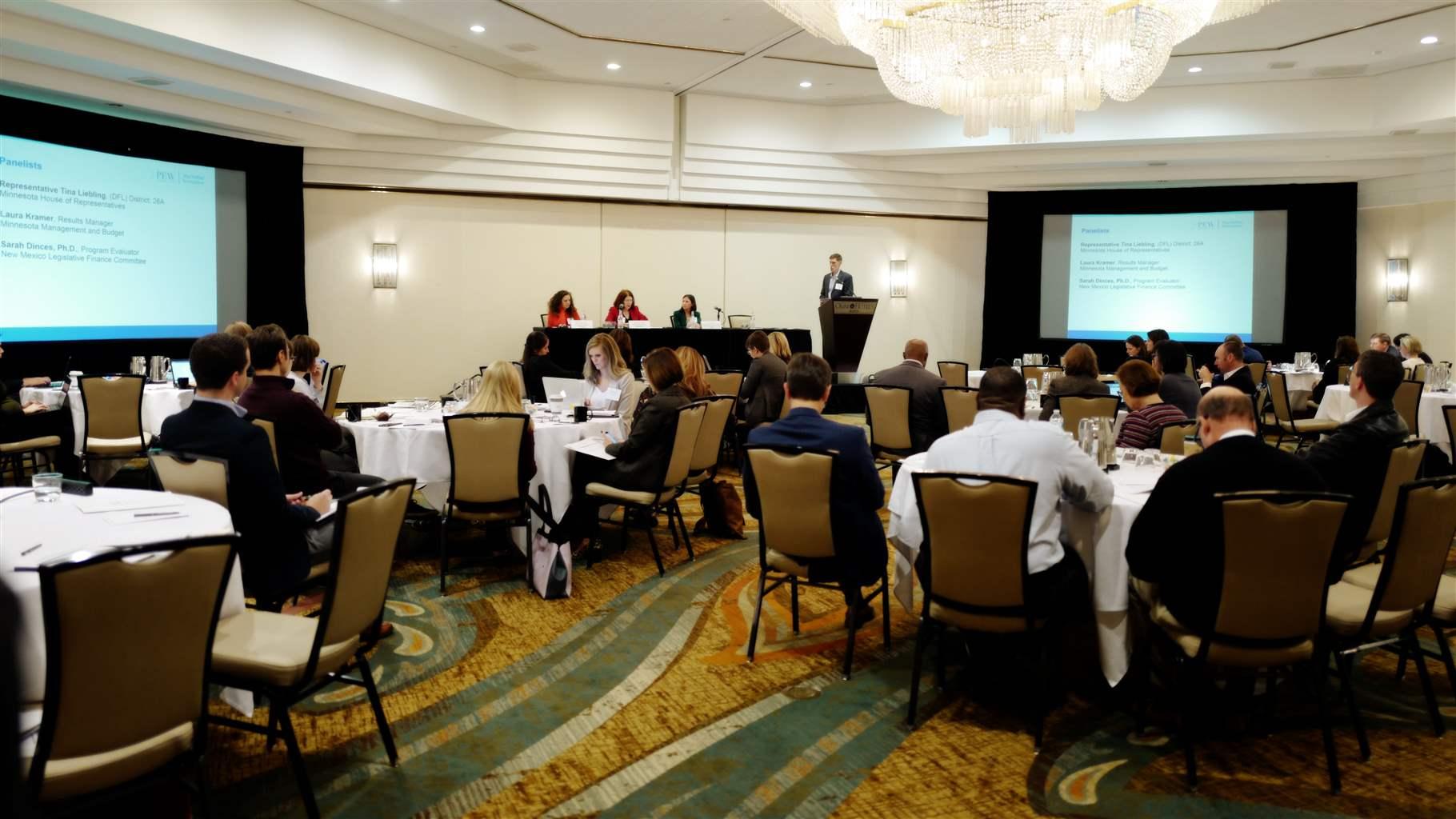 Editor's note: This analysis was updated Jan. 13, 2020, to clarify the quotes of several participants in the event.
State officials leading the way on evidence-based policymaking gathered recently in Austin, Texas, to share their experiences and lessons learned in efforts to build broad support for the systematic use of evidence in policy and budget decisions.
Representing Alabama, Colorado, Illinois, Iowa, Minnesota, Mississippi, New Mexico, New York, North Carolina, Tennessee, and Utah, these officials have dedicated time and effort to change the culture of decision-making in their states from one that relies on anecdote to one that regularly and systematically relies on evidence.
Several themes emerged from the discussions about the importance of effective policy frameworks, working across branches of government, and benefits and challenges of demonstrating positive programmatic outcomes.
Evidence-based policymaking is more than investing in evidence-based programs
To yield the full benefits of an evidence-based approach, leaders need to think beyond program selection. States can build on their initial investments in such programs by incorporating other components of the Results First evidence-based policymaking framework, including implementation oversight, outcome monitoring, and targeted evaluation of programs. By pursuing a holistic approach, governments are more likely to see the improved outcomes that using evidence can produce.
"A program or policy can have really robust evidence that it works to achieve certain outcomes, but if the context isn't right for implementation, it won't matter," said Diane Hall, a senior scientist for policy and strategy at the Centers for Disease Control and Prevention.
Reform is a marathon, not a sprint
Changing the way states fund and evaluate public programs takes time, speakers said. Some of the leaders have been working on building out components of the Results First framework for as long as eight years.
"This whole effort has started to inform everything we do in our legislating and budget process," said Minnesota State Representative Tina Liebling (DFL). Efforts in her state started in 2015. "We're starting to see a culture change. When we don't know how well things work, there's more of an effort now to find out."
Efforts in New Mexico have followed a similar path. The state's Legislative Finance Committee (LFC) has used Results First tools since 2011 to analyze numerous policy areas, an approach that has helped make persuasive cases to state leaders on which programs are most likely to produce a return on investment.
"Developing the Results First education program inventory helped us determine and show what programs are effective so decision-makers could invest in what works," said Sarah Dinces, program evaluator for the LFC.
In 2019, the analysis of education programs led to increased investments in pre-K education programs. Using this approach, New Mexico leaders have allocated more than $400 million to effective and cost-beneficial programs through allocations in the state budget. Until this year, however, leaders lacked a comprehensive policy for incorporating evidence in the budget process.
State Senator Sander Rue (R), recognizing the lack of consistency in how agencies propose their program budgets, sponsored legislation to require New Mexico's budget authorities—the LFC and Department of Finance and Administration—to collaborate on an annual inventory of programs and services that includes a summary of how each agency has prioritized effective programs. Before the legislation was enacted in 2019, Rue had filed variations of the measure over five years, steadily building support from lawmakers and the executive branch. That long path to the governor's desk demonstrates the commitment needed from policymakers and staff.
Cross-branch collaboration is key to long-term sustainability
To ensure that processes relying on evidence are adopted in sustainable, long-term ways, states need to build significant support. Gaining buy-in from both the executive and legislative branches can be critical.
For officials in Alabama, deciding which branch of government would house this work had been a delicate balancing act. The state's rapid, innovative approach to cataloging services and a pilot engagement with the Department of Mental Health paved the way for the latest development: creation of a new commission to study and evaluate programs, the Alabama Commission on the Evaluation of Services (ACES).
Importantly, ACES is charged with advising the Legislature and the governor on evaluation of services. Members have been intentional about incorporating feedback from both branches. Co-chaired by legislative and executive leaders, the commission is well-positioned to have impact with its work and recommendations.
States can learn from one another
Most states face hurdles to regularly using evidence in their budget and policy processes. Common challenges include inconsistent data quality, a lack of expertise, and political barriers. The Austin meeting brought together leaders from across the country, allowing states to benefit from others' experiences. Problem-solving with peers who have faced similar obstacles—and who have tried different strategies—can help leaders discover new solutions. It also creates a community of like-minded leaders.
Jayme Simmons, director of the Office of Evidence and Impact at the Tennessee Department of Finance and Administration, spoke about the benefits of collaborating with states further along in implementing these practices.
"Minnesota's online inventory demonstrated to our leadership what evidence-based budgeting can be if you do it well," she said. "Having examples of a better way to make decisions, and seeing how other states take something wonky and make it accessible, has enabled us to show what's possible."
Participants walked away with a better understanding of what it will take to sustain evidence-based policymaking and how this approach is taking hold nationwide.
"These convenings are helpful for fostering community," said Nate Steinfeld, research director for the Illinois Sentencing Policy Advisory Council. "It helps to know we're part of a bigger group trying to use evidence-based policymaking systematically. It's really nice to come together here to feel like our work is part of a national effort being carried out at a local level."
Sara Dube is the director, Abby Hannifan is a principal associate, and Carli Dimino is a senior associate with the Pew-MacArthur Results First Initiative.