Virginia's Flood Mitigation Program Needs Funding
Communities lack resources to prepare for more common and costly flood events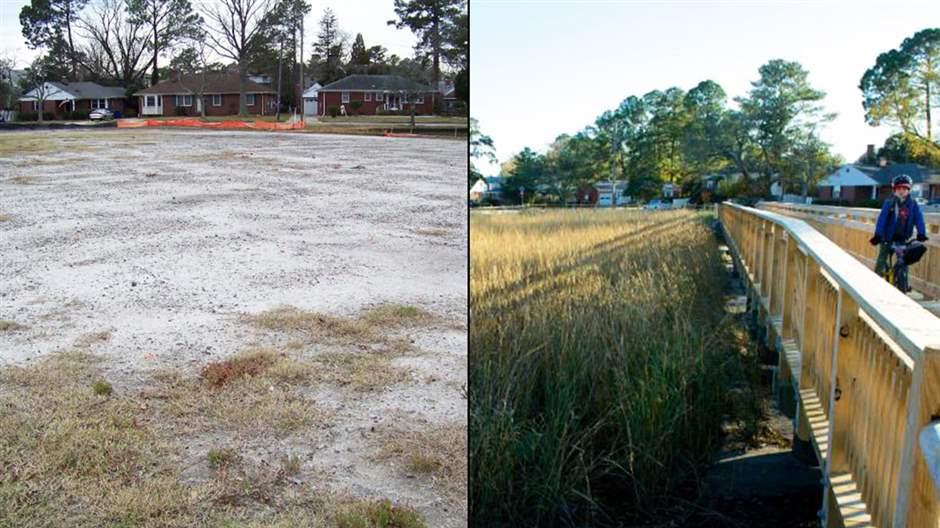 Note: This article has been changed to reflect that a $50 million allocation to the Virginia Shoreline Resiliency Fund could result in $300 million benefit from future flood losses, not a $300 million net benefit as was initially stated.
Over the past decade, the commonwealth of Virginia has experienced more than 10 major flood events that have disrupted the daily lives of families, severely damaged homes and businesses, and cost tens of millions of dollars in recovery. Flooding disasters are becoming more common and costly around the state and country, and cities and counties face a growing urgency to better prepare for these events. Reducing risk through mitigation—such as converting flood-prone properties to green spaces, building living shorelines that can absorb tidal surges, and restoring streams to slow stormwater—is a proven strategy for helping communities become more flood-ready.
Unfortunately, cities and counties are unable to meet the need for these interventions on their own. An issue such as flooding, with profound statewide impacts, needs a state-level response. The Virginia General Assembly took an important first step by creating the Virginia Shoreline Resiliency Fund in 2016. It is designed to provide mitigation resources to homeowners and business owners to reduce their flood risk, but the program has yet to receive any funding from the legislature.
Funding would provide Virginia localities the means to implement forward-looking mitigation initiatives tailored to their risks and needs, such as the restoration of Myrtle Park in Norfolk. The waterfront park had been an attractive green space for the community, but sea-level rise and repeated tidal flooding had turned the grassy expanse into a muddy landscape, increasing the flood risk to roads and adjacent homes. With funding from the city, more than 24,000 square feet of wetlands were restored, stabilizing the shoreline and acting as a tidal- and storm-surge buffer for nearby residents. Boasting new footpaths and a pedestrian bridge, the park has once again become a gathering place for residents and visitors.
As Virginia Governor Ralph Northam reviews priorities for his 2020-2022 budget proposal to the General Assembly, it is critical that he include first-ever funding for the Virginia Shoreline Resiliency Fund. Mitigation projects can improve public safety and save taxpayer dollars. Research shows that for every $1 invested in pre-disaster mitigation, society saves $6 in avoided losses and disaster recovery costs. Allocating $50 million to the fund could result in a $300 million benefit.
With localities ready to utilize proven mitigation solutions, funding the Virginia Shoreline Resiliency Fund is an opportunity to build a more resilient and safer commonwealth.
Laura Lightbody directs and Yaron Miller is an officer with The Pew Charitable Trusts flood-prepared communities initiative.