Communities Take Aim at Health Risks Posed by Climate Change
Four municipalities using grants to develop and implement data-driven strategies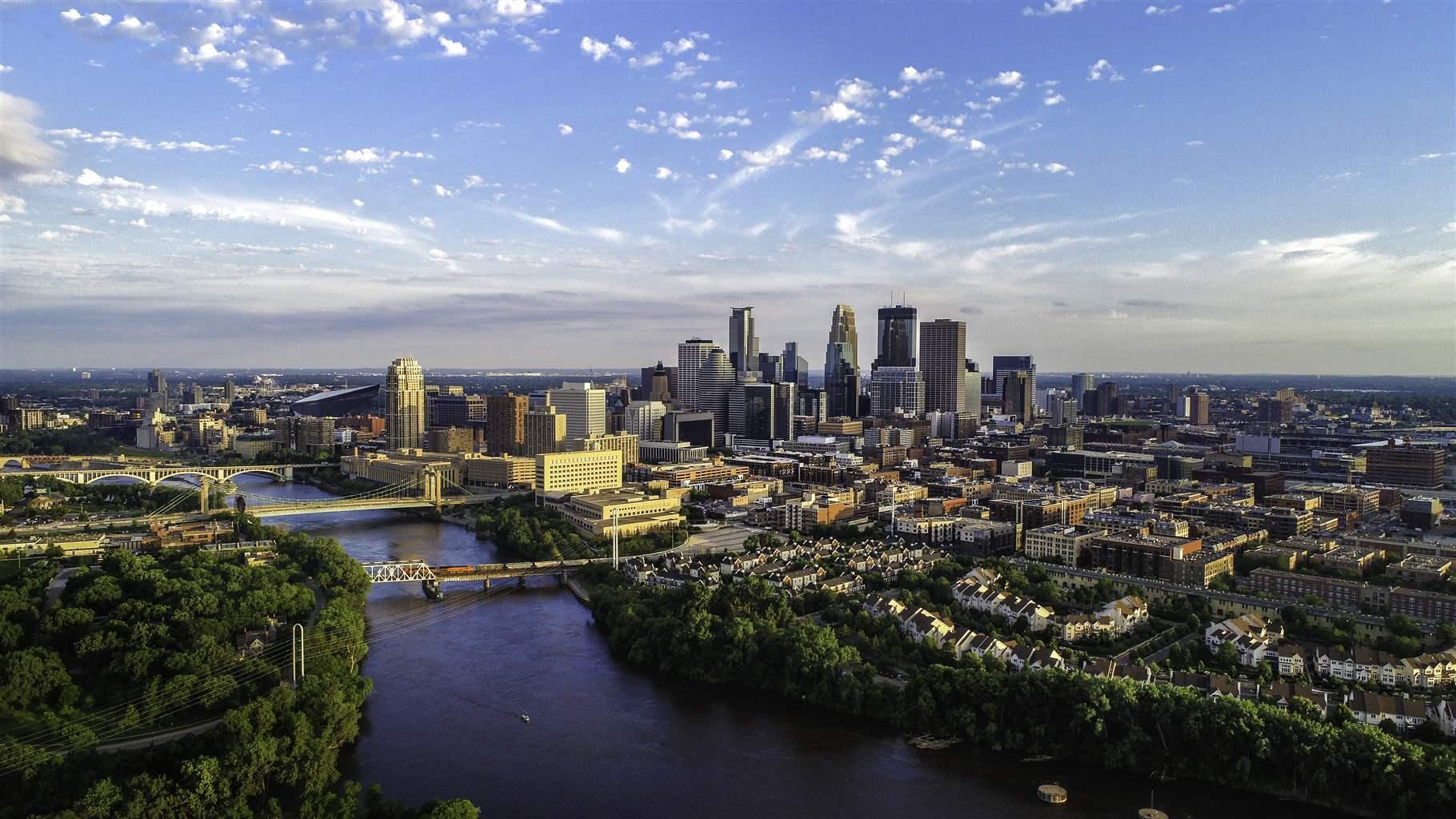 As communities throughout the country examine ways to address the potential challenges posed by climate change, four municipalities—Baltimore; Minneapolis; Princeton, New Jersey; and Tempe, Arizona—are exploring policies and programs that specifically factor in concerns about the health of their residents. In each, decision-makers are working to promote public health and develop implementable strategies with grants from the Health Impact Project, a collaboration of the Robert Wood Johnson Foundation and The Pew Charitable Trusts.
The changing climate already adversely affects the health and well-being of Americans, and the effects are expected to worsen, according to the latest National Climate Assessment, published in 2018. All regions of the country will face consequences, but the impact will differ by location.
Many local leaders have recognized the need to find solutions tailored to their communities. Decision-makers in Baltimore, for example, expect the city to experience increased flooding, which poses health risks, including infectious diseases and exposure to chemical hazards. To reduce flood risks and improve water quality, the city's Office of Sustainability in 2018 used climate-informed estimates of future storm intensity to design Baltimore's disaster preparedness plan, which incorporates elements such as additional green spaces to capture runoff.
Baltimore also created six community-managed "resilience hubs," located in community centers, churches, schools or other publicly accessible buildings, and designed to provide safe shelter, backup electricity, fresh water, medical supplies and services, and other resources during weather-related emergencies. With grant funding from the Health Impact Project, the city will collect and analyze data to identify gaps in services, support, and outreach. That information can then inform decisions about the location and services of future hubs.
These are the first grants from the Health Impact Project that support local efforts to improve resiliency, preparedness, and sustainability. The funding will help communities working across sectors such as housing, transportation, emergency preparedness, and public health to address climate change and health.
Minneapolis and Little Earth of United Tribes, the only public housing community in the U.S. where Native Americans are given preference, are using grant funds to create a resilience hub that can operate when the power grid is down. The effort is part of a broader city initiative to prepare underresourced areas for climate-related emergencies and cut greenhouse gas emissions.
The city is working toward an 80 percent reduction in these emissions by 2050. To help achieve this target, leaders expect to increase energy efficiency in at least 75 percent of all housing—public and private—by 2025. An independent study found that energy use in commercial and residential buildings, primarily for heating and cooling, was the city's largest source of greenhouse gas emissions, representing 65 percent of the total.
Tempe, located in one of the nation's hottest regions, will use the grant funding to produce public infrastructure guidelines that set requirements that would reduce the health effects of extreme heat. These standards would require the use of cooling materials such as permeable pavers, reflective paint coating, and vegetation, as well as shade features such as trees and canopies in parks, playgrounds, and along pedestrian routes. Tempe's number of summer days with temperatures above 110 degrees has steadily increased over the past decade. Extreme temperatures increase the risk of heat stroke and heat-related deaths.
The American Public Health Association encourages public health agencies to gather information on people and neighborhoods vulnerable to the impact of climate change and to tailor education, prevention, and response plans accordingly. With grant support from the Health Impact Project, Princeton is acting on this recommendation. The borough is creating a database detailing the needs and conditions of residents that can make them vulnerable during emergencies.
The information gathered can help emergency responders act more quickly and effectively, especially in dealing with severe weather. Hurricanes Sandy and Irene resulted in numerous health emergencies and several deaths in towns throughout New Jersey, including Princeton.
These are just a few of the growing number of communities acting to address climate change's potential impact on health. Using data-driven strategies to explore solutions at the intersection of health and climate will maximize the opportunities to improve physical, social, and economic well-being for all.
Bethany Rogerson is a manager and Mimi Majumdar Narayan is a principal associate with the Health Impact Project.