Infrastructure Upgrades Can Help U.S. Businesses Better Withstand Disasters
Pew event highlights how flood-ready construction can benefit industry, communities, economies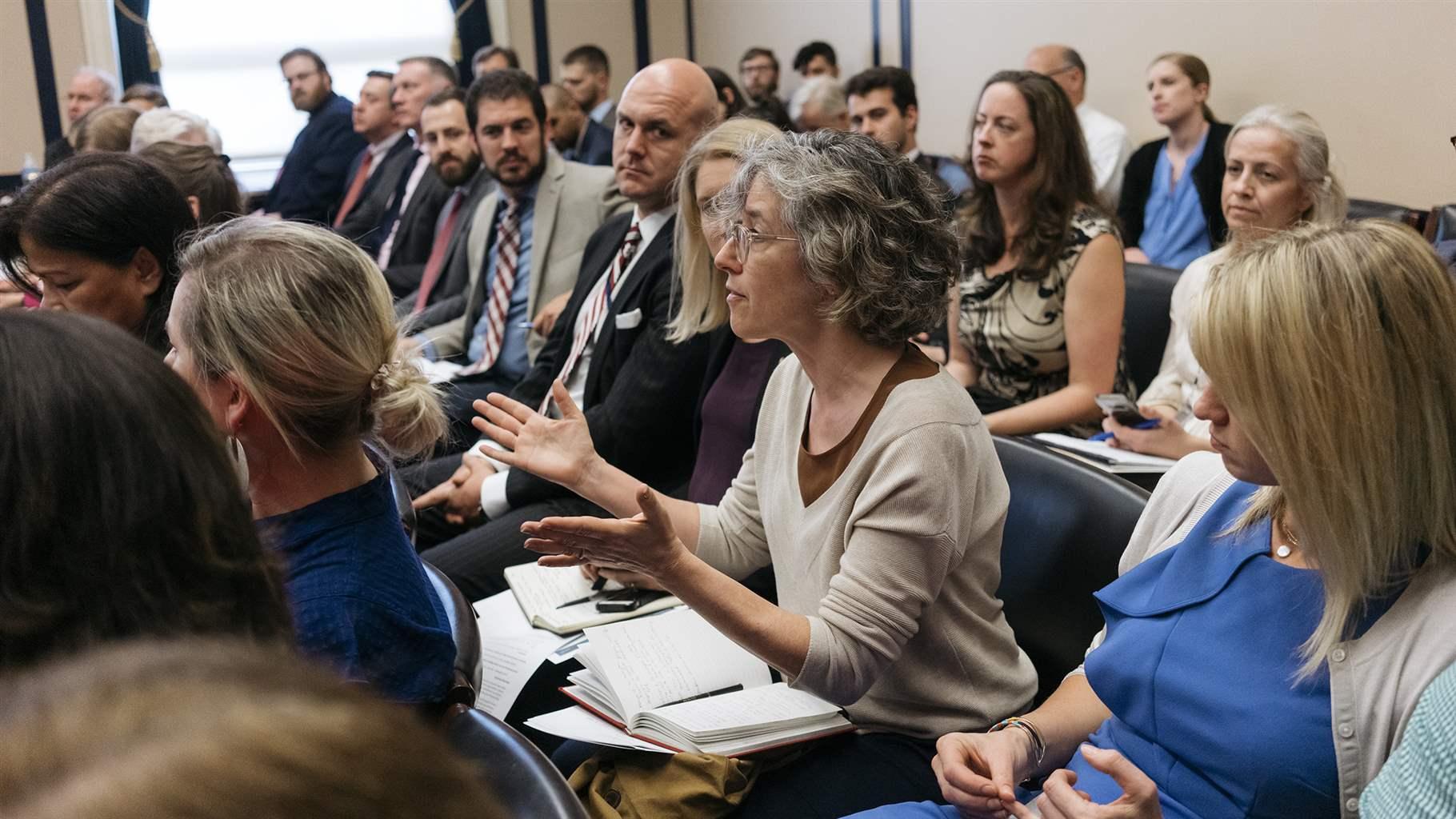 As flooding and other natural disasters across the U.S. become more costly, businesses are increasingly in need of resilient public infrastructure to help them better withstand extreme weather and shorten the time needed to resume operations. But too many of the country's roads, bridges, hospitals, schools, and other public assets are not being built to withstand modern disasters, leaving businesses and the communities they serve at risk.
That was a top takeaway from an April 30 briefing on the business case for flood-ready infrastructure, hosted by The Pew Charitable Trusts and the U.S. Chamber of Commerce in the Rayburn House Office Building in Washington.
The impact of disasters, such as flooding, on the business community is significant: Forty to 60 percent of small businesses don't reopen after a disaster, and 90 percent fail within a year unless they can resume operations within five days.
Part of the reason is that much of the country's infrastructure is old, deteriorating, and nearing the end of its design life. Many of those assets were constructed to serve fewer people under less volatile weather extremes than exist today. As a result, businesses and communities often live with substandard infrastructure that's often in need of repair. The closure of roads, bridges, tunnels, ports, and other assets—a common event during and after intense storms—can delay the production and distribution of goods and services businesses need to operate during disasters and return to normal after them.
To illustrate that point, Mayor Bill Saffo (D) of Wilmington, North Carolina, recounted how his city was cut off from the mainland for four days after flooding from Hurricane Florence last summer.
"We had two major interstates—40 and 95—underwater, and all that commerce [had] to move through small towns, where in many cases back roads were also cut off." Speaking of the area's residents, Saffo told the packed briefing room, "Imagine all those people trying to move inland and then trying to get back [home]. People will take the law into their own hands" during a disaster unless the country makes major upgrades to U.S. infrastructure and improves disaster response.
The briefing focused on flooding, which has caused $800 billion in damage in the U.S. since 2000 and prompted 73 percent of presidential disaster declarations since 2009, based on Pew's analysis of data from the Federal Emergency Management Agency and the National Oceanic and Atmospheric Administration.
During a panel discussion on how flooding affects the business community and what can be done to minimize it, Thomas Phillips, principal of building regulatory strategy at Target Corp., said investment in infrastructure is vital to both community and economic recovery after disasters.
"It doesn't matter how well we do [at Target] if people can't get to our stores," Phillips said. "Communities that invest survive better and grow." Target, which owns 89 percent of its stores, constructs its buildings to last 60 years.
Nationwide, he said, investment in infrastructure hasn't kept pace with the increasing number of floods and other disasters. He recounted the challenges that Baton Rouge, Louisiana, faced after 30 inches of rain fell over the city in three days in August 2016.
"More than 100,000 homes were inundated, and 13 people died," Phillips said. The flood forced 6,000 businesses to close, 40 percent of which did not reopen. The local Target did reopen, but even now, nearly three years later, the community hasn't fully recovered. "That will take 10 years," Phillips said.
One way to help communities bounce back is to ensure that relevant government agencies are equipped to respond, Laura Lightbody, who leads Pew's work on flood-prepared communities, said at the briefing. FEMA is the only agency with a program devoted to disaster mitigation, she said, adding that the departments of Transportation and Housing & Urban Development "should have permanent offices, staffed and funded, to deal with floods. It can't just be FEMA."
Ed Mortimer, vice president of transportation and infrastructure at the U.S. Chamber of Commerce, said businesses are willing to pay more in taxes to help fund infrastructure upgrades. "It's time to modernize. We need to build it to last," he said.
Achieving that starts with Congress passing a bill to fund major nationwide infrastructure upgrades.
Mortimer pointed to some progress—for example, funding for pre-disaster mitigation in the passage last year of the America's Water Infrastructure Act and Federal Aviation Administration Reauthorization Act—but he cited a need for a wholly revamped strategy that includes flood readiness.
"This is not a partisan issue," Mortimer said. "America used to be a leader [in infrastructure], and we need to be a leader again. The longer we wait, the longer it will take." Commenting on the increase in extreme weather events, he added: "Let's stop arguing over why it's happening. It is happening. So let's deal with it."
But no sector should try to go it alone, cautioned Ryan Colker, executive director of the Alliance for National & Community Resilience. Disasters, he noted, tend to lay bare how much different sectors rely on each other.
"If an owner wants [and gets] the strongest building in a community and the transportation network isn't up to par, that building is stranded" in an emergency, Colker said. Municipalities will also face barriers to recovery if, for example, schools or hospitals don't reopen quickly following extreme weather. He suggested that municipalities look for opportunities to attract investment that will benefit numerous interests—for example, funding for construction that could also benefit the insurance and financial sectors.
And in calculating that benefit, it is critical to factor future savings into the cost of infrastructure upgrades, said Representative David Rouzer (R-NC), who spoke briefly at the event. He called for changes in how the Congressional Budget Office scores bills—that is, determines their cost to taxpayers—because the method doesn't account for how much money provisions in a bill might save down the road. Studies show that, on average, a dollar invested in disaster mitigation can save $6 in avoided future losses.
"The best cure is prevention," Rouzer said. Investing in flood readiness "saves money; and more important than that, it saves lives."
Forbes Tompkins is an officer with The Pew Charitable Trusts' flood-prepared communities initiative.