Springtime Brings Majority of Significant Floods—And Hope for Better Policies
Peak flood season highlights need for resilient infrastructure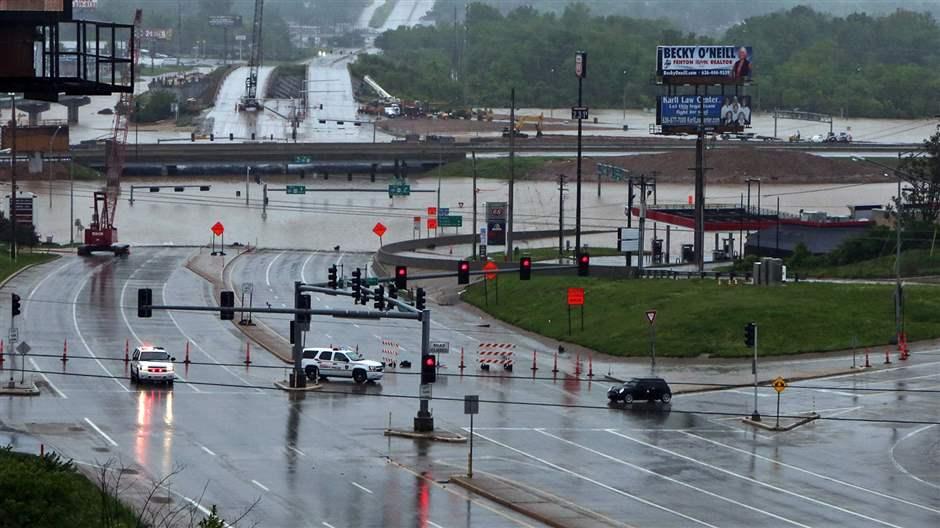 As the U.S. shifts from winter to spring, many people might find themselves swapping snow shovels for sand bags. Over the past 10 years, more major floods have occurred in spring than in any other season, the majority of them striking inland states.
These findings stress two points: Where it rains it can flood, and every state should be prepared for flooding—not just in spring and summer but year-round. Fall and winter brought an average of seven to eight flood-related disasters annually over the past decade. Flooding affects communities in a host of ways, from loss of life and severe structural damage to school closures, delayed work commutes, and blocked access for emergency responders.
Policymakers can help Americans increase their resilience before the next storm by enacting laws and writing regulations that ensure that stronger flood-ready safeguards are included in efforts to update the nation's aging and failing infrastructure. Here are four ways government officials can better ensure that communities are prepared for floods:
Update safeguards for federally funded projects. Police stations, schools, highways, and other taxpayer-funded infrastructure should be built to withstand the level of flooding that experts predict throughout the design life of each project. This is especially vital for construction in vulnerable areas. Stronger safeguards can help limit damages and reduce the need to rebuild post-disaster.
Establish a flood-mitigation loan fund for states. Such a program would provide low-interest loans to states and localities for implementing cost-effective mitigation strategies that improve resilience to flooding. Research shows that every $1 invested in mitigation saves $6 in avoided disaster losses, making the economic case for taking action before the next storm.
Create a program to increase transportation resilience before disasters strike. Federal-aid highways and roads—those built, maintained, and operated by states with financial assistant from the federal government—account for only a quarter of the nation's highway network but bear 85 percent of total miles traveled each year. Communities throughout the country depend on these roads, especially during times of disaster. In the face of increasingly costly extreme weather, the U.S. needs a program dedicated to ensuring that our highway system remains operational during floods and other natural disasters.
Prioritize nature-based solutions. Green infrastructure, as either an alternative or a complement to gray infrastructure such as bulkheads and seawalls, can help reduce flooding and often becomes stronger over time. Unlike gray infrastructure that typically deteriorates with age, green infrastructure, such as wetlands and parks, provides self-sustaining flood defenses that also support ecosystem restoration while providing recreational space for neighborhoods.
Flooding, regardless of when it strikes, can devastate communities. By embracing and establishing innovative policies and programs, Congress and the administration can help stem destruction, steward taxpayer dollars, and protect Americans in the face of increasing disasters.
Forbes Tompkins works on The Pew Charitable Trusts' flood-prepared communities initiative.