New Jersey Law Helps Cities Better Prepare for Floods
Measure creates funding stream for stormwater infrastructure and other mitigation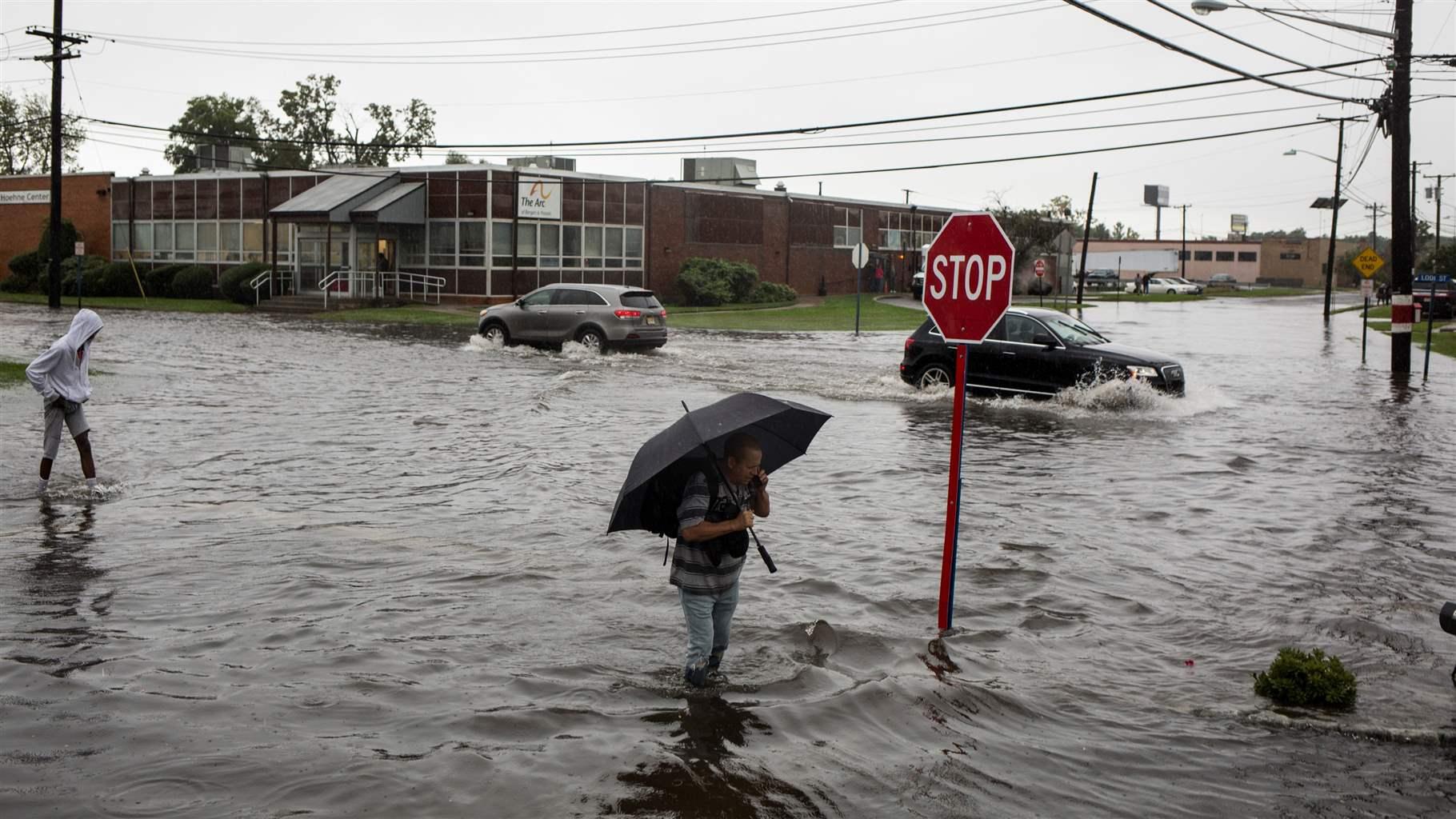 With more than 1,800 miles of coastal, river, and bay shoreline, New Jersey is no stranger to flooding. In the past decade, thousands of homes and buildings have been inundated, incurring billions of dollars in damage. Although some of this devastation came during Superstorm Sandy and Hurricane Irene, much of it occurred during less spectacular—but still severe—floods. To help New Jersey communities better prepare for all manner of flooding, Governor Phil Murphy on March 18 signed into law bipartisan legislation that gives local leaders an effective new tool for protecting property and keeping residents safe.
The Clean Stormwater and Flood Reduction Act allows cities to form stormwater utilities to collect fees from residents and business owners based on how much their properties contribute to storm runoff, which can lead to or exacerbate flooding. Utilities calculate the fees by measuring the square footage of parking lots, paved driveways, and other hard surfaces that fail to absorb floodwater. The municipality in turn spends the revenue on improving stormwater infrastructure. The law provides credits on assessed fees to property owners to incentivize the use of green infrastructure, such as rain gardens, to better absorb rainfall. Such infrastructure can reduce the strain on municipal systems and give renewed meaning to New Jersey's nickname—the Garden State.
The bill will help the state in its efforts to become more resilient to the increasing impacts and costs of flooding. Stormwater utilities have proved effective in 40 other states, collecting more than $2.1 billion annually nationwide. The funds have helped states and cities to afford a range of mitigation projects—including stream restoration, expansion of open green spaces, and removal of structures from flood plains—that improve public safety and decrease the cost of disasters. The utility in Tulsa, Oklahoma, for example, has been used to fund hundreds of millions of dollars in capital improvements. These investments show a significant return: Every $1 spent on flood mitigation saves an average of $7 in future costs, according to research from the National Institute of Building Sciences.
Since 2017, the federal government has spent more than $300 billion to recover and rebuild from flooding, and that's in addition to the hundreds of millions covered by states. With more pre-disaster mitigation and policies like the Clean Stormwater and Flood Reduction Act, states and the federal government can help American communities better withstand flooding, sustain less damage, and recover faster.
Laura Lightbody directs The Pew Charitable Trusts' flood-prepared communities initiative.