Seafood Sectors Agree to Protect Supply Chains Against Illegal Fishing, Safety, and Labour Issues
Surimi and fish meal industries seek to prevent illicit catch from entering supply chains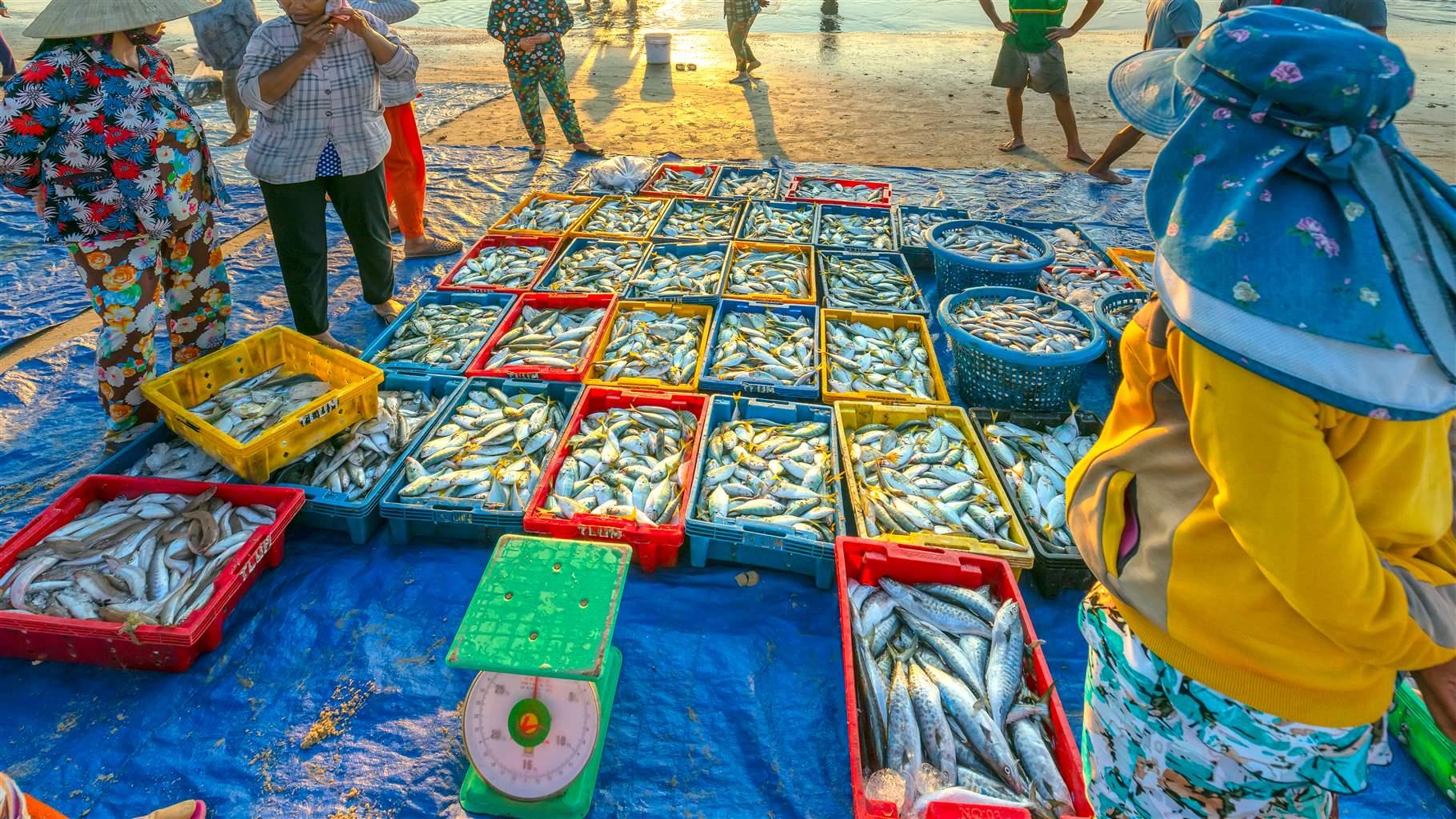 The journey of seafood from hook or net to plate is often long and complicated. The fish meal and surimi (fish paste) sectors are no exception. Fish are caught at sea and then dried, processed, and ground—often in multiple locations—before they end up as farmed fish, animal feed, fish oil capsules, or fish paste used for products such as crabsticks or sushi. At each stage, illegally caught seafood can be mixed in with legitimate catch.
Over the past month, Pew and other stakeholders held workshops in Bangkok, Thailand, Surabaya, Indonesia, and Ho Chi Minh City, Vietnam, aimed at finding ways to prevent illegal, unreported, and unregulated(IUU) seafood from entering their supply chains. Nearly 100 industry representatives attended, ranging from fish meal and surimi feed producers to processors, buyers, and certification standard holders.
As buyers and sellers of fish products, the fish meal and surimi industries play an important role in tackling IUU fishing. By working together and using technology they can track and trace where their products come from.
Most companies are now aware of the risk that IUU-caught seafood might enter their supply chains and have policies in place to mitigate this threat. At the workshops, participants agreed that companies should track and trace their supply chains by identifying the people, product, and process interactions at each stage. At a minimum, the fish species, its origin, and the procurement method down to the originating fishing vessel should be clear and shared.
In addition, companies should have a risk assessment process in place to calculate the likelihood that the catch in their products came from IUU fishing operations, or from vessels that are unsafe or have associated labour problems. Evidence suggests that IUU fishing can lead to depletion of target species and undermines stock management initiatives. When this happens, profits for all fishers can diminish or collapse, which can lead to inadequate investment in fishing vessel safety and working conditions, and even withholding of pay. Companies that track every step in their supply chain will be able to address concerns that can affect their reputation and product supply, meet international buyers' traceability requirements, and secure market access. This approach increases transparency and makes all stakeholders accountable.
Various tools are available to help companies shed some light on where the fish in their products came from. First, all vessels in companies' supply chains should be uniquely identified via an IMO Number or national unique vessel identifier that should stay with the vessel from construction to scrapping, regardless of name or flag changes. Second, these vessels should be tracked via automatic identification systems for safe navigation and vessel monitoring systems for fisheries management. A vessel's location should be regularly reported to the flag and coastal States and any transshipment activities should be reported and fully monitored. Third, catch should be landed at ports with strong port State control and inspections regimes, to ensure access is denied to anyone attempting to land illegal or unreported seafood. And lastly, vessels being used to catch and transport fish should be safe and provide decent working conditions for fishers and observers.
Workshop participants acknowledged the risk that both IUU fishing and safety and labour issues posed to their supply chains and expressed eagerness to take steps to mitigate such risks. They agreed that regulations are not always effective on their own, and many of the participating companies reported that they have opted to go above national requirements or have obtained seafood certification.
These positive actions are encouraging. Companies should continue to take steps to protect their supply chains by using the tools available to them to track and trace their suppliers, as international buyers are increasingly demanding legal seafood caught by people working in a safe environment that is free from human rights abuses.
The seafood industry has a vital role to help combat IUU fishing. Fully monitoring seafood products from point of catch to point of sale is possible and will improve fisheries management for the long-term benefit of all.
Peter Horn directs The Pew Charitable Trusts' work to end illegal fishing.