New Report Strengthens Economic Case for Flood-Prepared Infrastructure
Mitigation projects yield positive return on investment in coastal, inland states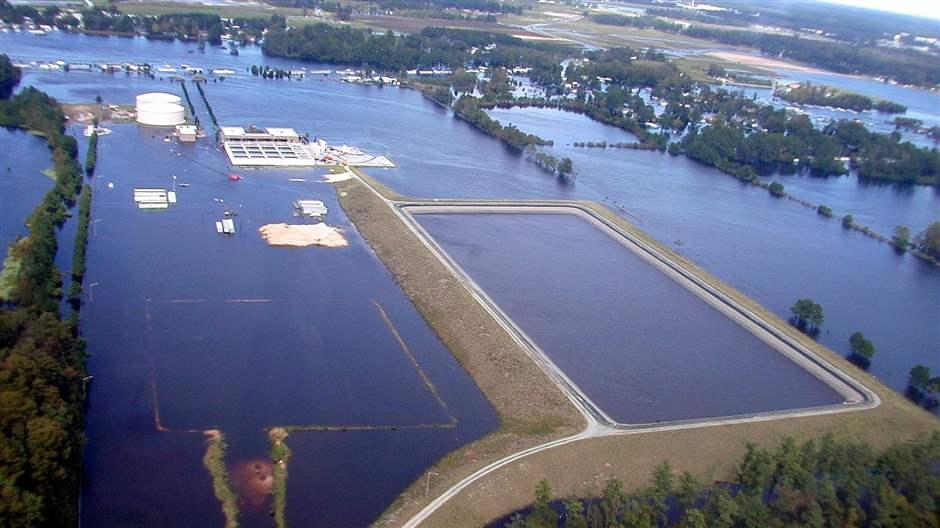 From elevating roadways in Nebraska to moving wastewater treatment plants away from flood plains in Iowa, proactive measures before flooding can provide a major return on investment, according to a new report from the National Institute of Building Sciences (NIBS). The report, "Natural Hazard Mitigation Saves: Utilities and Transportation Infrastructure," provides analysis and key examples that underscore the benefits of investing in mitigation measures.
The report was released Oct. 30 during a webinar co-hosted by the institute and The Pew Charitable Trusts. Ryan Colker, NIBS vice president, and Philip Schneider, director of NIBS' Multihazard Mitigation Council, provided an overview of the report, including cost-benefit assessments of flood-related case studies. The webinar also featured Melissa Clow, a civil engineer and special projects administrator for Iowa City, Iowa, who discussed the city's disaster mitigation work on a bridge and major road.
In developing the report, NIBS examined natural hazard mitigation investments across the country that included upfront spending on infrastructure projects—such as raising roads above anticipated flood levels and moving water treatment plants outside of flood plains—as well as near- and long-term maintenance. Benefits included avoiding replacement or repair of damaged infrastructure and disruptions to daily life from impacts such as closed roads, impaired public safety, and loss of essential services like water and electricity. Of the 21 case studies analyzed in the report, 10 focus on mitigating the impacts of flooding on infrastructure—projects involving roads, bridges and railways, water and wastewater facilities, and electric and telecommunications substations.
The report comes as communities and the federal government are struggling to respond to and recover from increasingly frequent major floods, including those resulting from hurricanes Harvey, Irma, and Maria in 2017; and Florence and Michael this year, along with 1,000-year inland rainfall events in Wisconsin, Ellicott City, Maryland, and elsewhere.
The report's findings strengthen the business case for investing in pre-disaster mitigation. Among the opportunities for cost-effective measures is legislation before both houses of Congress to establish a state revolving loan program to fund flood mitigation. The program would allow states and the Federal Emergency Management Agency to join in developing low-interest loans for flood mitigation efforts in vulnerable areas by raising roads and foundations above anticipated flood levels or buying out repeatedly flooded neighborhoods, for example.
During the webinar, Schneider, of the Multihazard Mitigation Council, emphasized that nearly every project assessed yielded a positive return on investment. Upgrades to water and wastewater treatment plants in Greenville, North Carolina, produced the largest return of any case in the study. That effort was funded in 2001 by a $4.8 million grant from the Commerce Department's Economic Development Administration (EDA) for constructing a berm and pumping station for Greenville's water treatment plant and increasing the height of a flood protection wall along with a retaining wall at the Northside Wastewater Treatment Plant. These improvements were designed to increase the plant's ability to withstand 100- and 500-year floods. With the facilities together valued at $514 million and the potential costs to Greenville from flood-related loss of service and environmental issues, NIBS determined that the project saved $31 for every $1 invested.
The report found positive returns in eight of the 10 case studies, along with one negative return and one that broke even. (See Table 1.)
Benefit-Cost Ratio of Projects Funded by Economic Development Administration
Case studies of flood mitigation grants
| | | |
| --- | --- | --- |
| Project Description | State | Benefit-Cost Ratio |
| Protect water and wastewater treatment plants | North Carolina | $31 per $1 invested |
| Elevate road and reconstruct bridge | Iowa | $11 per $1 invested |
| Elevate water treatment plant equipment | Virginia | $10 per $1 invested |
| Mitigate electric and telecommunications substation | Wisconsin | $9 per $1 invested |
| Elevate road | Nebraska | $7 per $1 invested |
| Relocate wastewater treatment plant | Iowa | $4 per $1 invested |
| Elevate rail | Iowa | $2 per $1 invested |
| Elevate rail | Missouri | $2 per $1 invested |
| Relocate water treatment plant | Iowa | $1 per $1 invested |
| Reconstruct bridge | New Mexico | 20 cents per $1 invested |
Source: National Institute of Building Sciences analysis of Economic Development Administration data.
© 2018 The Pew Charitable Trusts
Clow, the Iowa City engineer, described how floods in 1993 and 2008 left North Dubuque Street, a major thoroughfare that averages 25,000 vehicles daily, was submerged for weeks and how the city used a grant from the EDA's Economic Adjustment Assistance Program, valued at $40.6 million in 2018 dollars, to elevate 3,500 feet of the road and reconstruct a bridge. That raised the road above the 100-year flood plain and, experts say, would leave it vulnerable to a closure of only about four days from a 500-year flood—compared with the 54-day closure in the 2008 storm. NIBS analysis, based on traffic volume on North Dubuque, concluded that these improvements produced $456 million in benefits at a cost of $40.5 million, or $11 saved per $1 invested.
Together, the case studies in the report are the latest to verify that it pays to prepare. And with the increasing frequency of costly extreme weather events, it is vital that vulnerable communities across the country get the funding they need to better withstand future storms.
For that to happen, Congress must act—for example by passing pending legislation to establish a revolving loan fund program for states to create adequate and sustainable sources of funding to address flood mitigation.
Forbes Tompkins is an officer with The Pew Charitable Trusts' flood-prepared communities initiative.