Hope for Solving Ocean Plastic Problem Lies in Awareness and Economics
Pew project will leverage partnerships to influence policy and business decisions around the world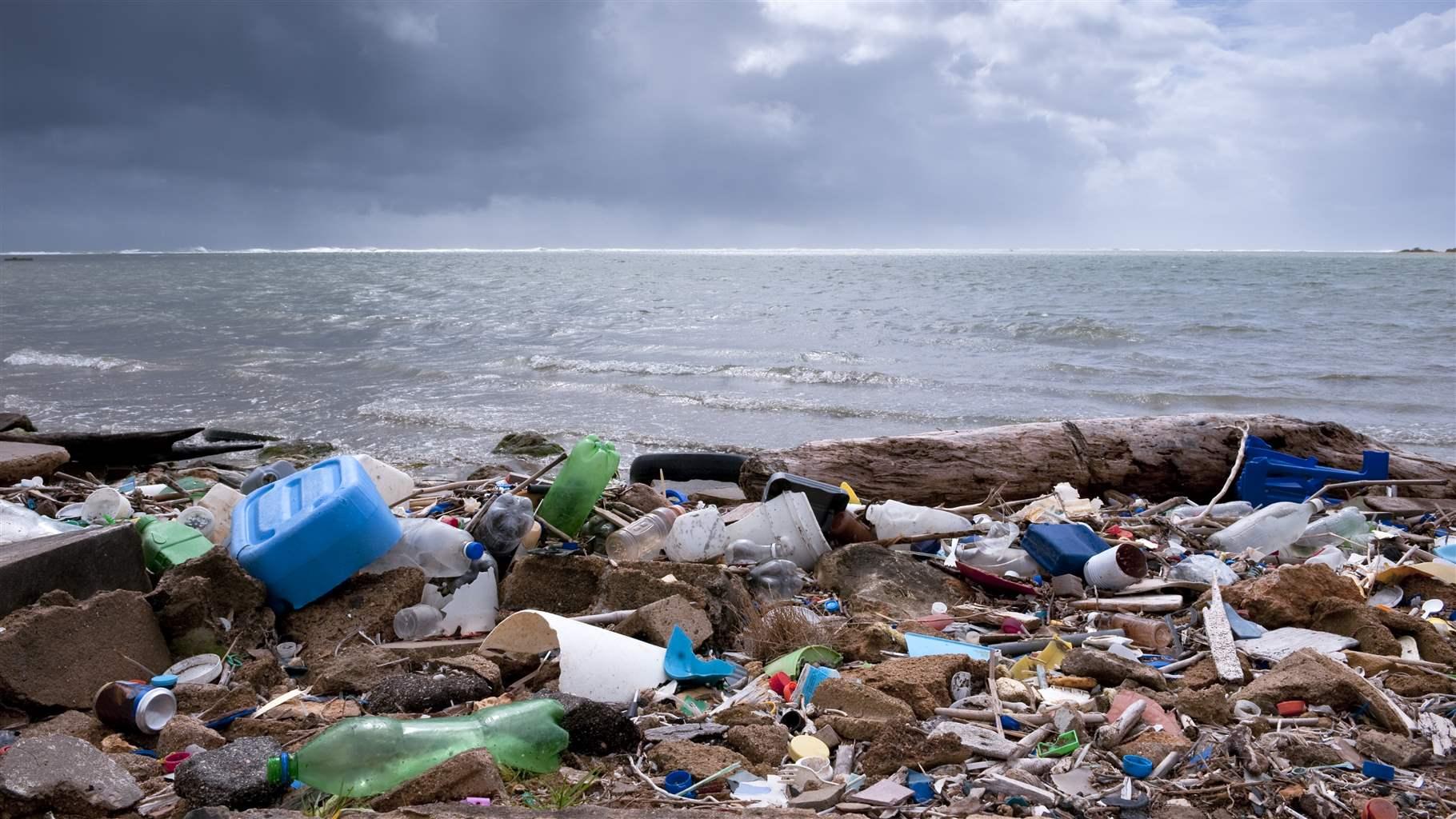 Of the many threats facing our ocean today, the most visible is plastic waste, which has been found throughout the seas, including the deepest part of the ocean and some of the most remote beaches in the world. Up to 13 million tons of bottle caps, grocery bags, cartons, and other plastic waste enter the ocean annually, often maiming or killing fish, birds, and mammals that become tangled in plastic or mistake it as food.
Since mass production of this versatile and inexpensive material began in the early 1950s, the annual output has grown exponentially. As of 2017, a cumulative 8.3 billion metric tons of new plastic have been churned out by factories, and only 9 percent has been recycled. This is a huge problem in our marine environment, where many forms of plastic take hundreds of years to break down.
In an effort to reduce the flow of plastic entering the ocean, The Pew Charitable Trusts recently launched a project—called preventing ocean plastics—that aims to develop a global roadmap of the economically and politically viable steps needed to solve this problem. We plan to do this by conducting a global economic analysis of different solutions; analyzing the regulatory and voluntary market landscape to determine feasible answers; and convening an expert group to develop the roadmap to achieving near-zero flow of plastic into ocean.
Pew will work with a wide variety of players during this inclusive process. For example, we have joined forces with SYSTEMIQ and the World Economic Forum (WEF) to evaluate the economics of this problem and recommend economically viable solutions. This effort will be supported by experts from around the world and across the range of plastic producers and users.
Tom Dillon, who leads Pew's international environment portfolio, answers questions on why the threat is urgent, which countries are leading the way, and how Pew plans to work with governments, industry, scientists, and its partners to address the problem.
Q: Where does Pew fit in among the many organizations worldwide that are working to reduce plastic pollution?
A: One of the reasons we launched this initiative is because there are so many people working on it. What's missing from the current discussion is a strong analysis of how to keep plastic out of the ocean in an economically, socially, and politically viable way.
Pew is hoping to turn a global economic and policy analysis and set of conclusions into a plan to inform and galvanize institutions, organizations, corporations, and governments that want to solve this problem. We intend to bring together those who care about the plastics issue, and I see it as the most important contribution that Pew can make at this point.
Q: What do you expect to come from Pew's partnership with the World Economic Forum?
A: This is one of our first partnerships on this project. WEF shares our interest in understanding the issue—and the most viable means of solving it—and this makes WEF a great complimentary partner. WEF will use the methodology that we are developing to generate plans with three countries, which will help to ground and test our global analysis.
Also, WEF has a wonderful platform to raise public awareness of this effort, and it has effective partnerships, particularly with businesses. This is vital because it is essential to understand the economic aspects of the problem and the role of the business community in the solution.
Q: This is a hot issue right now, with bans on plastic straws and bags, and celebrity ambassadors advocating for action. What was the tipping point that brought plastic pollution into the spotlight?
A: Media has played a significant role in that by publishing stark photos and videos of whales that died after ingesting plastic bags washing up on shore, dead seabirds with stomachs full of plastic, a marine turtle with a straw in its nostril, and the five vast garbage patches in the middle of the ocean that are just teeming with plastics. Those images have done a lot to awaken people and help them realize that their everyday choices have a real impact. It's also shocking to many people that humans have this level of impact on the ocean.
Q: While Pew is focused on tackling the problem at a global level, what are some small actions that people can take to reduce their individual plastic footprint?
A: It starts with being aware of the problem, thinking about it anytime you buy something, and saying no to unnecessary plastic—for example, plastic spoons or straws or bags. People who want to take it a step further can demand that companies come up with alternatives that are reusable and less wasteful. Most plastic is still not recycled, even though much of it is recyclable; people can change that. Big initiatives led by companies and governments are necessary and are where most of the solution lies, but collectively we can make a huge difference if each of us evaluates and adjusts our small daily habits.
Q: Which countries are leading in the effort to eliminate ocean plastics?
A: Governments all over the globe are recognizing how serious this problem is. Some have made bold pledges or have taken initial steps. Rwanda and Kenya, for example, have enacted bans on plastic bags. Some countries and cities, including the U.K. and Washington, now charge customers for plastic bags in retail stores. Germany and Switzerland are top-notch in recycling. Indonesia is making serious efforts to upgrade waste management facilities, and some of the cities there are working hard to become models on how to minimize waste.
But unfortunately, more commitments and efforts are needed.
Q: What does success look like for Pew in the effort to reduce ocean plastics?
A: Success will be a strong set of recommended actions—based on rigorous analyses and peer-reviewed papers—that constitutes a plan for how to solve this problem, is credible, and has buy-in from all of the major sectors that are involved in plastic pollution. We hope that developing the plan will involve collaboration with many of the organizations and companies around the world that are already working on this issue. We owe it to ourselves, and all the life in the ocean, to get this right.