With Ocean Noise Increasing, Scientists Explore Relief for Marine Life
Simple changes could reduce volume in key habitats, studies show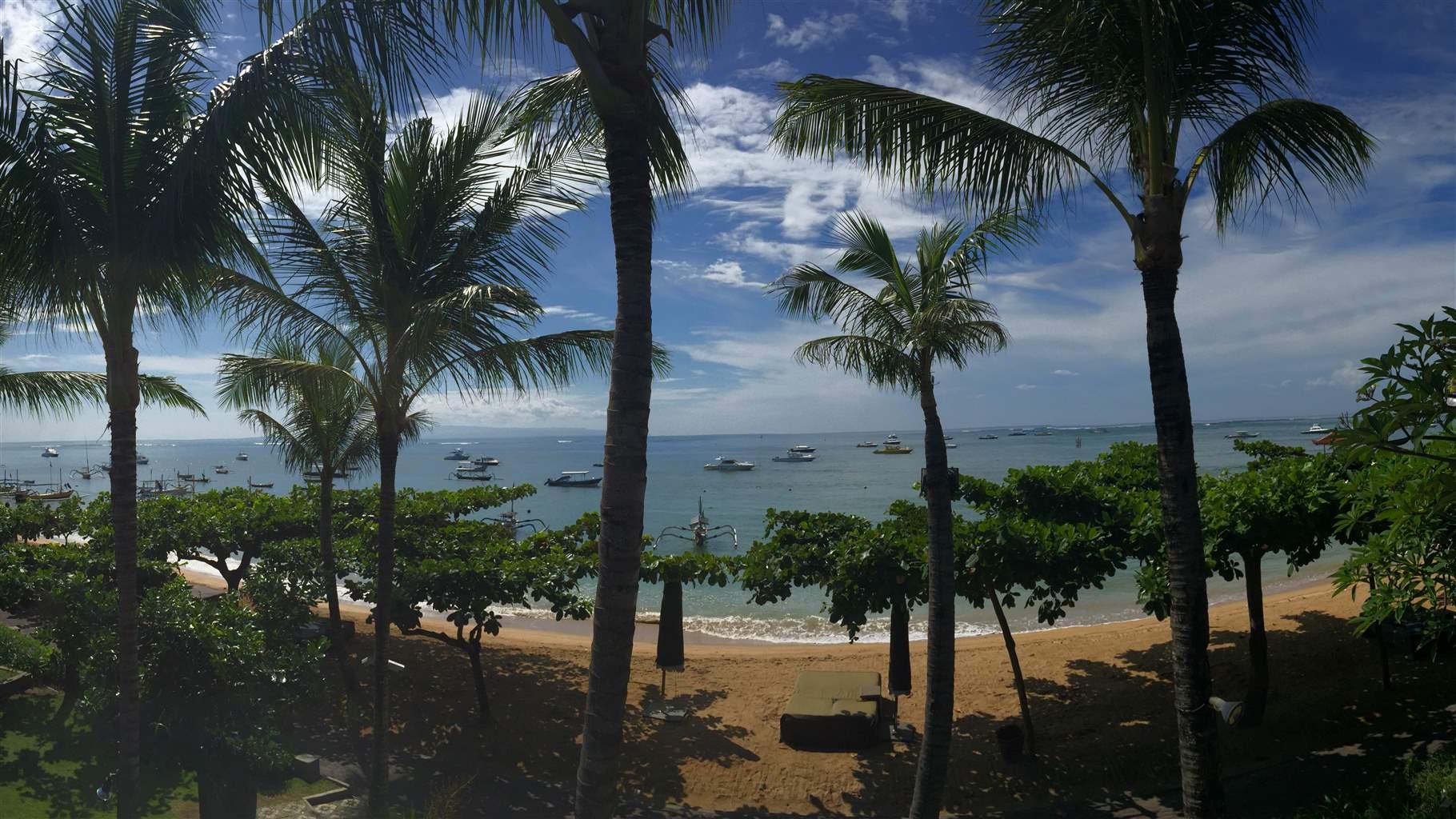 Each year, the level of sound caused by humans increases in the world's oceans. This noise—from a host of sources, including shipping, military exercises, and oil and gas industry activity—disturbs marine life, including fish, sea turtles, invertebrates, and mammals.
Rob Williams—a 2015 Pew marine fellow who is a marine conservation scientist with Oceans Initiative, a nonprofit dedicated to researching and protecting marine life—studies how noise affects ocean animals and what can be done to lessen that impact. Many marine organisms have a highly evolved sense of hearing and use it to communicate, avoid predators, and locate prey. Anthropogenic noise can interfere with these and other critical activities, including mating rituals and reproduction.
Anthropogenic sounds in a Bali harbor.
Credit: Rob Williams
To explore these impacts, Williams and his team monitored acoustic noise in shallow waters off Bali, Indonesia, near Ngurah Rai International Airport before, during, and after the Balinese holiday Nyepi, or Day of Silence. Williams chose this period for the study because during the 24 hours of Nyepi, the Balinese curtail human activities—including commercial fishing, air travel, and business and leisure events—and close the streets and beaches. This provided the researchers an opportunity to record ocean noise during a period of almost no human activity and compare it with more typical days. In addition, the team analyzed sound in the Salish Sea off Vancouver, British Columbia, one of the loudest ports along the North American Pacific coast.
In Bali, the researchers deployed six acoustic recorders for a week and discovered a 6-decibel (db) decrease in noise levels during the Day of Silence. They believe such a reduction is substantial enough to affect fish behavior, including mating rituals. Without the interference of human activity, the recorders picked up nightly fish mating choruses, wind, rainstorms, and the snapping of pistol shrimp, used for hunting and communication. On the other days, they heard only ship noises and other sounds of human activity.
The sound of fish chorus captured during Nyepi, the Balinese Day of Silence, in a Bali harbor.
Credit: Rob Williams
In the Salish Sea, ship noise is one of the most prevalent stressors affecting endangered populations of the southern resident killer whales. The researchers used existing shipping data in the area and conducted a literature review of approaches through which managers could achieve reductions in ship noise. Where possible, they used existing ship sound data to illustrate how various mitigation measures could reduce sound in the killer whale habitat.
Tanker noise in shallow waters of a little-trafficked area west of Bali below the Ngurah Rai International Airport flight path.
Credit: Rob Williams
Noise can be particularly difficult for the whales during their core feeding time in the summer months, because it can affect foraging efficiency by masking the calls that groups use to coordinate their movements, as well as the echolocation they use to hunt salmon. The researchers recommend that ships in the Port of Vancouver reduce their maximum speed to about 11.8 knots per hour, which they estimate should result in a 3-db decrease in ocean noise. Williams and his team also found that a combination of measures such as retrofitting ships, removing the noisiest vessels, adjusting timing of traffic, and other approaches could achieve reductions of 6 to 10 db.
The sounds of sperm whales and dolphins captured during Nyepi, the Balinese Day of Silence, in a Bali harbor.
Credit: Rob Williams
Williams is confident that human-caused noise is detrimental to marine life, but he says more data is needed to fully understand that impact.
"Silence really is golden," he said. "We are running out of times and places to see how animals and ecosystems function under the quiet conditions in which they evolved. We need to identify acoustic refuges in the ocean and protect them."
Polita Glynn directs the Pew Fellows Program in Marine Conservation for The Pew Charitable Trusts.