For Answers on Florida's Little Fish, a Math Geek Dives Into Data
Doctoral student studies prey, predators to better understand estuary food webs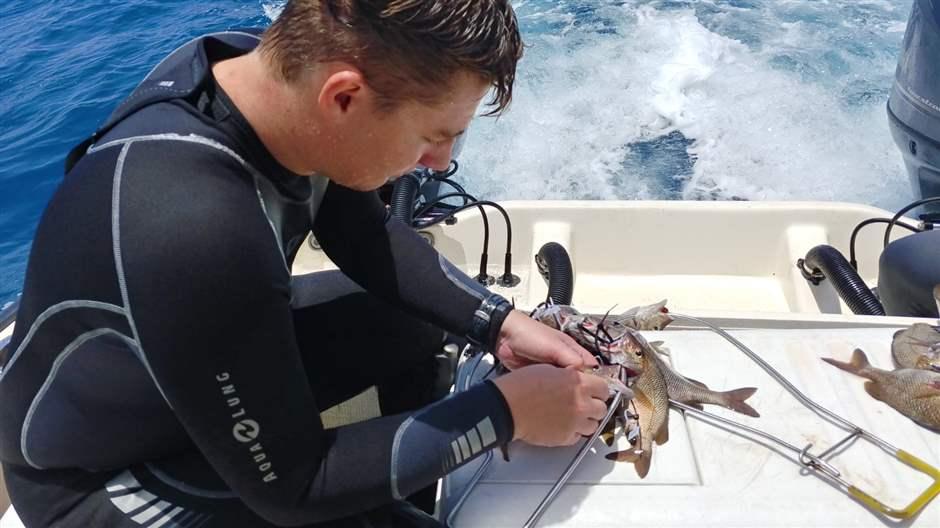 With a passion for math and a love of fish, Jonathan Peake has embarked on a sudoku-style journey to better understand life in Florida's estuaries.
Specifically, the 24-year-old University of South Florida doctoral student wants to better understand how communities of prey fish in Gulf Coast estuaries fluctuate—in abundance and species composition, and by habitat type.
To accomplish that, Peake is combing through decades of data on these populations, also known as forage fish, in an effort he hopes also will explain how environmental events such as cold snaps, habitat alterations, and red tide algal blooms affect prey communities.
Peake's research is part of the Florida Forage Fish Research Program, which has awarded its second year of fellowships to students who study the small prey. The program is run by the Florida Forage Fish Coalition, which is led by the International Game Fish Association and includes The Pew Charitable Trusts, the Florida Wildlife Federation, and the Snook and Gamefish Foundation. The coalition is collaborating with leading Florida academics and scientists from the state's Fish and Wildlife Research Institute (FWRI) to increase knowledge about forage fish, which are valuable food sources for many larger fish and other marine animals such as whales and birds.
"The whole point is to see not only the dynamics but to identify the most important species and whether we are focusing on the right ones for management or even ecological studies," Peake says. "We don't know a lot about these forage species."
In collaboration with FWRI scientists, Peake is using complex statistical methods to unravel these complicated fish relationships in four Florida estuaries: Charlotte Harbor, Tampa Bay, Cedar Key, and Apalachicola Bay. Although FWRI has been collecting data from these locations for more than 20 years, this kind of analysis has never been done.
"Ideally, I'd like to be able to see a distinct community within each estuary," says Peake, a student in the marine resource assessment program at the University of South Florida's College of Marine Science.
He is analyzing 62 forage fish species, including anchovies, pinfish, pilchards, and threadfin herring, as well as 75 predator species from red drum, snook, and spotted sea trout to gray snapper and gag grouper. Peake hopes to figure out which species dominate in various locations and whether that hierarchy has shifted. And he will try to identify which factors—ranging from water temperature and salinity to abundance of predators—have had the most influence on the composition of forage fish communities during the past 20 years.
Of all the work ahead, Peake says, analyzing relationships among the species is a puzzle of epic proportion. But the University of Miami alumnus with a triple major in marine science, biology, and math feels perfectly suited to the task.
"I feel this love of big data sets and trying to figure out what we can learn from all the numbers that wouldn't alone mean anything," says Peake, whose childhood trip to SeaWorld in Orlando, Florida, launched him on his marine science career. "I'm the techy, geeky guy in my friends group. I'm also the fish guy in the group. It's kind of the perfect storm."
He adds that he is eager to shine a light on the typically overlooked forage fish.
"They have tremendous value for the state of Florida and recreational and commercial fisheries," Peake says. "They are the basis for the food web, especially for fish we like to eat."
Holly Binns directs The Pew Charitable Trusts' efforts to protect ocean life in the Gulf of Mexico, the U.S. South Atlantic Ocean, and the U.S. Caribbean Sea.