As Floods Worsen, Marshall Shepherd Works to Translate Science Into Action
Award-winning professor says experts should 'engage with the public and policymakers'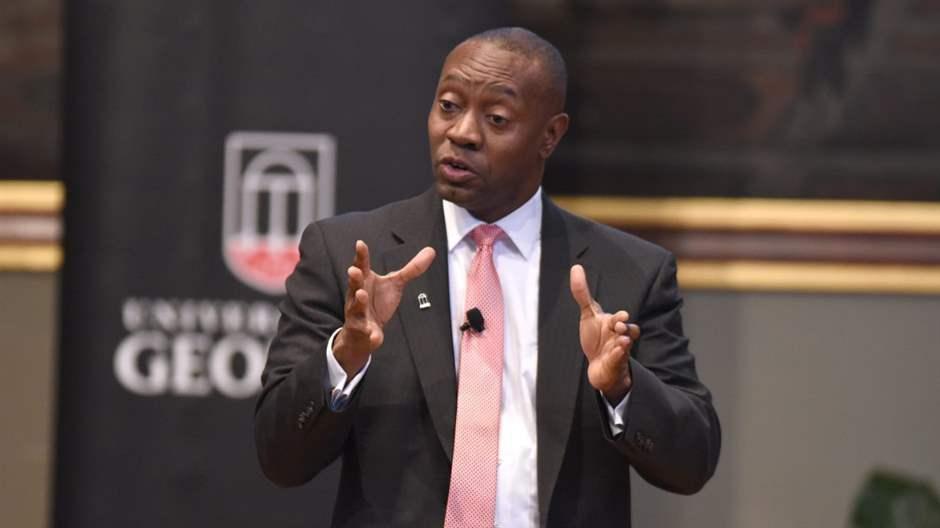 As an aspiring entomologist in the fifth grade, Marshall Shepherd spent his free time catching bees in his front yard. But when a bad sting—and the revelation that he was highly allergic to bee venom—left Shepherd seeking a new passion in life, he turned to meteorology.
"I decided to do my sixth-grade science project on weather [and] made weather instruments from things around the house," Shepherd says. "I knew then that I wanted to be a meteorologist."
He went on to earn a Ph.D., land his dream job—research meteorologist at NASA's Goddard Space Flight Center—and serve as deputy project scientist for the agency's Global Precipitation Measurement Mission and as president of the American Meteorological Society.
Today, with dozens of awards recognizing his teaching and research accomplishments and scores of published studies to his name, Shepherd is the Georgia Athletic Association distinguished professor of geography and atmospheric sciences at the University of Georgia (UGA) and director of the Atmospheric Sciences Program. He also hosts the Weather Channel's "Weather Geeks" podcast—one episode featured former Federal Emergency Management Agency administrator Craig Fugate and The Pew Charitable Trusts' Laura Lightbody—and is a contributing writer at Forbes.com, where he breaks down weather phenomena in layman's terms.
Shepherd says he sees his role as an information broker. "It is important that scientists with knowledge on topics like extreme rainfall [and] flooding engage with the public and policymakers," he says. He also hopes his impact extends far beyond the ivory tower of academia. "I try to find ways for stakeholders and policymakers to make hydrometeorological research or knowledge actionable."
Pew caught up with Shepherd to gain his insights on how flooding is affecting our society today.
Q: Why is flooding the most common natural disaster in the U.S.?
A: Anyplace that gets rain is vulnerable to flooding, and flooding is a function of intense or sustained rainfall, storm surge, and rising seas. However, it is also a function of impervious surfaces (such as paved roads), inadequate stormwater management designs, topography, water supply management, and other factors. With most of the U.S. population living in cities, we have an increasing amount of impervious surfaces, which translates to more runoff and less absorption of rainfall into the soil. The urbanized water cycle is very different from the natural water cycle and lends itself to more flooding.
Q: You've done extensive research on urban flooding. What are some of your key findings?
A: Myself and other leading researchers in this space, including professor Steve Burian at the University of Utah, are finding urbanized watersheds significantly enhance stream flow and runoff. Our research at UGA also suggests that cities themselves—for example, from typically being warmer than surrounding areas—can destabilize local weather and may even initiate, enhance, or modify precipitation systems. Such processes are in addition to the hydrological impacts of urban surfaces. This is important because, according to the National Weather Service, over the past three decades, flooding has caused more fatalities in the country on average each year than any other weather-related hazard except for excessive heat. The threat of increased urban flooding, loss of life, and property damage looms large from a policy implication perspective. Recent floods in Ellicott City, Maryland, and Houston remind us that these events can be societal game-changers.
Q: You've also focused on vulnerable populations. Which are the most vulnerable to flooding, and why?
A: A former student of mine—Neil Debbage, Ph.D., who is now a professor at the University of Texas, San Antonio—found that vulnerable populations (defined by race or class) are more likely than other populations to live in flood-prone regions of the urbanized corridor from Charlotte to Atlanta. This is consistent with previous findings of my UGA group, which published a study in 2015 showing that the Georgia counties most likely to experience weather extremes like flooding, drought, and heat waves have a disproportionate number of poor, elderly, or marginalized groups. Vulnerability is typically defined as some combination of exposure to the event, sensitivity to it, and whether you can adapt or bounce back. When you think about flooding in Houston after [Hurricane] Harvey, all groups were exposed and sensitive, but certain groups had flood insurance, health care, or other assets that helped them withstand the life shock. It is important for national policymakers to consider vulnerable populations and how they are distributed relative to flooding.
Q: The public isn't always fully informed about flood risks. How can that change to help people make better decisions?
A: I cannot tell you how many times I have watched, either in person or on social media, people drive through a road that is flooded. Many people exhibit "optimism bias," meaning they'll drive through a flooded road or forgo flood insurance and hope for the best, and buy a lottery ticket fully expecting to win. Study after study shows that people are generally bad at assessing risk. We need more visual aids that show people what risk means—for example, a video demonstrating small cars can get swept away from a little as one foot of water because the tires float, or an app depicting how much a house will flood with various rainfall amounts.
I would like to see flood warnings and messaging be more simplified. The National Weather Service's Hazard Simplification Program is making progress in these areas. Also, more public campaigns to ensure that people know the difference between a watch or warning is important. I have even floated the prospect of some type of index or scale similar to what we use for tornadoes and hurricanes, respectively.
Q: As you reflect on the 2017 hurricane season, what can the nation do to be better prepared for the next big flood?
A: One of the biggest takeaways from 2017 is that information is there but may not be reaching people. I wrote a Forbes article days before Hurricane Harvey warning of 40 to 50 inches of rainfall. However, I think people, including policymakers, struggle to grapple with something outside of their level of experience. People in Houston see flooding all of the time, but not like Harvey. This makes it difficult to plan and leads to people saying after the event, "We had no idea it was going to be that bad," even though there were warnings. I saw this with Hurricane Maria in Puerto Rico too. It was obvious to forecasters for days that Puerto Rico was going to be significantly impacted. We need to get people and decision-makers to act on forecasts, even though sometimes it may turn out that nothing bad happens. It would be nice to get to a point where someone says, 'I had to evacuate for a day, but I am happy to do it, because there was risk.' Flood risks are here to stay, and, frankly, I expect them to increase.
Forbes Tompkins is an officer with The Pew Charitable Trusts' flood-prepared communities initiative.