New FDA Web Tool Will Help Doctors Prescribe the Right Antibiotic
Launch implements provision of 21st Century Cures law focused on fight against antibiotic resistance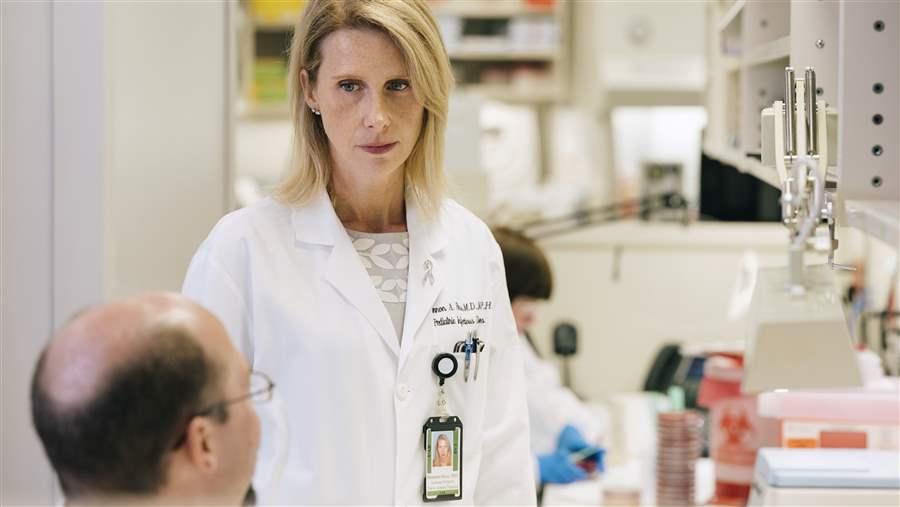 Breakpoints help Dr. Shannon Ross, medical co-director of the Children's of Alabama-Benjamin Russell Hospital's antimicrobial stewardship program, determine whether or not an antibiotic will work for her patients.
The Pew Charitable Trusts
Editor's note: This analysis was updated in June 2018 to include an infographic. Minor edits were made to the graphic in August 2018 to clarify how breakpoints are used.
For health care professionals, choosing the right antibiotic to treat a bacterial infection is not only critical for protecting patients' safety and helping them get well as quickly as possible. Improved antibiotic selection is also essential to slowing the emergence of resistant pathogens and safeguarding public health.
To help ensure that health care providers have access to timely and accurate information for determining which antibiotics to prescribe, the U.S. Food and Drug Administration (FDA) recently launched a new website for sharing data points known as "breakpoints." These breakpoints help identify the drugs that will be most effective in treating a given bacterial infection. The FDA created this resource as part of implementation of the 21st Century Cures Act provisions focused on combating antibiotic resistance. Congress enacted the law in late 2016.
Before the launch of this new online resource, the FDA updated the breakpoints infrequently and did so only in the written information for prescribers included with each drug. But these data points need to be re-evaluated regularly to respond to emergence of new resistant bacteria strains. For example, an antibiotic that was effective in treating E. coli urinary tract infections 10 years ago may be less effective against that same infection now because of increased resistance.
In addition, the FDA previously relied only on its own data analyses when updating breakpoints, even though nationally and internationally recognized third-party organizations—such as the Clinical and Laboratory Standards Institute and the United States Committee on Antimicrobial Susceptibility Testing —also collected relevant and complementary breakpoint data. In the past, reliance on out-of-date and incomplete information put patients at unnecessary risk.
The FDA's new website should allow for faster, more accurate assessments of resistance to antibiotics. To ensure that the breakpoints are kept up-to-date, the site now draws on a broader set of data, including the agency's analyses and data collected from third-party organizations as appropriate.
This new tool will encourage more targeted use of antibiotics, a crucial step toward improving patient outcomes. Continued collaboration with policymakers, health care providers, and the public health community can drive further progress in efforts to protect the health and safety of the American people from the growing threat of superbugs.
David Hyun, M.D., works on Pew's antibiotic resistance project.