Large Farms Must Act to Reduce Fresh Fruit and Vegetable Contamination
FDA and industry to offer training, education, and assessments on produce safety rule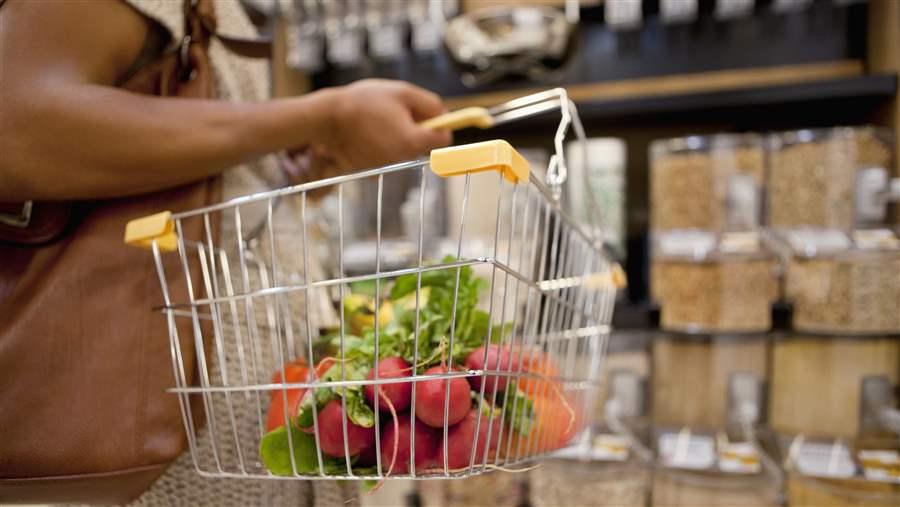 New food safety rules set to kick in Jan. 26 should help decrease contamination of produce in the U.S.
Monashee Franz/Getty Images
Starting Jan. 26, large farming operations in the U.S. must meet new federal rules intended to reduce the number of foodborne illnesses caused by contaminated produce. From 2006-17, 35 multistate foodborne illness outbreaks tracked by the Centers for Disease Control and Prevention were linked to fresh produce; 11 of those were associated with sprouts. One of the produce outbreaks, caused by contaminated cantaloupe, resulted in 33 deaths. The new measures, which address possible sources of contamination, such as water used in farming, manure and similar products used to fertilize the soil, and workers, are part of the phased implementation of the FDA Food Safety Modernization Act (FSMA), which was signed into law in 2011.
In recent years, cucumbers, spinach, cantaloupe, and many other fresh fruits and vegetables have been linked to more outbreaks. The new rule is intended to help growers, harvesters, and packers of fresh produce prevent contamination from sources along the supply chain.
FDA and state leaders recognize that farmers will need substantial training and support to prepare to comply with these first-ever national produce safety standards. The agency has committed nearly $52 million in federal funds over the past two years for education, training, and outreach to support the 43 states that have agreed to enforce the rule. In September remarks to the annual meeting of the National Association of State Departments of Agriculture (NASDA), FDA Commissioner Scott Gottlieb emphasized the importance of education during implementation of the rule and highlighted one such initiative, known as On-Farm Readiness Reviews, in which farms would voluntarily receive visits by food safety experts who would assess how well those farms are meeting the new requirements. NASDA developed that initiative, along with a broader implementation framework for states, under a 2014 cooperative agreement with FDA. The agency has also made training state regulators and inspectors a top priority in 2018 to help ensure that they are ready to enforce the rule beginning next January.
The development of the produce safety rule involved many rounds of proposals, public hearings, and listening sessions, and its implementation represents a major step forward in ensuring the safety of the produce eaten across the country.
In response to concerns from stakeholders, FDA is reconsidering the microbial quality and testing requirements for agricultural water, which can be a source of contamination in crops. The compliance deadlines for this rule have been delayed, and the agency is convening an agricultural water summit in early 2018 to consider possible revisions to the water requirements.
While large businesses will need to comply with the Produce Safety Rule beginning this month, with enforcement beginning one year later, small businesses and very small business have until Jan. 28, 2019, and Jan. 27, 2020, respectively, to comply.
Sandra Eskin directs The Pew Charitable Trusts' work on food safety.
Note: This analysis was updated on January 12, 2018, to remove numbers of deaths and illnesses that had been published due to an error.