FEMA Proposes Partnering With States to Prepare Before Disasters
Hurricane Irma highlights the need for more incentives for disaster mitigation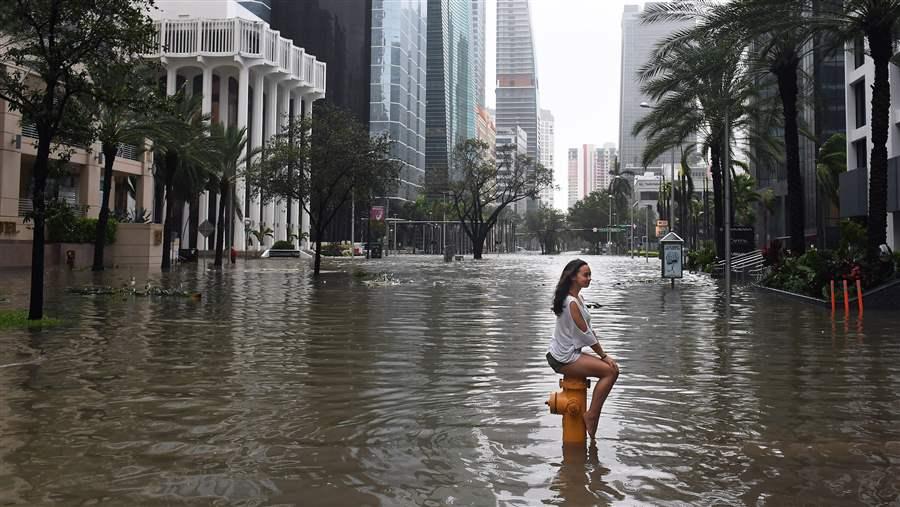 Mia Herman sits on a hydrant on a flooded Miami street during Hurricane Irma in September.
© Matt McClain/The Washington Post via Getty Images
Weeks after Hurricane Irma made landfall in South Florida, it's clear that the storm ranks among the most destructive to hit the state. More than a dozen people died, millions went without power, and it caused an estimated $25 billion to $35 billion in damage to insured properties in affected states, including Florida.
But Irma was no anomaly for the state. In 1992—before Ivan, Frances, Charley, Wilma, and Matthew—there was Hurricane Andrew, the costliest hurricane on record at the time. It destroyed more than 25,000 homes, causing an estimated $26.5 billion in damage, and left more than 160,000 people homeless. In response, officials rewrote the state's building codes, making them the toughest in the nation. New homes since then have been designed to better withstand hurricanes such as Irma.
But as memories of Andrew have faded, so too have its lessons. This year, the state passed a new law that untethers Florida's building code from international standards, making it possible for the Florida Building Commission to weaken it.
It is clear that stronger buildings and other mitigation efforts pay off. A study this year by Florida's emergency management division found that $19.2 million spent on 40 such projects completed before Hurricane Matthew struck in 2016—including raising buildings, improving drainage, and buying and demolishing properties in vulnerable areas—averted more than $81 million in likely damage. A Federal Emergency Management Agency (FEMA) report also found that homes built with the stronger codes after Andrew performed better than older housing.
To persuade states to replicate such efforts, FEMA is proposing incentives: In exchange for preparedness activities such as mandating stronger building codes, establishing a disaster savings fund, and using tax incentives for mitigation, states would be eligible for more federal funds to rebuild roads and schools after a flood. States that don't take action would shoulder more recovery costs. FEMA sought public comment on its proposal earlier this year, and the new FEMA administrator, Brock Long, recently indicated support for the concept.
Research shows that mitigation measures save $4 for every $1 invested. Nevertheless, from 2005 to 2014, the federal government spent $277 billion on disaster assistance but far less—just $600 million—on a FEMA-run program that helps communities make improvements to better withstand future storms. It is now extending disaster assistance to communities affected by Irma and hurricanes Harvey and Maria. Damage and economic costs from all three storms are estimated to exceed $250 billion.
There has never been a greater need for communities all over the country to plan and prepare for their next flood event. Hurricane season continues through November, and the National Oceanic and Atmospheric Administration has predicted as many as 19 named storms in the Atlantic. Irma demonstrated that Florida is in the crosshairs, but it's not alone.
With a solution already on the table, the federal government should advance the state preparation credit proposal to help create safer, less vulnerable communities from Florida to Washington state.
Laura Lightbody directs The Pew Charitable Trusts' flood-prepared communities initiative.