Philadelphia's Drug-Related Homicides Continue to Rise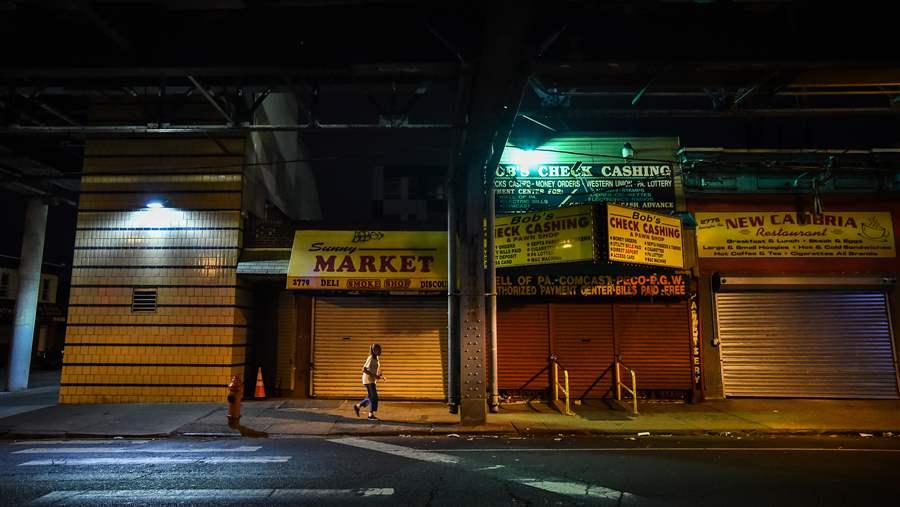 A woman walks past storefronts along Kensington Avenue in Philadelphia.
© Getty Images
Although the number of homicides in Philadelphia in the past few years has been relatively low by historical standards, the number of killings connected to drugs has been increasing, according to data from the Philadelphia Police Department.
In 2016, 89 of the 277 recorded homicides in Philly were linked to drugs, continuing growth from 2015, when 81 of that year's 277 killings were drug-related. The latest numbers for 2017, which go through July, show that 55 people were murdered in drug-related incidents; if that rate continues, the city will again see a rise in those types of killings. These numbers mark a distinct jump from a few years ago, with only 45 of the 249 homicides in 2013 related to drugs. For purposes of this analysis, drug-related killings include those that resulted from arguments, robberies, and retaliations that were determined by the police to be drug-related.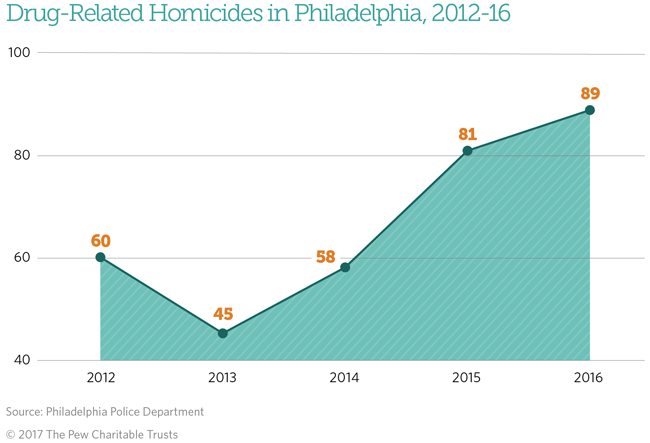 On a percentage basis, drug-related killings accounted for 32 percent of all homicides in 2016, compared with 18 percent in 2012. Drugs appeared to be driving the murder rate over that period, with police statistics showing that the percentages for other top causes declined during that time.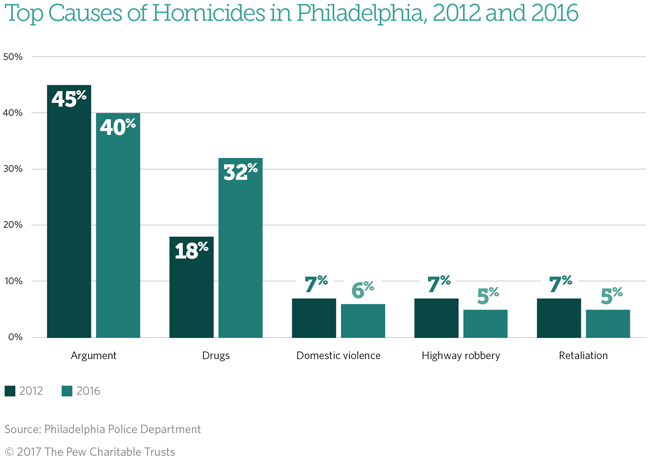 Where homicides occur, particularly those that are drug-related, varies widely throughout the city. In 2016, 46 percent of all homicides and 57 percent of drug-related killings occurred in four adjacent police districts in North Philadelphia (the 22nd, 24th, 25th, and 39th districts), each accounting for at least 10 percent of the city's total murders.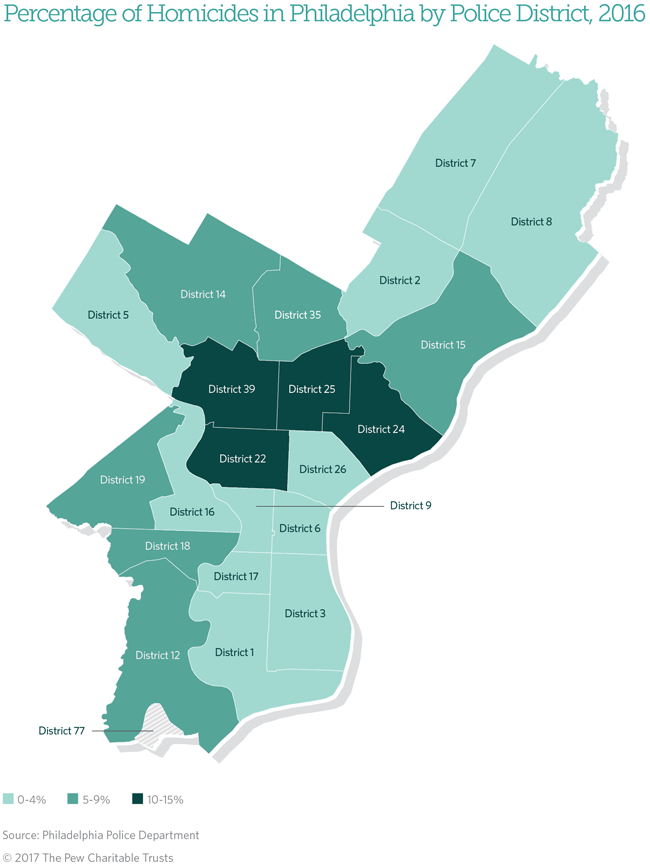 From 2014 to 2016, homicides rose 28 percent in those districts—and drug-related killings jumped 132 percent. The 25th district had the highest rate, with a 41 percent increase in total homicides and a 257 percent increase in drug-related murders.
In a statement to The Pew Charitable Trusts, the Philadelphia Police Department said it was too soon to know whether the data from the past few years represent a trend—and did not speculate on what may be driving the increases. The statement also said that the department did not see any connection between the rise in drug-related homicides and the recent increase in overdose deaths in the city.
Larry Eichel directs and Octavia Howell is a researcher for Pew's Philadelphia research initiative.