Big Outback Plans for 2 Million Acres Under Aboriginal Ownership
Returning to tropical Queensland tract, Olkola aim to unlock its scientific, economic, and conservation potential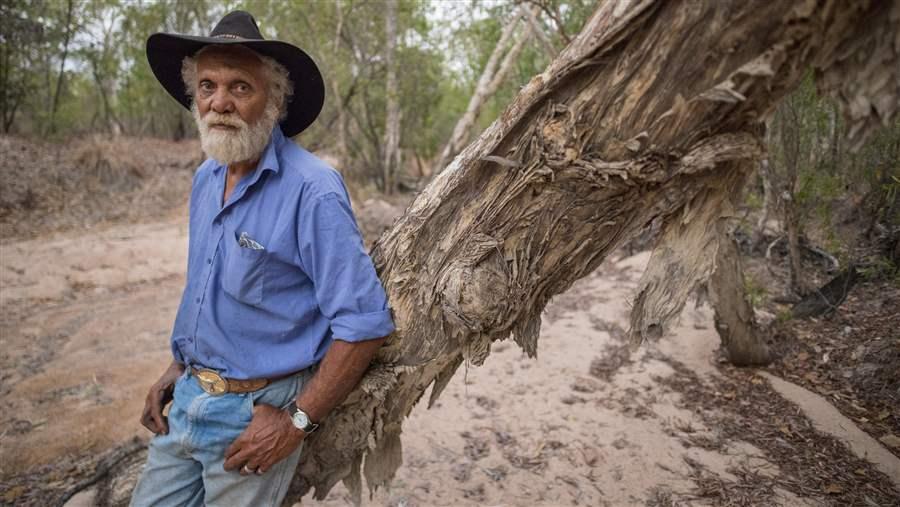 Traditional Owner Michael Ross leans against a tree on Olkola land in Queensland's Cape York peninsula, part of Australia's tropical Outback.
© Kerry Trapnell
In 2014, ownership of five big Cape York cattle stations was handed back to their Traditional Owners, the Olkola. Together with cattle leasehold country they also manage, the Olkola—who call themselves the 'Freshwater People'—are now the custodians of more than 800,000 hectares (nearly 2 million acres) of Australia's tropical Outback.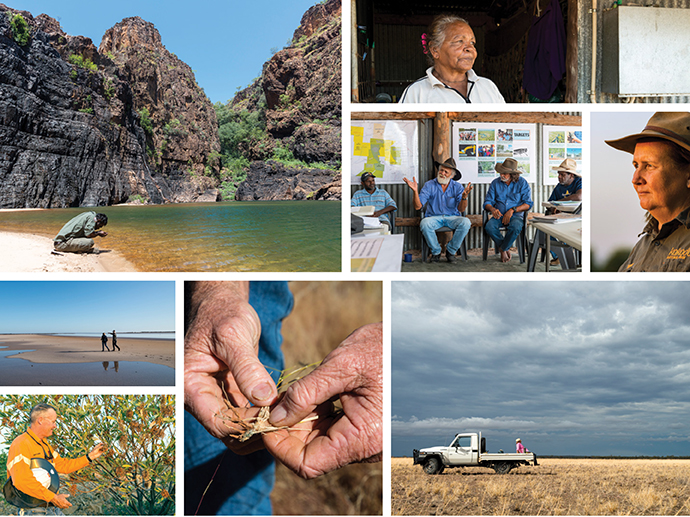 See Full Book
207 Outback photos
14 original maps
12 voices of hope and change
At more than three times the size of Australian Capital Territory, the remote Olkola estate is a mix of joint-managed national park, nature refuge, regional park, leasehold and Aboriginal freehold. It includes the old Strathmay, Crosbie, Dixie, Wulpan, and Killarney cattle stations, and the Kimba Plateau—the birthplace of many of the Cape's rivers and a wild treasury of rare geology, flora, and fauna.
It's a place of huge biodiversity value. In just one 10-day 'research blitz' in 2015, a team of scientists found rare species of fish and orchids, and more than a dozen species of new spiders. The ensuing wave of news coverage included this story from The Guardian.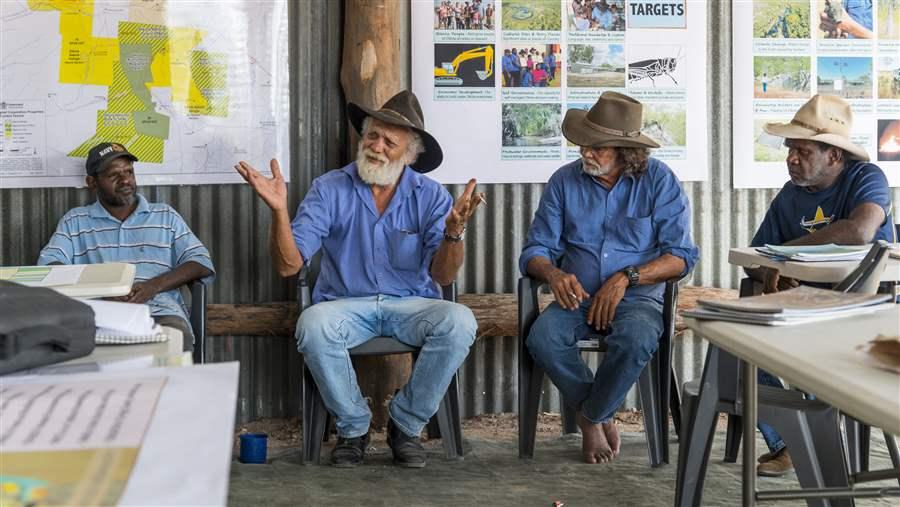 Michael Ross and Olkola Traditional Owners meet to discuss management plans for the vast Olkola estate in the tropical Outback of Queensland's Cape York peninsula.
© Kerry Trapnell
This land is part of the largest unbroken tropical savanna in the world and includes nine threatened regional ecosystems, from unusual mound springs and wetlands to tall forests, remnant rainforests, and savanna woodlands. Wildlife species include the extremely rare golden-shouldered parrot—an Olkola totem—and cultural sites abound.
An Outback science station could bolster Olkola knowledge
Most of this area has never been surveyed using Western scientific methods, which means there are large gaps in the knowledge of resident and invasive species, topography, and geology. That's something Olkola Aboriginal Corporation Chairman Michael Ross would like to see change.
Such a survey, coupled with the Olkola's traditional knowledge, would help Ross and his people better manage their vast inheritance, he says in The Pew Charitable Trusts' study My Country, Our Outback: Voices From the Land on Hope and Change in Australia's Heartland (download to see photos, maps, and the full story). The report is the second in a series of peer-reviewed studies produced by Pew on conservation priorities and challenges across this vast region.
Ross wants to see a research and education centre established on Olkola land to draw visiting scientists to study the wonders of this country. Such a huge tract of land and the many poorly understood species that live there could hold the keys to any number of beneficial discoveries, for example, to treat cancer or other health conditions.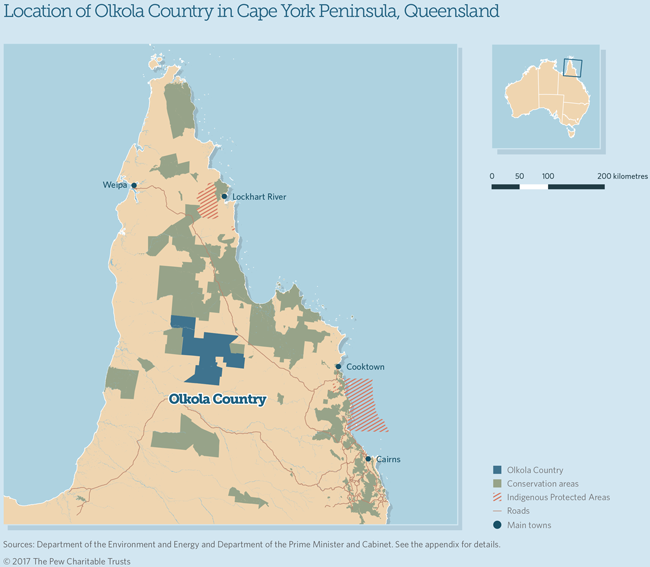 "It's not just about cattle," Ross says of Olkola land and its future. "We need those people here. We're finding new things every day, every time we go out." He's hoping that government and philanthropic groups will fund the new centre.
What 'kills'—and what can revive—Cape York
Making Olkola land a hotspot for that level of research and education will require a lot of work from Traditional Owners—effort that has already begun under a plan they've been starting to implement since regaining ownership of their land in December 2014.
Olkola have already been involved in surveying the extremely rare golden-shouldered parrot, mustering cattle out of a newly created national park, establishing a joint eco-tourism venture with the tourism company Intrepid Travel, building facilities on the land, fencing areas for cattle, signing a carbon credits deal, and setting up a base for the Olkola Indigenous Ranger group.
(Related: "Government Review Finds Big Benefits from Indigenous Rangers and Indigenous Protected Areas.")
Ross says that strong self-governance is crucial and that the Olkola must be able to make their own decisions. He says having better roads is also vital in a corner of the Outback where the wet season still brings isolation. For example, even in the dry season rangers sometimes spend an entire day just driving to and from a single job. After heavy rain in the wet season, some roads and tracks are simply impassable. When the land is that hard to reach, he says, it "kills most of the Cape," along with any hope of making money from cattle and tourism. The Olkola need better access.
An Olkola child plays while adults meet in a building nearby. The Olkola people gained control of more than 800,000 hectares (nearly 2 million acres) of their traditional lands in late 2014.
© Kerry Trapnell
The Olkola have the potential to earn $4.2 million over seven years through carbon credits from government-supported emissions reduction funds if they can control wildfires and stop the release of 65,000 tonnes of carbon a year.
That means doing widespread controlled burns at the start of the dry season, putting in firebreaks, working with neighbours and suppressing fires when they do break out. But their fire management resources are modest, and one bad wildfire could wipe that income out for a year. The Olkola have other sources of income, such as through eco-tourism and joint management, with the government, of the neighbouring Alwal National Park (Cape York Peninsula Aboriginal Land). But such funding ebbs and flows, and the Olkola's financial situation is precarious.
The Olkola Aboriginal Corporation needs guaranteed funding to turn its rangers into a professional, full-time force. Ross hopes that one day all the rangers managing the Alwal park will be Olkola and that his people will eventually take on full responsibility for running the park.
It's another reason he's passionate about the Olkola Indigenous Land Managers, a ranger service that's a primary vehicle for getting people back living and working on country, where elders can pass their knowledge on to the next generations.
Download My Country, Our Outback for more photos and the full story.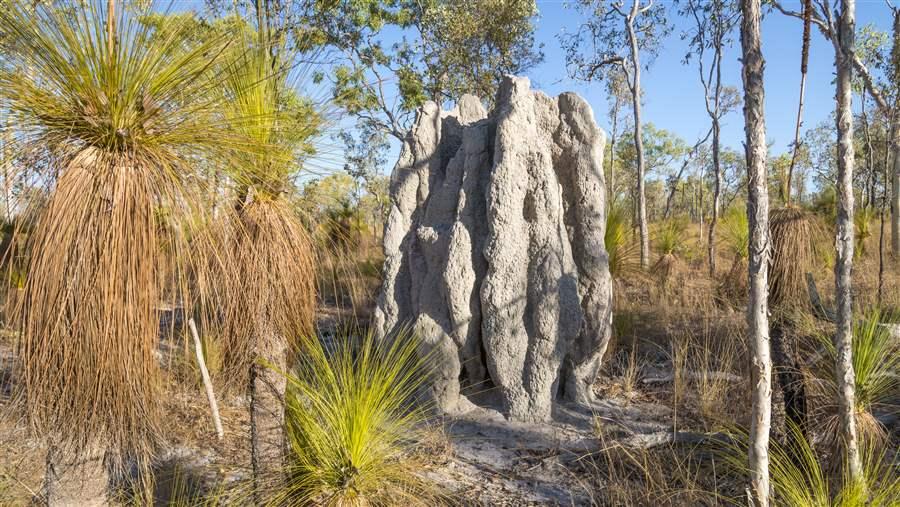 A termite mound in Olkola country, where Traditional Owners are working to expand their Indigenous Ranger program and help pass traditional knowledge on to younger generations.
© Kerry Trapnell
Barry Traill directs The Pew Charitable Trusts' Outback to Oceans Australia program. Daniel Lewis is an Australian writer and author of 12 case studies included in My Country, Our Outback: Voices From the Land on Hope and Change in Australia's Heartland.