National Monuments Protect America's Heritage—and Economy
Critical history and outdoor recreation revenue at stake in review of 27 sites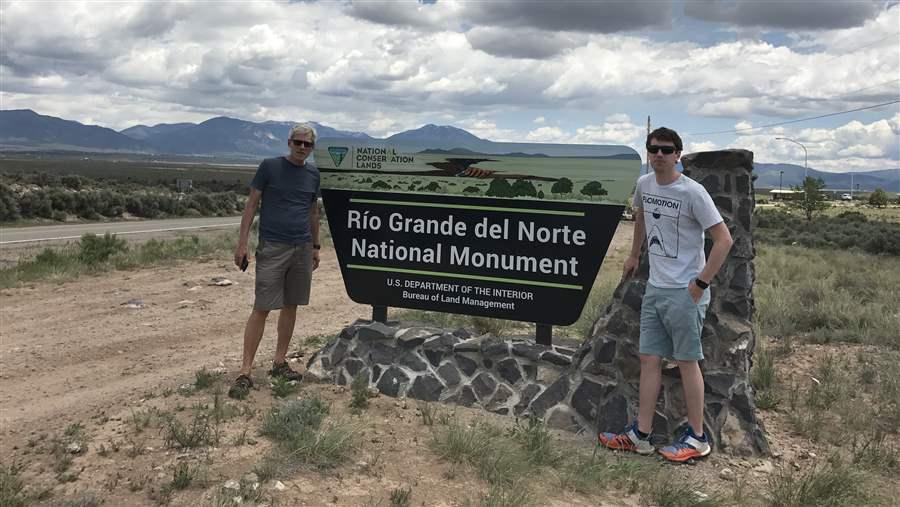 Pew's John Gilroy and his son, Alex, at the entrance to Rio Grande del Norte National Monument, one of 27 monuments under review by the Trump administration.
© Lynn Vacanti
In early June, as Interior Secretary Ryan Zinke was reviewing 27 national monuments for possible shrinkage or elimination, I had the chance to visit one of them—the Rio Grande del Norte National Monument, which The Pew Charitable Trusts' lands team had worked for many years to protect. Designated in 2013, this area in northern New Mexico is a remarkable place of volcanic cones, expansive plateaus, and deep river gorges. The monument features a spectacular view of Ute Mountain, which rises nearly 3,000 feet above the surrounding plains.
I hiked the monument's West Rim Trail, where I saw the dramatic Rio Grande Gorge and took in the whole Sangre de Cristo mountain range that creates the eastern flank of the Taos Plateau. I went back in mid-July with my wife, Lynn, and spent a day farther north in what is known as the Wild Rivers section, hiking 800 vertical feet down into the gorge along the Rio Grande to its confluence with the Red River.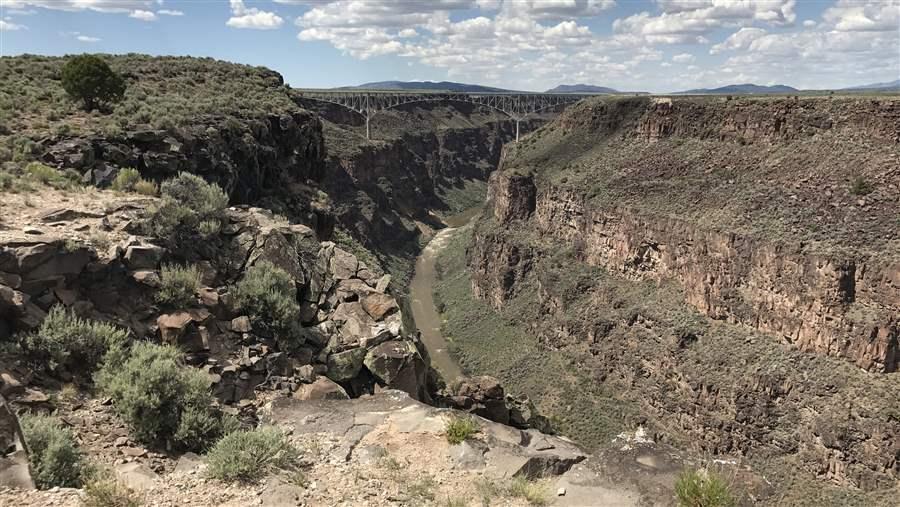 U.S. Route 64, seen in the distance crossing the 660-foot-high Rio Grande Gorge Bridge, is one of several paved roads in the monument.
© Lynn Vacanti
During each visit we met people from all over—including bikers, hikers, anglers, and campers—who had come to experience this landscape. Like us, they were drawn here by the stunning scenery, which changes from piñon and juniper at higher elevations to Ponderosa pine along the river, and wildlife: The Rio Grande Gorge is part of one of the world's finest bird migration routes and offers nesting habitat for eagles, falcons, and hawks.
Economic driver for nearby communities
And like me, those visitors contribute to the economies of the local communities. New research by the Outdoor Industry Association found that outdoor recreation supports 99,000 jobs in New Mexico, contributes $623 million in state and local tax revenue, and generates nearly $10 billion in consumer spending each year. In the southern part of the state, tourism around the Organ Mountains-Desert Peaks National Monument near Las Cruces jumped 102 percent from 2015 to 2016, driven by visitors seeking to enjoy scenic views, spot wildlife, and explore historical sites like Billy the Kid's Outlaw Rock and thousands of petroglyphs.
America's national monuments preserve ancient artifacts, safeguard vast and wondrous landscapes, and celebrate who we are as a people. Without the Antiquities Act, the landmark 1906 law under which our national monuments were established, we wouldn't have the Grand Canyon, the Statue of Liberty, or Zion National Park, each of which began as a national monument. It's a law that 16 presidents—eight Republicans and eight Democrats—have used to ensure that future generations would have the opportunity to explore, enjoy, and learn from some of our country's most special places.
Overwhelming support for national monuments
When Secretary Zinke makes his recommendations on possible changes to or elimination of some of these monuments, I hope he considers the more than 2 million comments submitted from people who took the time to express their views. The vast majority were clear about their support for maintaining the monuments as they are. Commenters heaped praised on these public lands with comments such as "part of our national heritage," "a wonderful national resource," and "a critical part of our nation's economy."
In Pew's public comments, we wrote that Oregon's Cascade-Siskiyou monument, part of which is in far northern California, "is well-justified both scientifically and legally and is a well-balanced compromise [among user groups] that will continue to provide economic benefits to the local community." And that Gold Butte monument in Nevada "preserves a vast and threatened array of natural, cultural, and historic sites," and "presents local communities with an opportunity to harness the economic value of our nation's public lands."
Basin and Range in Nevada is among 21 national monuments still under consideration for change or elimination.
© Tyler Roemer
Secretary Zinke has already cleared six monuments to stay as they were designated, including the more than 1 million-acre Grand Canyon-Parashant in Arizona, which he said features "some of the most pristine and un-deformed geological formations in North America," and the 661,000-acre Craters of the Moon in Idaho, which Secretary Zinke called "a living timeline of the geologic history of our land on the Great Rift." The 21 monuments still under review are equally remarkable and deserve a similar reprieve. Every one of them receives strong public support and is a significant contributor to the economies of nearby communities.
In designating Río Grande del Norte, President Barack Obama said protecting the area would "preserve its cultural, prehistoric, and historic legacy and maintain its diverse array of natural and scientific resources, ensuring that the historic and scientific values of this area remain for the benefit of all Americans." That's true for all of America's national monuments—from Cascade-Siskiyou and Utah's Grand Staircase-Escalante, to Organ Mountains-Desert Peaks in New Mexico and Mojave Trails in California. The conservation of these places is essential to preserving a core American ideal—that some places in our country are too remarkable to risk losing forever. They are irreplaceable. And that's why all of our national monuments deserve to remain as they are.
John Gilroy directs The Pew Charitable Trusts' U.S. public lands program.