For Some, Touring MLK's Boyhood Home Is a Dream Deferred
The National Park Service is reopening Martin Luther King Jr.'s Birth Home in Atlanta, but repairs continue at the historic site.
© The Pew Charitable Trusts
In Atlanta this weekend, people will be able to pay homage to Martin Luther King Jr. during his birthday celebration by visiting a site that has been closed for months: the civil rights leader's boyhood home.
The two-story house in the Sweet Auburn neighborhood where King and his brother and sister were born and where he lived until he was 12 is a centerpiece of the Martin Luther King Jr. National Historic Site, which also includes the church where he preached, and several neighborhood homes. Unfortunately, the National Park Service (NPS) had to close the Birth Home in August after a floorboard was found to be unstable.
The NPS has completed repairs to the first floor of the Auburn Avenue home and is opening it to the public as part of the commemoration events. The second floor will be off-limits, however, while NPS assesses what other repairs are needed to keep the 1895 structure sound.
The temporary closure is just one example of NPS' struggle to address a nearly $12 billion deferred maintenance backlog nationwide. At national parks and other sites, funds are needed to repair rotting buildings, crumbling roads, run-down trails, outdated and unsafe utility systems, and even deteriorating iconic memorials and monuments.
Deferred maintenance at the King national historic site totals $10 million. Much of the neighborhood has been preserved, allowing visitors to walk back in time and gain perspective on what it was like for King to grow up in a segregated community. Time has taken its toll on the neighborhood's historic buildings.
Ebenezer Baptist Church water damage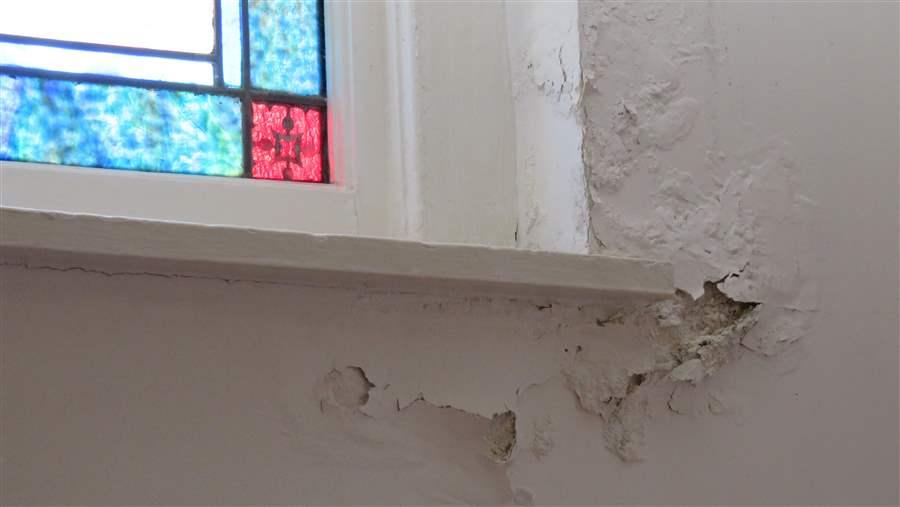 Water damage near a stained-glass window in historic Ebenezer Baptist Church in Atlanta.
© The Pew Charitable Trusts
One example is Ebenezer Baptist Church, where King joined his father as co-pastor. After the younger King was assassinated in 1968 at age 39, his funeral was held in the church. The red-brick building has been restored to look as it did on that solemn day. However, water damage is evident around the inside of several windows.
Historic homes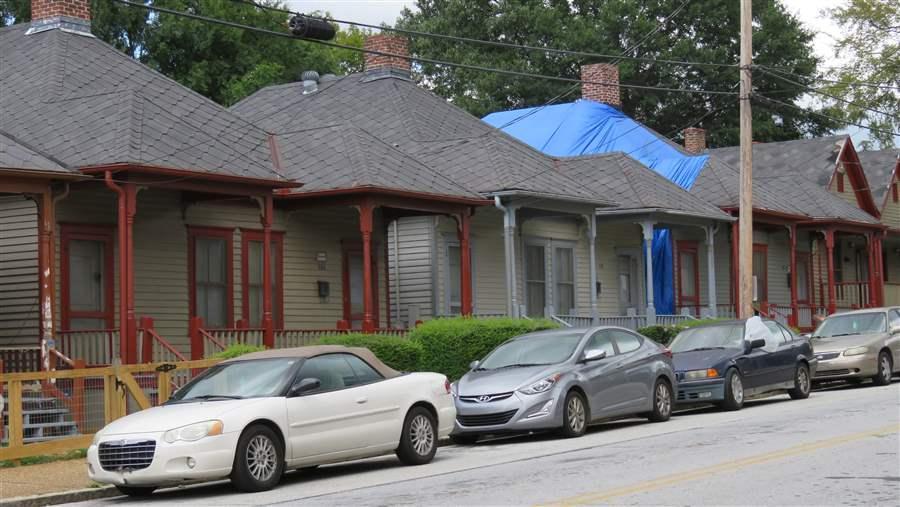 Repairs to historic homes are among the $10 million in overdue maintenance at the Martin Luther King Jr. National Historic Site.
© The Pew Charitable Trusts
To give visitors a sense of what it was like to grow up as King did, the NPS has preserved many of the homes in what was then a segregated African-American neighborhood. King lived in a house that reflected his family's relative wealth, but across the street families of lesser means lived in less stately homes. Today, NPS rents some of the neighborhood houses to families, uses some for administrative purposes, and others are vacant. Many have deferred maintenance needs, including roof repairs and energy efficiency modifications.
Celebrate civil rights history and national treasures, and fix our parks
As America celebrates King's life and legacy on this holiday weekend, these national landmarks should serve as a reminder that our history must be preserved for future generations. And as Congress and a new administration prepare to set their priorities, we hope they will keep this in mind as a nonpartisan issue that lawmakers can agree on.
Marcia Argust directs The Pew Charitable Trusts' campaign to restore America's parks.