'Now I Can Restore a Smile'
Dental therapist in rural Minnesota explains why her profession fills a need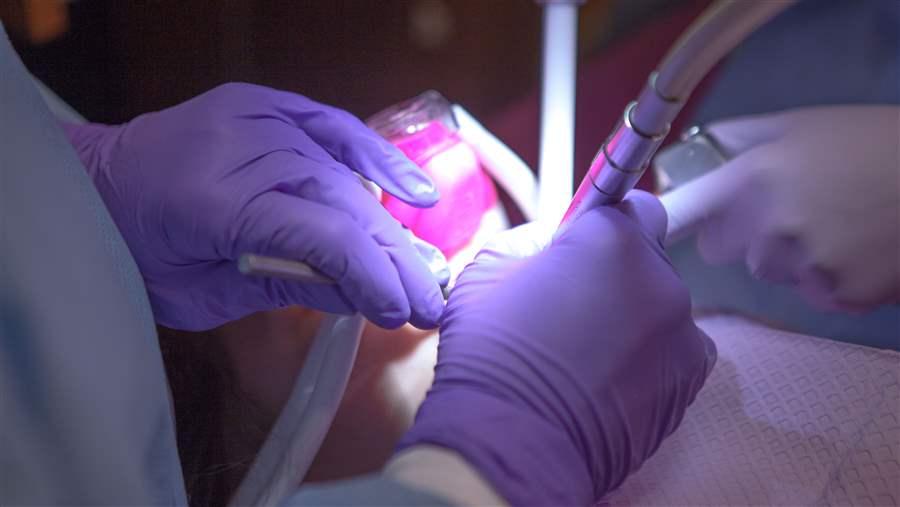 Dental therapist Brandi Tweeter treats a young patient at Main Street Dental in Montevideo, Minnesota.
© The Pew Charitable Trusts
Note: This analysis was updated February 6, 2017 to clarify Tweeter's role in preparing a patient's mouth for dentures.
Patients in rural Minnesota often travel two hours and more for an appointment with Brandi Tweeter. The dental therapist practices in the city of Montevideo, population 5,400, about 45 miles from the South Dakota line. Why do patients travel so far to see her?
Simply put, they can't get proper dental care any other way. The services Tweeter offers—prevention and routine restorative care—are often difficult to obtain in rural communities, which tend to attract fewer dentists. The patients who live there often lack insurance or the ability to pay, as well.
But relatively recently, a new solution arrived. In 2009, Minnesota became the first state to authorize dental therapists, primarily to bring care to underserved populations. Dental therapists are midlevel providers—akin to physician assistants—who provide routine prevention and treatment services, such as filling cavities and placing temporary crowns. They work in a range of settings—public clinics, community health centers, private practices—and some are deployed to nursing homes and schools to reach populations that face challenges traveling to an office. Forty-seven percent of Minnesota's dental therapists practice outside of the Twin Cities, including rural areas.
Similar providers have worked with tribal communities in Alaska since 2004 and practice in more than 50 countries. Recently Maine and Vermont changed their laws to allow dentists in those states to hire dental therapists.
Tweeter, a former dental assistant, finds her expanded role very rewarding. "Patients come in with full-mouth decay … and need full reconstructions. I can do that now. I can restore a smile."
Dental therapists must be employed by a dentist but can see patients in remote or community settings while being supervised via telephone and accessing the same electronic health record as the dentist. The arrangement helps a dental practice build its clientele as well as provide cost-effective care. Adding dental therapists to the team has enabled Main Street Dental Care, where Tweeter works, to become more profitable, even while treating more patients on Medicaid. The practice, owned by dentist John Powers, has hired four dental therapists in the past four years and expanded its total staffing from eight to 20 people. Compared to 2012, this year the office has increased the number of patients served and increased collections by $488,788.
Tweeter keeps busy. Some of her regulars schedule appointments for every family member when they come to Montevideo. "If I wasn't there, they wouldn't get their teeth checked," she says.
Two years ago, a 45-year-old acquaintance of Tweeter's asked via Facebook whether Tweeter's dental practice would take her insurance. The woman had neglected her teeth because she couldn't find a dentist who accepted patients on Medicaid. "She would cry herself to sleep because of a toothache," Tweeter says. The woman told her she hadn't smiled in two years.
Tweeter removed the black decay spots, so the dentist could extract some badly diseased teeth and fit her with partial dentures.
"This year is the first time she'll be smiling for Christmas pictures," Tweeter says. "My job isn't only about restoring the smile. It also restores self-confidence."
John Grant directs the dental campaign at The Pew Charitable Trusts.