World Conservation Congress Calls for Protection of Southern Ocean, Antarctica
Members of key body pass motion calling for protected areas at sea and on land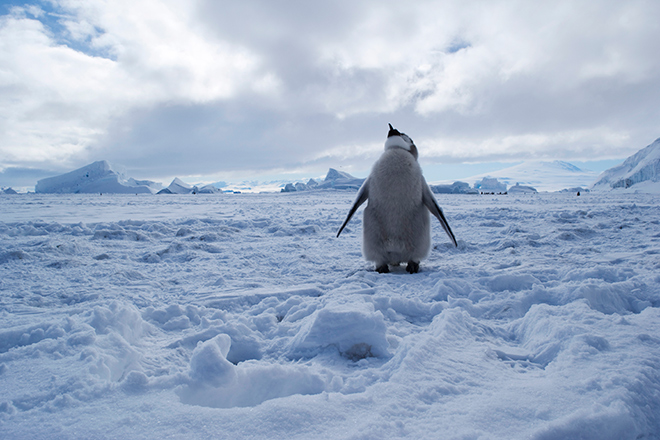 © John B. Weller
An emperor penguin chick in Antarctica.
In a hopeful sign for protection of Antarctica's biodiversity, members of the International Union for Conservation of Nature (IUCN) World Conservation Congress today voted to urge the designation of marine reserves in the Ross Sea and East Antarctica. That motion was directed at the Commission for the Conservation of Antarctic Marine Living Resources (CCAMLR), the body that sets fishing and other policies for the Southern Ocean. The congress also urged parties to the Antarctic Treaty to designate protected areas on land and committed to working with CCAMLR and treaty members to ensure these protections.
This call to action by IUCN comes at a critical time as CCAMLR—which consists of 24 member countries and the European Union—has previously been unable to reach consensus on proposals for the Ross Sea and East Antarctica. CCAMLR will meet in October to again consider establishing protections in those ecologically important waters. The Southern Ocean around Antarctica is one of the last great wilderness areas on Earth, including roughly 10 percent of the global ocean. The strong, upwelling currents of the seas around the frozen continent carry critical nutrients around the world.
A 2011 article in the journal Biological Conservation called the Ross Sea "the least altered marine ecosystem on Earth." But that status faces a threat from commercial fishermen, who are increasingly drawn to this area of the Southern Ocean to hunt Antarctic toothfish, a top predator in the region's food web. These fish, also known as Chilean sea bass, draw high prices in restaurants and markets, and overfishing the species could disrupt the ecological balance of the Ross Sea and beyond.
The waters of East Antarctica are remote even by Antarctic standards but warrant protection as this region provides critical habitat for a multitude of penguins, seals, krill, and other species.
The IUCN World Conservation Congress, which convenes every four years, met in Honolulu from Sept. 1-10 with the goal of helping to set global conservation priorities for years to come. IUCN represents over 1,300 member organizations including states, government agencies, scientific and academic institutions, business associates, and nongovernmental organizations from more than 170 countries.
Andrea Kavanagh directs Pew's global penguin conservation work.