Hawaii Senator Asks Obama to Expand Marine National Monument
Furthering protection of Papahānaumokuākea's rich biodiversity would carry widespread benefits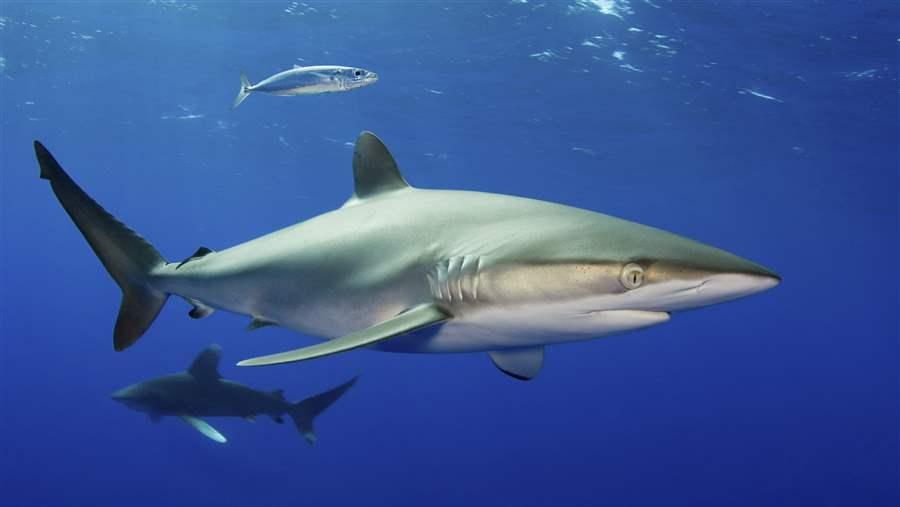 © Jim Abernethy
Papahānaumokuākea hosts a diverse range of top predators, including the silky shark.
This analysis piece was updated June 17, 2016, to reflect the correct size of Sen. Schatz's proposal.
In the grand expanse of U.S. marine waters, few places hold the diversity of life found around Hawaii. That abundance helped drive the 2006 establishment of the Papahānaumokuākea Marine National Monument, which protects 140,000 square miles of ocean and atolls in the Northwestern Hawaiian Islands; the area is home to more than 7,000 species, a quarter of which are found nowhere else on Earth.
Today, U.S. Senator Brian Schatz (D-HI) asked President Barack Obama to expand the monument to cover an additional 442,000 square miles, which would make Papahānaumokuākea the world's largest protected area on land or sea.
Although governments around the world have created an encouraging number of marine protected areas in recent years, those efforts have left only about 2 percent of the world's oceans safeguarded. Many scientists are urging protection of at least 30 percent of the oceans to sustain biodiversity and continue to support jobs in a wide variety of sectors.
Expanding the monument would help ensure the long-term health of this vital marine ecosystem: Fully protected marine reserves convey benefits beyond their boundaries because marine life moves in and out of them to feed, breed, and otherwise maintain balance in the oceanic web of life.
The Pew Charitable Trusts' Global Ocean Legacy project supports Sen. Schatz's proposal to expand Papahānaumokuākea, an area that many Hawaiians consider sacred and the source of all life. Some of the first Polynesians to reach what is now Hawaii landed their boats on these islets; today many locals cite that history as the root of their cultural allegiance to Papahānaumokuākea.
Sen. Schatz is the latest prominent Hawaiian to seek expansion of the monument. Earlier this year, William Aila Jr., deputy chairman of the Department of Hawaiian Home Lands, and Nainoa Thompson, president of the Polynesian Voyaging Society, were among seven locals who signed a letter asking President Obama to enlarge Papahānaumokuākea. They were later joined by a group that includes Native Hawaiian community leaders, lawmakers, mayors, city councils, traditional fishermen, veterans, and conservationists in Hawaii.
Pew will continue working with these and others in Hawaii to push for expanding the monument.