Michigan Moves to Improve Access to Dental Care
Bill would authorize midlevel providers on dentists' teams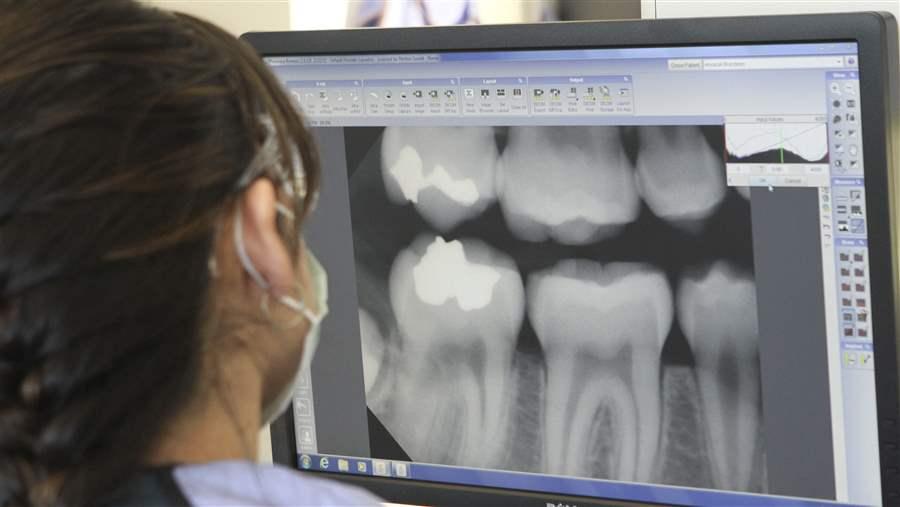 © The Pew Charitable Trusts
A bill in Michigan would create a dental therapist to increase access to care for underserved populations.
This page was updated on June 13, 2016, to correct the name of the midlevel dental provider from advanced dental hygienist to dental therapist and again on June 20, 2016, to better define the role.
Legislation has been introduced in Michigan to allow midlevel dental providers, a move that follows the lead of Alaska, Minnesota, Maine, and more than 50 countries. Michigan is one of at least 15 states that are considering adding these types of providers to help address dentist shortages and increase access to care.
State Senator Mike Shirkey (R), chair of the Senate Health Policy Committee, sponsored S.B. 1013 to create the dental therapist, a midlevel dental provider, similar to a physician assistant, who can perform the most commonly needed services, such as filling cavities.
Access to dental care limited for millions in Michigan
Dentists are unevenly distributed across Michigan, so millions of residents have difficulty accessing care, especially those in rural areas, low-income families, seniors, pregnant women, and children on Medicaid.1 The consequences are poor dental health for many of these vulnerable residents:
Nearly 1 in 4 Michigan third-graders has untreated dental decay, with more severe rates in the rural Upper Peninsula and in Detroit.2
About 60 percent of Medicaid-eligible children did not receive any dental services in 2014.3
More than 876,000 people in Michigan live in dental shortage areas; 76 of Michigan's 83 counties include at least one shortage area.4
About 45 percent of Michigan's dentists are at least age 55,5 meaning the state's dentist shortage will intensify as the existing workforce reduces hours and retires.
Midlevel providers will build on existing efforts
Dental therapists can benefit patients who otherwise may not have access to care and give dentists flexibility to expand their practices. Because midlevel providers have a more limited scope of work and a lower salary than dentists, they are able to treat more patients at a lower cost per unit of care. With dental therapists providing most routine procedures, dentists are able to dedicate their time and skills to more complicated cases, generating greater revenue for their practices.6 Data from one dentist in Minnesota who employed a similar provider show that the practice was able to care for 500 Medicaid patients and make an additional $24,000 in profit.7
Under the proposed legislation, dental therapists would be required to graduate from an educational program that meets Commission on Dental Accreditation standards and then be supervised by a dentist.8 The bill also would give dentists the option to expand their practices with dental therapists and the authority to determine which procedures the midlevel provider could perform.
The measure would help Michigan address critical shortages of dental providers and ensure that more residents receive the care they need. Creating dental therapists is an innovative, cost-saving way to increase access to dental care, especially for children and adults on Medicaid. In supporting dental therapists, Michigan can embrace a cutting-edge solution to its dental health challenges and help meet the needs of its most vulnerable and underserved residents.
Endnotes