Quality Measures Can Improve Palliative and End-of-Life Care
Stakeholder meeting underscores need to develop and adopt metrics to assess care for the seriously ill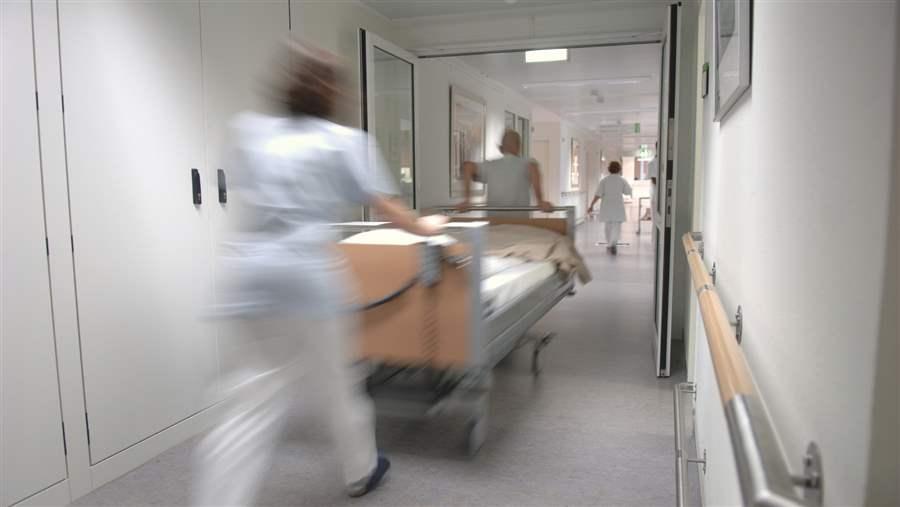 © iStockphoto
Several existing mechanisms play complementary roles in assessing the quality of health care, while others overlap. Clearly, there is an opportunity to improve the quality measurement of end-of-life and palliative care.
The Pew Charitable Trusts hosted a meeting of national experts March 8 in Chicago to identify key priorities for, and approaches to, improving the measurement of quality in palliative and end-of-life care. Better quality standards and measures are needed, as has been highlighted in recent reports from the Institute of Medicine and the National Quality Forum (NQF).
Attendees agreed that the health care system would benefit from wider adoption of existing metrics and the development of new measures, or insights into the quality of care; both are needed to help payers and providers improve their performance in targeted areas and assist consumers as they use health care services. Progress has been made in some care settings, such as hospice care, where the Medicare quality reporting program now assesses whether the spiritual needs of individuals with serious illness were met. However, in other clinical settings, and for the health care system as a whole, it generally remains difficult or impossible to measure the quality of end-of-life and palliative care. For example, consumers cannot tell whether the health care system is providing care near the end of life that is consistent with a patient's preferences.
Existing quality assessment programs provide opportunities to drive change
Several existing mechanisms play complementary roles in assessing the quality of health care, while others overlap. Clearly, there is an opportunity to improve the quality measurement of end-of-life and palliative care:
NQF currently must endorse, and the Measures Application Partnership (MAP) must approve, any metrics that the Centers for Medicare & Medicaid Services (CMS) wants to add to programs that assess quality within care settings, such as the Hospital Inpatient Quality Reporting Program or the Nursing Home Compare 5-Star Quality Rating System. Given the critical role that NQF and MAP play as gatekeepers for Medicare quality measures, participants stressed the importance of stakeholder engagement with these organizations to ensure that Medicare uses meaningful measures for palliative and end-of-life care and does not overburden clinicians and patients.
Medicare Access and CHIP (Children's Health Insurance Program) Reauthorization Act (MACRA). The passage of MACRA in April 2015 afforded Medicare new avenues for adopting quality measures for clinicians. For example, physicians can now meet quality reporting requirements through Qualified Clinical Data Registries, which can use measures that have not gone through the traditional NQF endorsement process. The legislation also provided funding for CMS to develop new quality measures, with an emphasis on specialties including palliative care. Finally, the legislation will drive wider adoption of alternative payment models, in which clinicians will need to show the value of the care they provide. Stakeholders can take advantage of MACRA implementation by directing CMS to prioritize the development and utilization of palliative and end-of-life care measures.
Accreditation and certification. The private sector also plays a role in defining the quality of end-of-life care. The Joint Commission, an independent nonprofit organization that accredits and certifies health care organizations and programs, is developing new measures it can use to accredit hospital and community-based palliative care programs. Advocates can push accreditation and certification authorities to explore new ways to use quality measures in their programs to ensure that health care facilities are meeting a standard of care.
Legislation. Congress can play a key role by directing CMS to focus measurement development on metrics important for individuals with chronic disease. Existing bipartisan legislation, such as the Care Planning Act introduced by Senators Mark Warner (D-VA) and Johnny Isakson (R-GA), would do that. Additionally, the Senate Finance Committee's Chronic Care Working Group released a white paper calling for the development of end-of-life measures and seeking input from stakeholders. Pew supports bipartisan legislation that directs the administration to address this critical issue.
Medicare Advantage (MA). With nearly one-third of Medicare beneficiaries enrolled in MA plans, it is essential that any strategy to assess the quality of care that people receive near the end of their lives include measures that could be incorporated into the MA Star Rating System. Stakeholders must develop a clear map for how to engage MA plans in quality improvement that addresses both provider and plan accountability.
The stakeholder meeting highlighted several areas that should be a priority for measure development:
Currently, no criteria exist to designate whether someone is in need of, or should receive, palliative care. It is imperative to define the populations that could benefit from palliative care and to create measures to assess whether people are receiving the care they need near the end of life.
Existing measures typically focus on clinical processes and outcomes, but at its core, palliative and end-of-life care emphasizes the values, goals, and experiences of patients and families. Developing measures that focus on patient-reported data, including the perspectives of family members whose loved ones have died or cannot speak for themselves, is necessary to achieve the fundamental goals of palliative and end-of-life care.
As the emphasis on value-based care grows and the health care system becomes more integrated, developing a set of end-of-life and palliative care measures that are unified and harmonized across settings, clinicians, and populations will help minimize the reporting burden on providers while ensuring that quality care is provided to all patients regardless of their diagnosis or the setting in which they receive care.
Addressing the current deficits in end-of-life and palliative care measures will require coordination among leaders in the palliative care movement; representatives of home, community, hospice, and inpatient care organizations; experts on measure development and validation; and patient advocates and payers, including CMS. Success will ultimately require consensus among these groups, a sustained focus, and the resources necessary to guide these efforts through the process of measure development, validation, and utilization. Pew will continue to collaborate with experts and relevant stakeholders to educate policymakers and to advocate for investments in measure development and implementation.