In Step With Pew's Programs in the Biomedical Sciences
A chat with project director Kara Coleman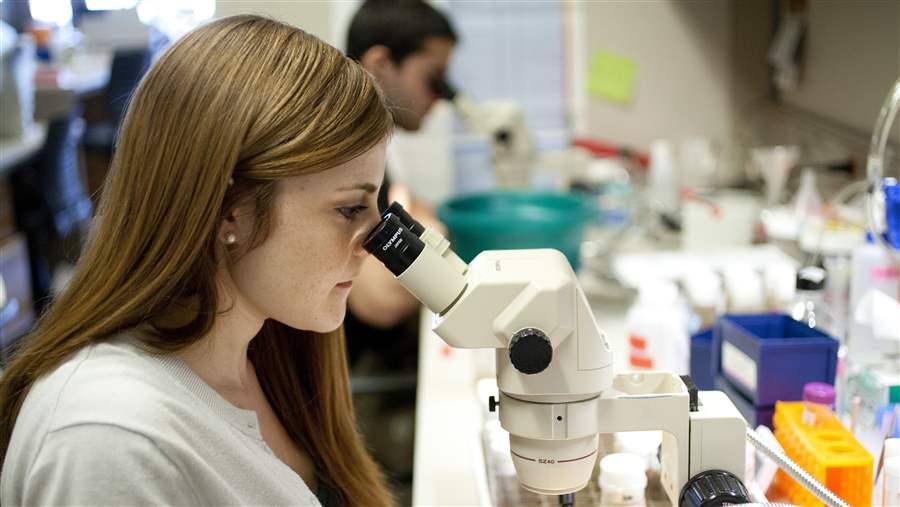 © The Pew Charitable Trusts
In June, the Pew Programs in the Biomedical Sciences will announce its 2016 class of Pew biomedical scholars, Latin American fellows, and Pew-Stewart Scholars for Cancer Research. We interviewed project director Kara Coleman about the programs' work supporting early-career scientists.
Q: What makes Pew's biomedical programs unique?
A: Three main things make the Pew Programs in the Biomedical Sciences stand out from other grants available to early-career scientists. First, Pew invests in a wide breadth of research, not just one field of study. The result is quite a unique group of researchers whose careers would not otherwise intersect. Second, the program encourages a high-risk, high-reward mindset. We want to provide assistant professors with the flexibility to test new ideas and be creative during the early part of their careers. Finally, Pew encourages discourse within its community of scholars, fellows, and alumni—including opening up international lines of dialogue through the Pew Latin American fellows program.
Q: Among Pew's three programs, what sets the Latin American fellows program apart?
A: This program not only provides training for Latin American scientists, but it also helps facilitate their return to Latin America by providing additional funds so that fellows can establish independent research facilities in their home countries. Over the past 25 years, 70 percent of Latin American fellows have returned to their countries of origin, to contribute to and broaden the scientific landscape there. The commitment of these fellows is making tangible change across the world—I'm proud of Pew's role in that change.
Q: Each year, you gather the scientists you're funding for a five-day conference. What do you hope they get out of these events?
A: Because we fund research in so many different biomedical areas, our annual meetings bring together a group of researchers who wouldn't converge at any other scientific conference. As a result, scholars and fellows are exposed to new perspectives and challenged to think differently. They also have the privilege of interacting with members of Pew's national advisory committees, world-class scientists who help guide each program's selection process. The informal mentorship these advisors provide is highly valued by our attendees, and these meetings lay the foundations for relationships—both personal and scientific—that will last a lifetime.
Q: What is one standout moment from the most recent conference?
A: Nobel laureate Craig Mello, who chairs the biomedical scholars program advisory committee, challenged all of the attendees to put forward "one crazy idea" during their presentations. Science is competitive, so it's not unusual for researchers embarking on a project to be tight-lipped about their ideas. But throughout the week, dozens of scholars and fellows presented new data and introduced their "crazy ideas" to a respectful and eager group, sparking fascinating conversations. Watching scholars and fellows speak, without holding back, is science at its finest. And over and over, we've seen conference conversations foster projects and collaborations that have led to discoveries no one might have otherwise pursued.
Q: This year, the program invited the Alan Alda Center for Communicating Science to hold a workshop at the annual meeting. Why was that training important?
A: Science is fueled by new ideas—but new ideas don't always get the attention, respect, or funding they deserve. It is essential that early-career scientists learn to talk about their work in a compelling and convincing way—and this workshop is designed to get them there.
Pew provides more than just funding to our scholars and fellows. We want to equip them with every tool we can to enable their success—another element that sets our programs apart.
In early June, we'll announce the 2016 class of Pew biomedical scholars, Latin American fellows, and Pew-Stewart scholars—a group of well-deserving young scientists brimming with great ideas. We're thrilled to welcome them into a burgeoning family of scientists who will surely accomplish remarkable things.