Why We Need to Restore and Protect Our National Parks for the Next 100 Years
During National Park Week, natural and historic treasures are free to enjoy—but they also need help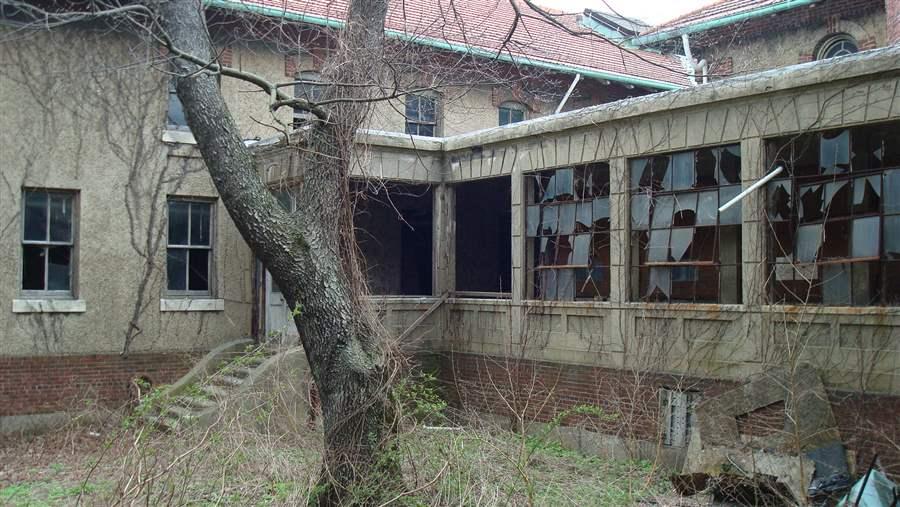 The Pew Charitable Trusts
Repair needs are apparent at a hospital building on historic Ellis Island.
Editor's note: This article was updated April 26 to show the amount of funding authorized in an energy bill to help address signature projects and deferred maintenance in the national parks.
It's National Park Week, and the celebration presents an opportunity to visit our American treasures for free: From now until April 24, regular entrance fees are waived at all National Park Service (NPS) sites. Guests can experience the grandeur of more than 400 iconic and historic places such as Grand Canyon National Park, Yellowstone National Park, Gettysburg National Military Park, and Lewis and Clark National Historical Park.
NPS estimated that national park sites experienced a record 307 million visits in 2015, and this year the agency is encouraging people to "Find Your Park" during its centennial celebration. Some things get better as they get older, but unfortunately, infrastructure at many NPS sites is starting to show serious wear and tear.
National parks are showing their age
Barricaded trails, broken restrooms, crumbling bridges, breached water mains, deteriorating historic buildings, and even leaking sewer pipes are all signs of the NPS' growing maintenance backlog. Earlier this year, the agency announced that it is facing an estimated $12 billion in deferred infrastructure repairs. The accumulation is largely the result of years of congressional underfunding combined with the inherent challenges of maintaining and preserving a huge inventory of assets, many of which are 100 years old.
Congress is taking a first step
In March, the House Natural Resources Committee approved the National Park Service Centennial Act, which would provide approximately $50 million annually in perpetuity for signature national park needs and seed money for a national park endowment fund. In addition, an energy bill is working its way through Congress, and the Senate-approved version of that legislation authorizes $17.5 million for signature park projects as well as $150 million for deferred park maintenance needs.
These initiatives are steps in the right direction, but given the scale of the infrastructure repair needs, much more must be done to prevent this backlog from accruing in the first place and to ensure that our National Park System is well prepared for the next 100 years.
More is needed to fix our parks
During the NPS centennial, Congress should consider new ways to support the parks and approve more money to address the massive maintenance backlog. It has plenty of reasons to take action, including restoring access, ensuring safety, and spurring economic investment in nearby communities.
Decaying infrastructure can create safety hazards and obstruct access to some of our national gems. Most of us will recognize many of the neglected NPS sites from our school history books: Independence National Historical Park, where the Declaration of Independence was signed, has more than $55 million in deferred maintenance needs, and Ellis Island, which welcomed new Americans as they arrived in New York Harbor, requires more than $141 million in repairs.
The national parks are also a critical economic engine for local communities, generating jobs and income. According to the NPS, visitors spent $15.7 billion inside national parks and at businesses within 60 miles of park gates in 2014, the most recent years for which data are available. So investing in the upkeep of our national parks also helps the people living and working nearby.
If you take advantage of a free pass to our national parks this week, remember that they need maintenance and repair. If we truly treasure our parks, we need to care for them as they enter the next 100 years so that future generations can continue to learn from and enjoy them.
Marcia Argust directs The Pew Charitable Trusts' efforts to restore America's parks.