Healthy School Lunches Can Reduce Childhood Obesity and Diabetes
World Health Day 2016 spotlights nutrition education—and the cafeteria's role is a hands-on classroom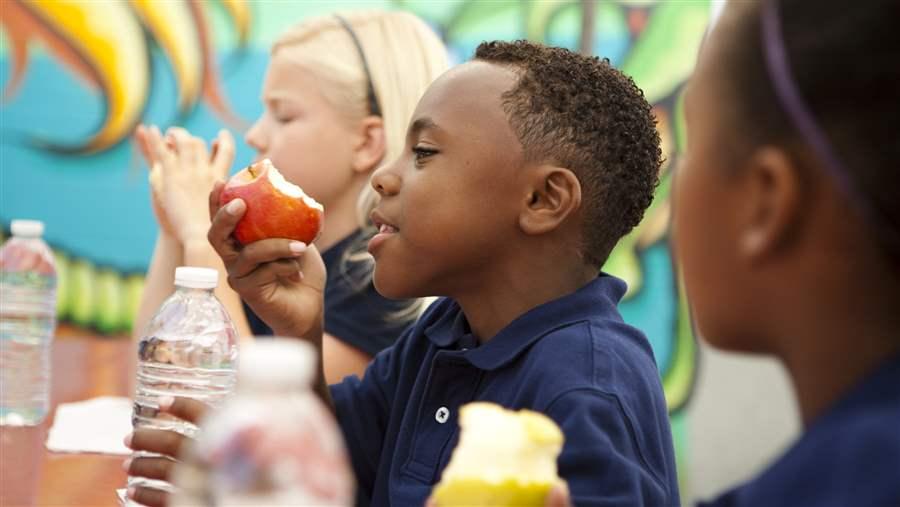 iStockphoto
Children consume up to 50 percent of their daily calories at school, so cafeteria meal and snack options are fundamental to a healthy lifestyle.
Parents across the world over want their children to grow up healthy. Type 2 diabetes used to be unheard of in children, but rates have been climbing in recent years: By 2050, the number of people under age 20 in the U.S. with the disease is expected to almost quadruple. The problem is so pressing that the World Health Organization has chosen "beat diabetes" as the theme of World Health Day 2016.
In the United States, this is a timely and urgent call to action. Obesity increases the risk of diabetes, and 1 in 6 U.S. children is obese, up from less than 1 in 10 three decades ago, according to the Centers for Disease Control and Prevention. Ensuring that kids get sound nutrition and instilling healthy habits early are crucial to reversing these trends and to lowering their risk for disease, including diabetes.
How school meals and snacks can help
Schools play an important and unique role in influencing children's eating habits and lifelong behavior through the food and drink choices offered in cafeterias, hallway vending machines, and elsewhere on campus. Kids consume up to 50 percent of their daily calories at school: More than 30 million students eat school lunches, and 14 million eat school breakfasts.
Research shows that availability of healthier school lunches has already improved kids' eating habits. One study found that offering more variety led to healthier choices; each additional fruit option was associated with a 9.3 percent increase in the number of fruit servings selected by students.
What does a healthy school lunch look like?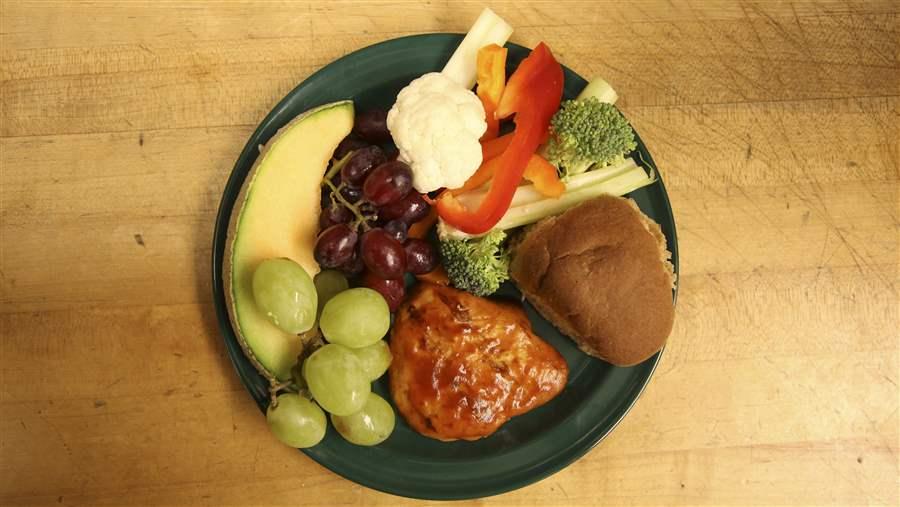 © 2016 The Pew Charitable Trusts
U.S. nutritional guidelines recommend that a variety of fruits and vegetables fill half the plate, as in this appetizing elementary school lunch from Maine.
Congress strengthened the nutrition standards for the national school lunch and breakfast programs in 2012 and helped spark a nationwide effort to expand the variety of healthy options that schools provide for their students. Each lunch that meets the guidelines provides about a third of the daily calories and nutrients a child needs to grow up healthy and is based on the Dietary Guidelines for Americans, including the following nutrition guidance:
Fill half your plate with fruits and vegetables. Eat one to two cups of fruit and 1½ to three cups of vegetables daily. The 2012 school meal standards require that each lunch include at least a half cup of fruits or vegetables for elementary students and more for teens. Many schools go even further, offering children unlimited amounts of these healthful foods.
Eat a rainbow. Consume vegetables with a range of colors—purple, orange, yellow, etc.—to get an array of nutrients. Under today's meal guidelines, schools must offer vegetables from several color categories over the course of a week.
Incorporate more whole grains. Most Americans do not eat enough whole grains, which provide healthy amounts of fiber and important minerals. School meal standards require that all grain items served be made from at least 50 percent whole grains.
Avoid excess sodium. Nine in 10 school-age children, like most people in the country, eat too much salt. Current school nutrition standards require that schools gradually decrease the salt in meals so that by 2022, students will get no more than a third of the recommended daily maximum amount of sodium from school lunches.
How parents can get involved
Nearly all school meal programs—more than 98 percent—serve lunches that meet national nutrition standards, but decisions about the menu, snack programs, food-based fundraising policies, and other issues are made by school nutrition staff or other district leaders. Parents can make their voices heard to reinforce healthy changes already underway and prompt even more improvements.
Here are some steps that parents can take to support their kids' access to healthy school food options:
Latest from Health