Supermom Spotlight: A Conversation With Alicia Cole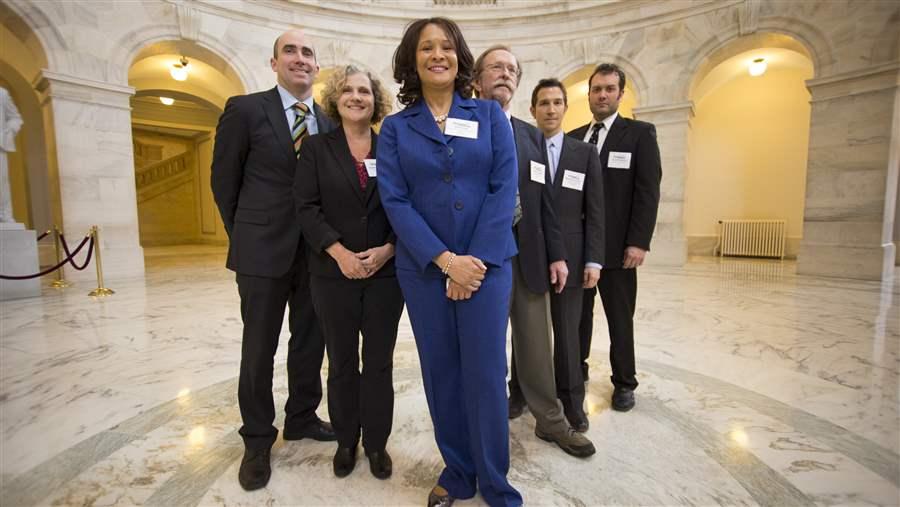 © The Pew Charitable Trusts
Alicia Cole is a nationally recognized patient safety advocate and survivor of multiple antibiotic-resistant infections—including near-fatal sepsis and necrotizing fasciitis (flesh-eating disease). Together with other supermom advocates from across the country, she recently met with policymakers in Washington to urge them to increase resources for combating the public health crisis of antibiotic-resistant bacteria.
Q: Why did you participate in Pew's Supermoms Against Superbugs advocacy event?
A: We can talk about making a change, and we can talk about making new policies and procedures, but without the actual funding to make it happen it can be very difficult to make headway and actually do what needs to be done. Right now Congress is debating how funding dollars should be allocated, so I am going to the Hill to ask Congress to make sure that addressing antibiotic resistance is a priority.
If sharing my story can help illustrate in a real-world way the need for the government—at the highest levels—to allocate funding for combating antibiotic resistance, then I feel compelled to speak for patients who need their government to take this issue seriously.
Q: How did you first become interested in antibiotic-resistance advocacy?
A: My interest stems from my personal experience—I barely survived a highly resistant bacterial infection called necrotizing fasciitis. It is also a natural progression of all the advocacy work I do. In the patient safety sphere, I have helped to influence policies regarding transparency and safe delivery of care—we need that. The goal is to prevent infections from starting in the first place. We also need better tools, such as improved diagnostics, to help doctors make the best decisions on what to do for their patients. My antibiotic-resistance advocacy encapsulates all of that.
For example, better stewardship of antibiotics will not only help slow the spread of resistant bacteria but also help promote patient safety on an individual level. And of course antibiotic stewardship is one of the many areas where funding will be critical to expanding efforts and ensuring that all patients—not just those at major medical centers–have access to high quality health care and receive antibiotics appropriately.
Q: As someone who has suffered from an antibiotic-resistant infection, what do you see as the unique value that patients can bring to the table?
A: There is a lot about antibiotic resistance that is simply factual. You can pick up a book and read about bacterial phages and assays, or be self-taught in microbiology—but you can't know what it feels like to be eaten alive by antibiotic-resistant bacteria unless you've gone through it. The patient perspective is something you can't get from a book. It helps people understand that we are all at risk and this can happen to anyone.
Patients and survivors, like me and many of my fellow supermoms, can share information that humanizes the statistics, facts, and policies in a way that no one else can. It's not as easy to dismiss the urgent need for action on this issue after you've heard a story like mine: I was treated with nine of the strongest antibiotics on the market, many of which were highly toxic, and nothing was working. Meanwhile, it honestly looked like a shark had taken a bite out of me.
Q: Outside of Supermoms, are you involved in any other antibiotic-resistance related activities? What can people do to make a difference?
A: There is no one approach or solution that will solve the problem of antibiotic resistance. We have to tackle it from all levels and directions. There are definitely ways for people to help.
I'm involved in efforts at both the federal and state level through my work with the Presidential Advisory Council on Combating Antibiotic-Resistant Bacteria, the California Department of Public Health's Healthcare Associated Infections Advisory Committee, and my own organization, the Alliance for Safety Awareness for Patients (ASAP).
Being involved in this issue does not require being engaged in activities like these—there are things we can all do to help combat antibiotic-resistant bacteria in our daily lives. For example, washing our hands is one of the best ways to prevent the spread of germs. Also, taking antibiotics properly helps to slow the emergence of resistant bacteria. These are just two things that everyone can do.
Becoming an advocate in this area starts with getting educated on the issue and then educating others and raising awareness. Pew has some great information to help with that. Many organizations, such as the Centers for Disease Control and Prevention, Consumers Union Safe Patient Project, my organization, ASAP, and others also have terrific materials and resources online, and offer a wealth of information via social media, which is a good way to learn more and join the conversation.