Clean Energy Innovation Driven by Rising Urgency and Global Agreements
Leaders tell annual ARPA-E summit that market is ripe for new technologies
Innovators have more opportunity than at any time in history to transform the global energy market, due to new multinational climate and energy agreements and a rising appetite worldwide for clean, reliable sources of power. That was the central message delivered by numerous high-profile speakers at the seventh annual summit of the Advanced Research Project Agency-Energy (ARPA-E), a part of the U.S. Department of Energy that invests in promising early-stage technology initiatives.
The event, held outside Washington, brings together leaders from government, industry, academia, and the nonprofit sector to discuss the future of energy in the U.S. and around the world. The conference showcases hundreds of products, entrepreneurs, researchers, and companies that could one day change how people power their lives.
U.S. Energy Secretary Ernest Moniz said entrepreneurs should be energized by Mission Innovation, a 20-nation pact to double clean energy funding commitments over the next five years. That initiative, announced in December, is designed to accelerate the development of low-emission technologies that will increase options for and lower the cost of alternatives to traditional sources of power. Together, the Mission Innovation countries account for more than 80 percent of the world's clean energy research and development investment.
Highlights of this year's ARPA-E exhibition include a battery-powered rear axle for tractor-trailers that cuts fuel use, a small hydrofoil that leverages river currents to generate electricity for immediate small-scale use, and an undergarment that moves air through microtubes in the fabric to cool or warm the body by a few degrees.
Moniz told ARPA-E attendees that the array of products and services on display was borne of the "unparalleled innovation system" in the United States, which he credited in part to the open flow of ideas across universities, businesses, and government. ARPA-E plays a vital role in that innovation by funding projects before they are mature enough to attract private sector investment, Moniz said.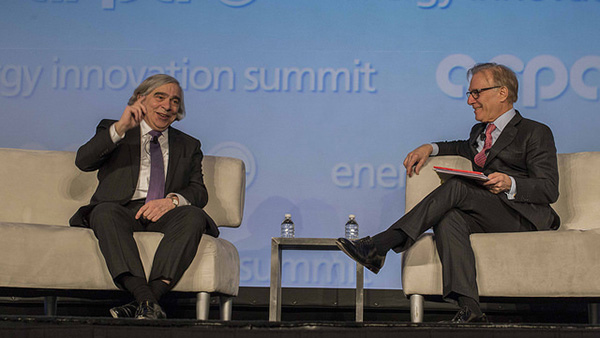 © Simon Edelman/Department of Energy
Energy Secretary Ernest Moniz answers a question from The Washington Post's David Ignatius at the ARPA-E Innovation Summit.
Since ARPA-E was created in 2007, 45 of its projects have secured more than $1.25 billion in private sector funding. Many have produced novel technologies that are increasing efficiency and driving down costs in a range of industries.
As one example, Moniz cited the company 1366 Technologies, which received $4 million in funding from ARPA-E in 2009 and now makes highly efficient solar wafers that capture, store, and distribute power at significantly lower costs than traditional solar panels.
He also expressed confidence that Congress will continue to fund ARPA-E because the emerging projects cut across sectors and "our track record shows success." The Department of Energy has asked Congress for $350 million in discretionary funding for ARPA-E in fiscal year 2017. The agency received $291 million in fiscal 2016.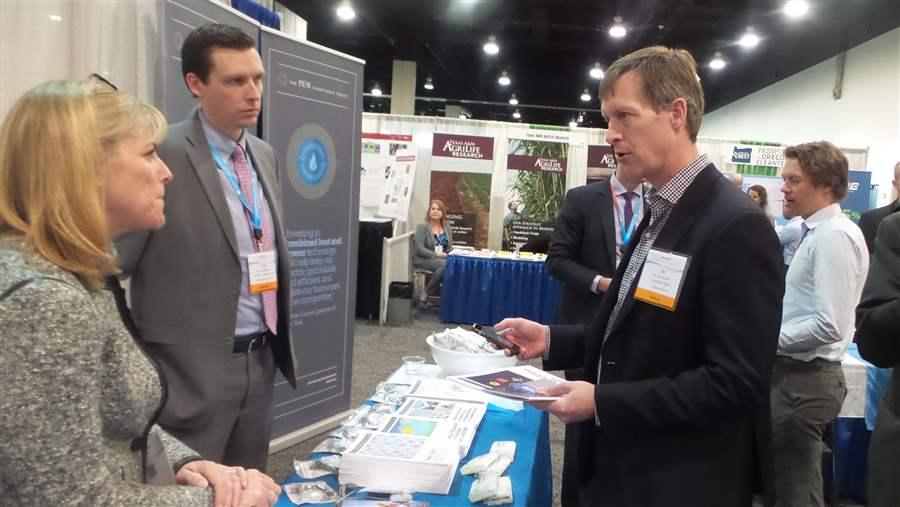 © The Pew Charitable Trusts
Phyllis Cuttino (left) and Tom Swanson, directors of Pew's clean energy initiative, invite Ian Foraker, executive director of CleanTech Open, to join the Clean Energy Business Network at the ARPA-E Summit in Washington.
This year's summit drew record attendance of more than 3,000. Featured speakers included former Vice President Al Gore; Jim Yong Kim, president of the World Bank Group; Senators Lisa Murkowski (R-AK) and Chris Coons (D-DE); Representative Bill Foster (D-IL); and Gina McCarthy, administrator of the Environmental Protection Agency.
Gore, a founding partner in an investment firm that focuses on environmentally sustainable businesses, lauded ARPA-E and summit attendees for working to bring to market innovations such as better batteries and other improved methods for storing energy.
"If you fully integrate sustainability [into a business model] you can increase returns," he said, citing Wal-Mart as a company that lowered operating costs and increased profits after shifting to renewable energy.
The World Bank's Kim said global agreements should inject urgency into the pursuit to bring more clean energy to market. To that end, he said, leaders from the bank, government, and industry should be "moving at lightning speed" to create markets for clean energy technologies. He added that the bank has committed $29 billion a year to investing in projects that combat climate change.
Murkowski expressed optimism that projects spawned by ARPA-E will help meet energy needs in the U.S. and abroad. "Energy innovation is inextricably linked to our nation's future," she said.
She also noted that the shale gas boom in the U.S. was made possible by substantial government subsidies and investment, and that ARPA-E is needed to spawn the next generation of novel technologies. "Yesterday it was shale. Tomorrow it could be advanced batteries, 3-D printed cars … or things we've never even dreamed of."
Through its Clean Energy Business Network (CEBN), Pew works to encourage and buoy tomorrow's success stories. Three budding companies in the network displayed their innovations at ARPA-E, including NETenergy, which patented a technology to store cold air produced during off-peak nighttime hours for use to cool buildings during high-demand periods. This could save commercial customers 30 percent on energy costs, said Mike Pintar, the firm's chief operating officer.
Another company, Hyliion, makes a battery-powered rear axle for tractor-trailers. The technology reduces power demands on a truck's engine and, combined with an aerodynamic foil that sits in front of the axle, can help the trucking industry save 31 percent on fuel costs.
The other CEBN partner, Pika Energy, makes a product that enables residential solar systems to store energy for use at night or during power outages. Customers can also use their technology to sell unused electricity back to the grid.
Adding a dose of realism to the enthusiasm at ARPA-E, Moniz told attendees, "The real metric of success will be in another five or 10 years," when it will be clear whether today's budding projects did indeed revolutionize the energy market.