Policy Recommendations for Child Nutrition Reauthorization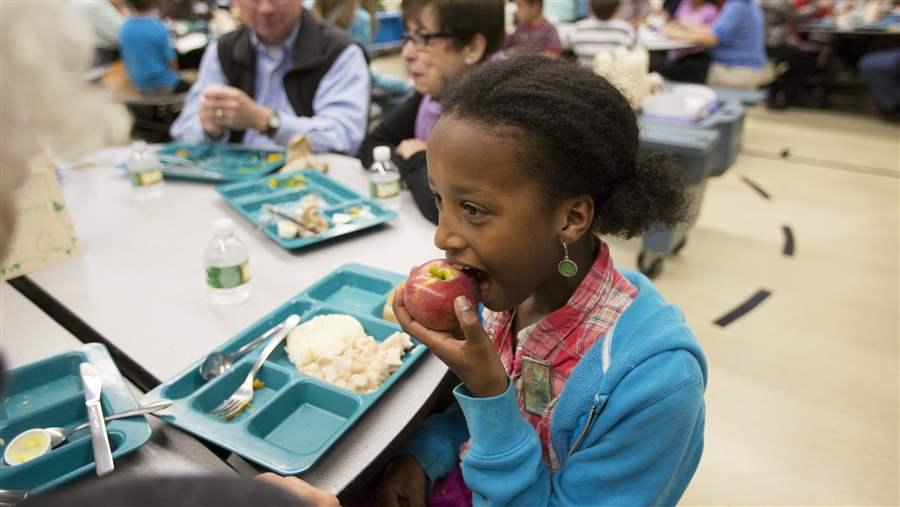 © The Pew Charitable Trusts
The law governing the nation's school nutrition programs expired in 2015, and Congress is working on bills to reauthorize it. Supported by lawmakers for more than 70 years, federal child nutrition programs provide schools with technical and financial resources to ensure that all students have access to healthy meals and snacks year-round. The longer Congress takes to pass a bill, the longer schools are without the guidance and resources they need to run successful meal programs.
The Improving Child Nutrition Integrity and Access Act of 2016, approved unanimously by the Senate agriculture committee in January, builds on the great progress that schools have made in recent years. The Pew Charitable Trusts urges Congress to pass bipartisan legislation in 2016 that reauthorizes the Child Nutrition Act and strengthens school nutrition programs by:
Maintaining science-based nutrition standards for school foods
Congress should preserve the authority of the U.S. Department of Agriculture (USDA) to set federal guidelines for school meals and snacks. USDA's process ensures that nutrition standards align with the age-appropriate scientific recommendations of the Dietary Guidelines for Americans and take into consideration schools' unique needs. Research shows that the current standards are working: Students are choosing and eating more fruits, vegetables, and nutritious entrees.
Supporting school kitchen infrastructure needs
To serve healthier school meals, most school districts (88 percent) need at least one additional piece of kitchen equipment and more than half (55 percent) need infrastructure upgrades. Although more than 97 percent of school districts are serving meals that meet current standards, they could do so more efficiently and effectively if these needs were addressed. To help schools overcome these challenges and better utilize federal, state, and local resources, Congress should:
Include in the 2016 authorizing legislation the loan guarantee and grant assistance provisions outlined in S. 540/H.R. 3316, the School Food Modernization Act (SFMA).
Appropriate $35 million (the president's request for fiscal year 2017) to ensure that schools can purchase the equipment they need to update and modernize their kitchens. In fiscal 2016, Congress provided $30 million for USDA School Kitchen Equipment Grants. Lawmakers should continue to support this program with additional resources.
Ensuring that school food service professionals have access to adequate training and technical assistance
Directing, managing, and supporting a school nutrition program are demanding responsibilities that require a wide range of skills. School nutrition directors report that training is one of their greatest challenges in operating successful programs, in part because it tends to receive little recognition or support from policymakers. Accordingly, Congress should include the SFMA's workforce training provisions in the 2016 authorizing legislation.
Schools, communities, and the food industry need a reauthorization bill so that they can move forward together with certainty about standards they must meet and the resources that will be available to help schools overcome their remaining challenges. Without knowing what changes lie ahead, school nutrition directors may struggle to plan for and invest in products, equipment, and the professional development of their staffs.