4 Steps for Fighting Opioid 'Crisis' at the State Level
Vermont governor shares data-driven strategies for addressing drug addiction epidemic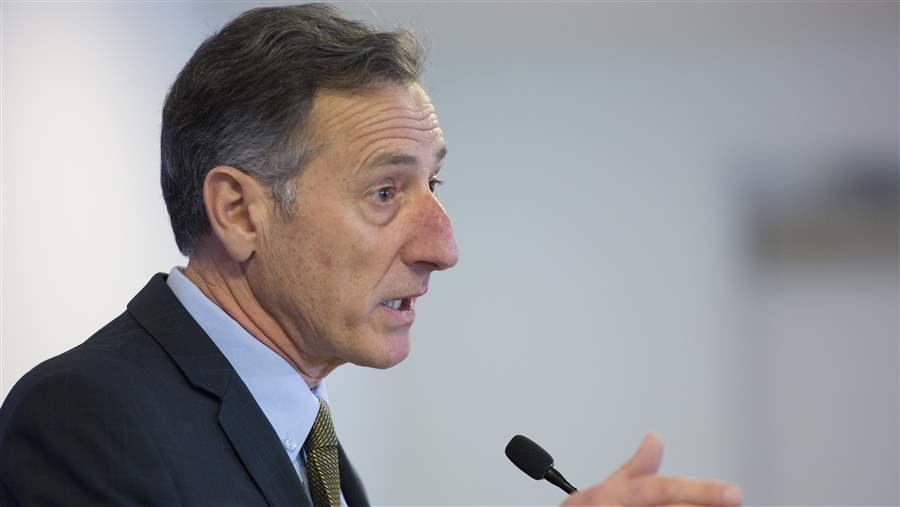 © The Pew Charitable Trusts
Opioid addiction "knows no boundaries," Vermont Governor Peter Shumlin said at The Pew Charitable Trusts.
"We were doing almost everything wrong," Vermont Governor Peter Shumlin said Friday, Feb. 19, reflecting on his state's battle with opioid addiction, including heroin dependence.
In recent years, Gov. Shumlin's administration has identified key steps for effectively addressing the opioid epidemic, which he shared at a speaking engagement at The Pew Charitable Trusts in Washington.
Before Vermont shifted course, Gov. Shumlin said, addicts had often been caught in a cycle of abuse. They were arrested, spent time in jail, and then found themselves back on the streets, using again after their release. Meanwhile, death rates from overdoses continued to climb. Today it's estimated that 44 people die of prescription opioid overdoses nationwide every day.
Vermont is at the center of what Gov. Shumlin has called "a full-blown heroin crisis" across the country—a sentiment echoed in opening remarks by Allan Coukell, Pew's senior director for health programs.
He knew something had to change.
The governor made history—and helped change the national conversation on addiction—when he dedicated his entire 2014 State of the State Address to the opioid epidemic.
He's done more than talk, though, and at Friday's event Gov. Shumlin discussed evidence-based policy changes Vermont has made, detailed challenges that remain ahead—and outlined at least four steps he recommends states take to reduce opioid abuse:
Reform criminal justice laws.
Realizing that law enforcement is critical to helping addicts face their problem, Gov. Shumlin signed legislation to hire third-party assessors to help prosecutors determine whether each drug addict is violent.
Those who qualify as nonviolent are now given a choice: voluntary addiction treatment or criminal prosecution.
By having a treatment option, these citizens can avoid a criminal record. And once addicts have recovered, he added Friday, they can return to the workforce as productive members of society.
Remove opioid addiction stigma.
"Because of the stigma of this disease, no one wants treatment in their backyard," Gov. Shumlin said. To remove this sense of shame requires conversation, and educating communities that addiction is a chronic illness, he said.
Through this dialogue, he believes, Vermont has successfully changed attitudes. He stressed, however, that, for sweeping change to take hold, this conversation must continue across the nation.
How far we have come and how fast should give us all hope.

Vermont Governor Peter Shumlin
Increase treatment access.
Throughout Vermont, new treatment centers are being built to improve availability and reduce the wait time and long lines for people seeking help.
Gov. Shumlin also initiated "hub and spoke" programs. These integrative systems combine specific treatments, such as medication-assisted therapies, with circles of support—physicians and mental health professionals who provide counseling that helps recovering addicts stick to their treatment regimens, among other services.
Address the prescription problem.
One major challenge when it comes to stemming the opioid epidemic, according to Gov. Shumlin, is getting to "the root cause" by changing how painkillers are prescribed.
The governor expressed frustration that nurses and physicians' assistants, for example, can write prescriptions for painkillers but are not allowed under federal law to write prescriptions for medications that treat painkiller addiction.
In addition, he cited fee-for-service medicine as encouraging doctors to prescribe painkillers. Vermont, he said, is working to ensure that health providers are rewarded for the quality—not the quantity—of their treatments.
So far, the governor's efforts appear to be bearing fruit. For example, between January 2013 and January 2015, the number of opioid addicts receiving care increased by more than 40 percent, according to Vermont's Department of Health (PDF). What's more, of those who completed treatment plans, 75 percent showed improved functioning.
Despite this progress, there is still a steep road ahead before drastic improvements will be seen. Gov. Shumlin remains optimistic. "How far we have come and how fast should give us all hope in this room," he said. "It's a lifetime fight."
Watch Gov. Shumlin's Remarks on Opioid Addiction Policy: