Salaries Up, Tenure and Share of Women Down on Philadelphia City Council
Changes reflect trends across 15 major cities
Mitchell Leff/City of Philadelphia
Philadelphia's city council has one of the longest-serving memberships, behind only Baltimore and Chicago.
A previous version of this analysis mistakenly identified the City Councils in Boston and Pittsburgh as having term limits and the Los Angeles council as having no term limits in Figure 1. A previous version also misidentified the photographer and misstated the 2011 average salary of Philadelphia's City Council. On May 26, 2017 the analysis was updated again to correctly identify Baltimore's City Council as part-time.
Philadelphia's City Council, with the arrival of five new members this month, looks notably different from five years ago, when The Pew Charitable Trusts last examined city councils in 15 major U.S. cities.1
Driven by a flurry of retirements, election defeats, and resignations, the average tenure among Philadelphia's 17 council members fell from 15.5 years at the end of 2010—which was then the longest tenure among the cities studied—to 8.2 years as of January 2016.2 Even with this decrease, Philadelphia still has one of the longest-serving memberships, behind only Baltimore and Chicago—both of which, like Philadelphia, do not have term limits. (See Figure 1.) The average tenure for all members across the 15 councils is 6.2 years, down from 7.9 years at the end of 2010.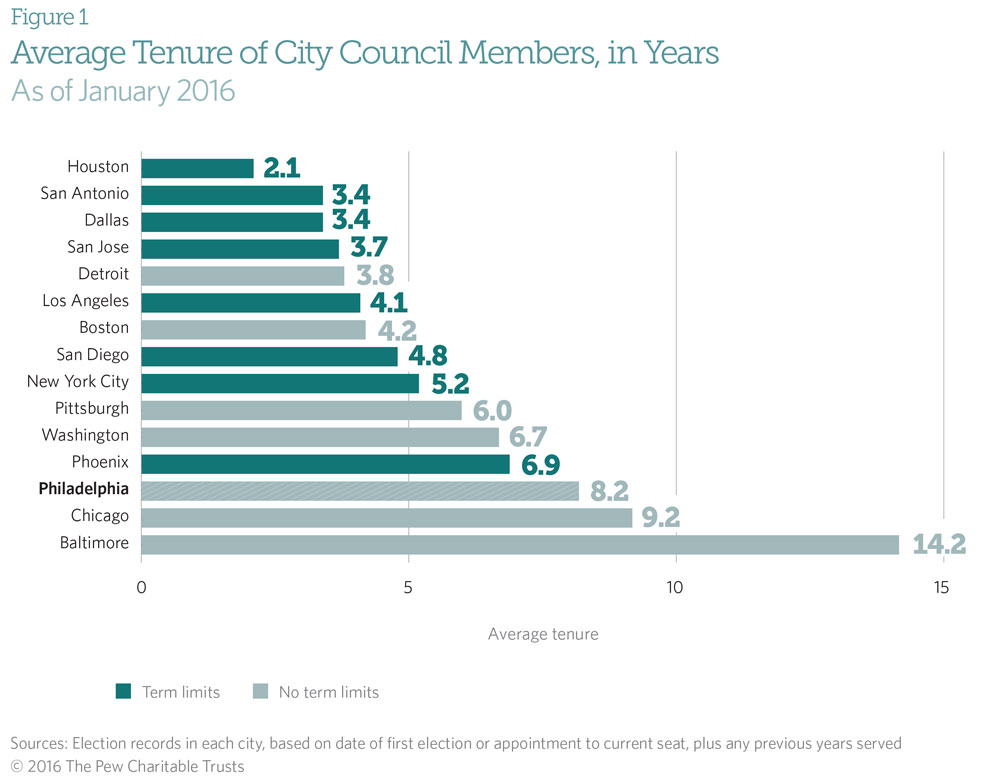 As we noted in our previous research, longevity in office can be seen as positive, negative, or both. New members can bring fresh ideas and constituencies—or be portrayed as inexperienced. Veterans can be seen as effective and influential—or as roadblocks to change.
The average salary for council members in Philadelphia now stands at $132,789 (which includes base salary plus any extra pay for leadership or committee posts), making it the third-highest among the cities examined. That is up from fourth-highest, as listed in our 2011 study, when the council's average was $121,107. Los Angeles City Council members remain the highest-paid, at $189,041, and San Antonio's remain the lowest, at $47,177—although that city's members, among the councils we examined, got the biggest raise from five years ago, when their average salary was just $1,400. San Antonio residents voted to make the change via a charter amendment last year. (See Figure 2.)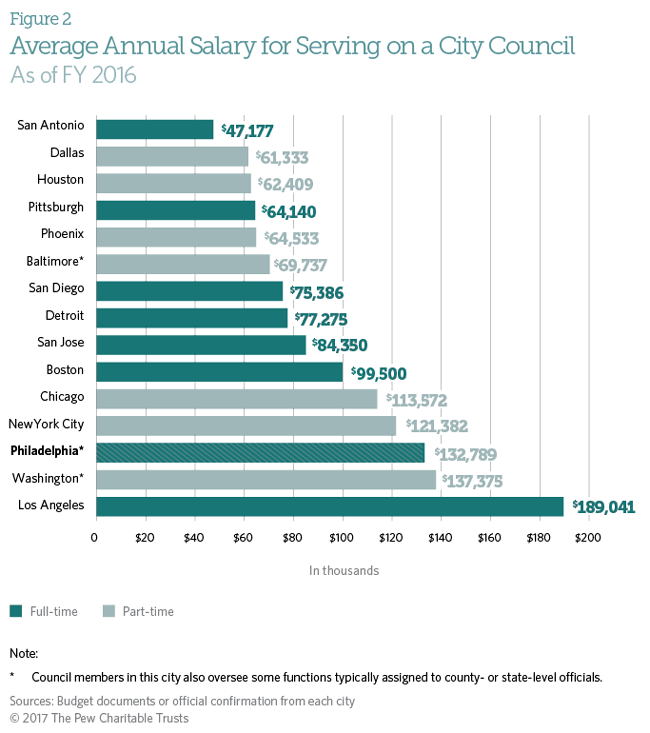 In our previous study, we did not find a clear connection between members' salaries and their status as full- or part-time employees or their right to have outside employment. This remains the same today. For example, Washington council members, whose jobs are officially part time, are among the highest-paid, while the full-time council members in Pittsburgh are among the lowest.
Councils in cities with relatively high costs of living tend to have higher-than-average salaries, but other factors also influence pay, such as how much members have historically been paid and how much responsibility they have within local government vis-à-vis the mayor or city manager. Cities also differ widely in how they raise council members' salaries: Some cities appoint special panels, while others, including Philadelphia, tie raises to cost of living.
Re-examining the proportion of women serving on councils today, we found that Philadelphia's share is 35 percent, placing it fifth on the list. Washington has the highest percentage of female council members—46 percent—and Los Angeles has the lowest at 7 percent. Five years ago, Philadelphia's council was 41 percent women, behind only Dallas. (See Figure 3.)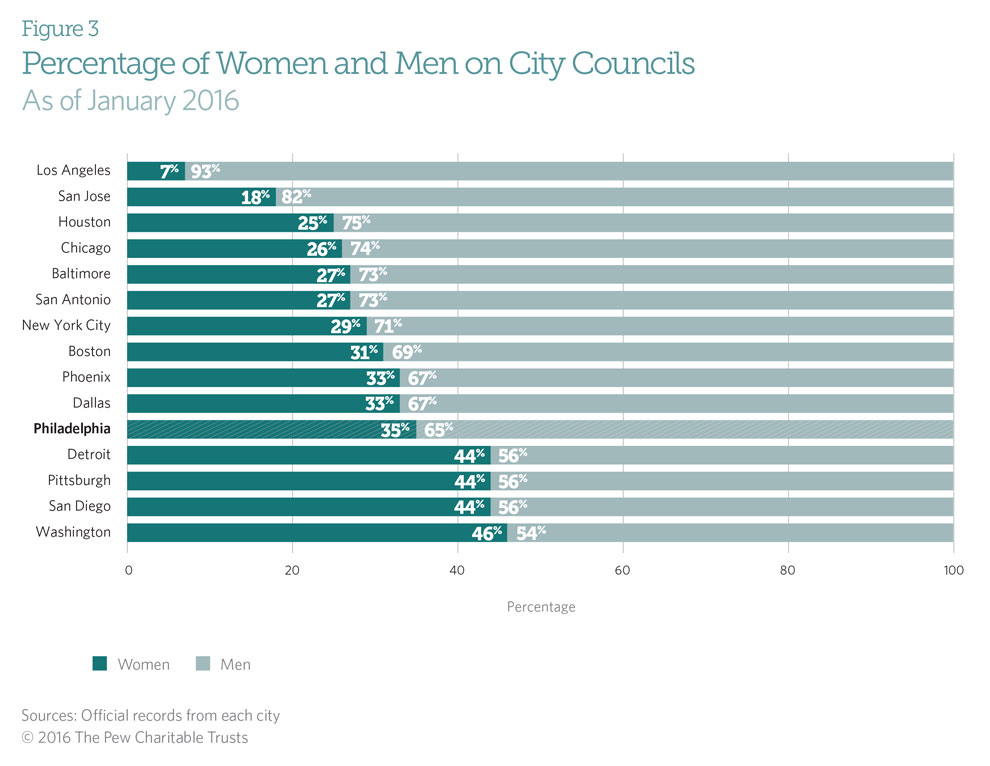 Most of the councils studied have 17 or fewer total seats, so adding or losing one woman makes a big difference in the percentages of each; the drop for Philadelphia, for instance, represents the loss of only one female member. Across all 15 councils, which have a total of 263 seats, the share of women declined from 33 percent in 2010 to 30 percent in 2016.
Endnotes
In 2011, Pew produced a report comparing Philadelphia's City Council with the councils in 14 other U.S. cities—Baltimore, Boston, Chicago, Dallas, Detroit, Houston, Los Angeles, New York City, Phoenix, Pittsburgh, San Antonio, San Diego, San Jose, and Washington—on factors including tenure, salary, size of staffs and budgets, and proportions of membership by sex and race. That study's tenure dates were as of Dec. 31, 2010, and salary information was from fiscal years 2010 or 2011.
Based on years since first election or appointment to current seat, plus any years from previous terms if there had been a gap in service.