Clean Energy Powers California Vineyard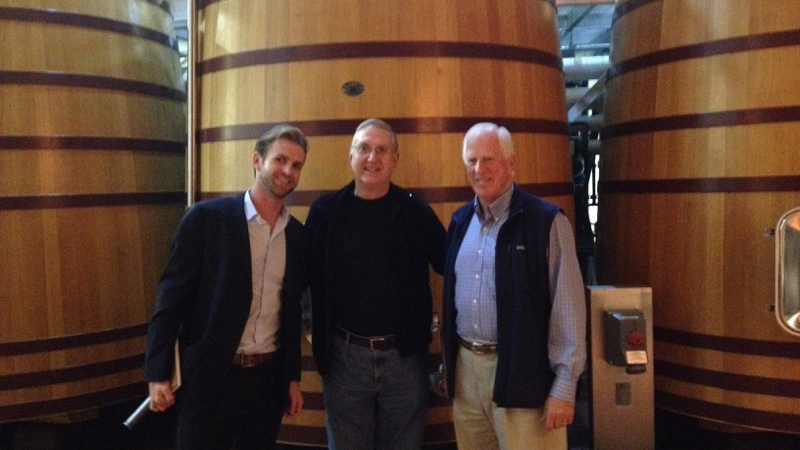 © The Pew Charitable Trusts
Sean Watson (left) of Catalytik and Chuck McMinn (center) of Vineyard 29 greet Rep. Mike Thompson before a tour of Vineyard 29's combined heat and power system in St. Helena, California.
When Chuck and Anne McMinn bought Vineyard 29 in St. Helena, California, in 2000, they wanted to produce a high-quality wine with minimal environmental impact. To help achieve this goal, they installed combined heat and power (CHP)—a system that efficiently provides 100 percent of their electricity and heat on-site, while reducing energy costs and protecting against blackouts.
In November 2015, Vineyard 29 hosted Representative Mike Thompson (D) of California's 5th District and his staff for a tour of the winery's CHP facility. Installed in 2003, the system uses two 60-kilowatt microturbines to heat water and provide thermal capacity for the winery's heating, ventilation, air conditioning, and refrigeration systems.
During the tour, Chuck highlighted the environmental and economic benefits of CHP, pointing out that the system operates at 80 percent efficiency—significantly higher than that of a traditional central power plant, which is usually closer to 30 percent. This high level of efficiency means CHP systems reduce greenhouse gas emissions per megawatt-hour of electricity. In addition, the CHP system has helped the winery reduce its annual power costs by as much as $39,000. Vineyard 29 uses these savings to devote more resources to its core mission of making high-quality wine.
The CHP facility also offers other benefits, including grid independence and expansion of new production opportunities. The system provides a reliable energy source, so the winery can operate during county and statewide blackouts that could damage the wine. When a county blackout occurred in 2003, during an essential phase of the harvest period, the microturbines kept operations running smoothly.
The McMinns chose to install microturbines because of their economic and environmental benefits—and because the technology enables them to explore innovative production methods.
"The CHP system allows us to do things we couldn't do with just solar power, such as operate at night," Chuck said. "This method of cooling our wine caves, which is unique to our winery, is also made possible because of CHP. Having this system in place is a win-win-win for Vineyard 29."
Other CHP users in Rep. Thompson's district include St. Helena Hospital, Pacific Union College, and the Napa Sanitation District. Following the Vineyard 29 tour, he joined the growing list of more than 40 members of Congress who are co-sponsoring the bipartisan Power Efficiency and Resiliency (POWER) Act (H.R. 2657 and S. 1516).
The POWER Act would improve the tax incentive for CHP and add waste heat to power (WHP), another type of industrial energy efficiency system, making these technologies eligible for the credit as well. Passage of the POWER Act would encourage more commercial, institutional, and industrial users to install these systems and enjoy the economic and environmental benefits they offer.
Phyllis Cuttino directs the clean energy program at The Pew Charitable Trusts.