Healthy School Food Standards Make 5 Successes Possible
A look at the benefits of the nutrition law as it turns 5
The Pew Charitable Trusts
Students are taking and eating more fruit with their school meals since the 2012-13 school year, when districts implemented updated nutrition standards called for in the Healthy, Hunger-Free Kids Act of 2010.
This page was updated in July 2016 to correct a link.
The Healthy, Hunger-Free Kids Act of 2010 is grounded in a common-sense idea: All meals, snacks, and drinks sold on pre-K-12 campuses should provide students (and staff and visitors) with proper nutrition and the energy they need to learn and thrive throughout the day. To mark the act's fifth anniversary (Dec. 13), Pew chronicled five ways that the nation has advanced toward healthier students and schools since the law was signed.
1. Menu options are healthier
Today, children can walk into virtually any school cafeteria in the United States and get a complete meal with at least 2 ounces of lean protein, a cup or more of fruits and vegetables, whole grain-rich foods, and low-fat or fat-free milk or water for $3 or less, on average. Nutritious menu options range from sliders made with lean beef or turkey on whole grain buns to barbecued ribs with grilled corn and chicken tikka masala with low-sodium sauce.
The variety of choices on school menus has also increased in many districts. For example, a nationally representative survey of elementary schools found that most (55 percent) increased the amount and variety of fruits and vegetables in the 2013-14 school year compared with the year before. Thirty-three percent increased entree options over the same period. And nearly a third of schools offered students self-serve salad bars in 2014.
2. Kids are eating healthier
When more fruits and vegetables are offered, kids' consumption of these foods increases dramatically. Under the updated nutrition standards, students are eating 16 percent more vegetables and 23 percent more fruits at lunch. They also are eating more nutritious foods overall, which helps them be better equipped to succeed in a learning environment; on average, kids ate 84 percent of their entrees in 2014, up 13 percentage points from 2012.
School meal planning also has become more sophisticated in recent years. From giving healthy foods more kid-friendly names such as X-ray vision carrots to offering sliced instead of whole apples, which take more time to eat, schools are taking creative and strategic steps to introduce healthier items to student palates. And kids like them!
3. More students are getting breakfast at school
Nationwide, the school breakfast program is growing: Between 2013 and 2014, participation increased by 380,000 students, according to U.S. Department of Agriculture data. Meanwhile, the number of kids getting free or reduced-price school lunches is at an all-time high. These figures show that school meal programs are not only providing nutritious food to many of their districts' students, but they are also reaching the kids who need it most.
One key to these gains: the act's successful Community Eligibility Provision (CEP), which over 14,000 schools have implemented. CEP allows schools in high-poverty areas to offer all students free meals without requiring individual families to apply. Schools that participate in CEP report higher revenue, decreased administrative costs, reduced program errors, and substantially greater student participation rates than they had before. On average, these schools have seen a 9 percent increase in breakfast participation and a 5 percent rise in lunch.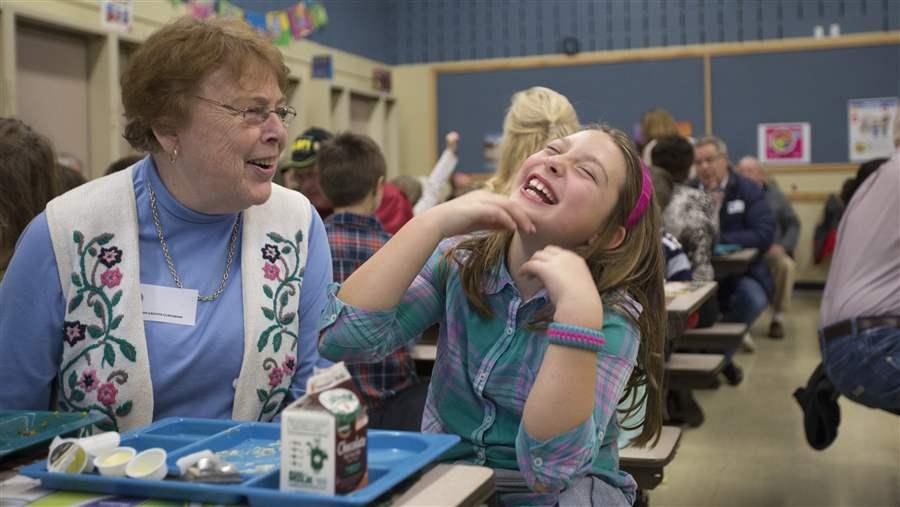 The Pew Charitable Trusts
Third-grade students in Kittery Point, Maine, celebrated Grandparents Day last month with a healthy, Thanksgiving-themed school lunch.
4. Kids in all schools are benefiting
Schools across the country have improved the quality of their lunches thanks to the provisions in the act. According to respected research, the availability of healthier items in lunches has increased in public elementary schools and unhealthy foods are being offered less often.
Requiring more nutritious meals nationwide has also ensured that access to healthy choices is routine rather than occasional for all children. A recent study found that in the 2010-11 school year, the odds that fruits, vegetables, and whole grains were available in any given lunch were almost 2.5 times higher in predominantly white middle schools than in more diverse schools, and the odds that fruits and vegetables were offered every day were 3.6 times higher in large high schools compared with small ones. Under the healthier nutrition standards, more diverse and smaller schools increased the availability of these nutritious items enough to narrow these gaps by the 2012-13 school year.
5. Even school snacks are healthier
To ensure that all food choices support students' health, the USDA also issued updated recommended nutrition standards for snack food and drinks sold in school vending machines and a la carte lines. Known as the Smart Snacks rules, these standards make sure that schools provide nutrient-rich snacks that are lower in calories, sodium, fat, and sugar than the candy and other sweets that many previously offered. Research shows that improving snack choices pays off: One study found that in states that adopted strong snack standards, children who were overweight or obese in fifth grade were less likely to have weight problems by eighth grade.
Given all the progress that's been made, it's not surprising that Americans overwhelmingly support strong nutrition standards for school meals and snacks. The Healthy, Hunger-Free Kids Act benefits students and schools, and by supporting and building on the progress of the past five years the nation can help generations start strong and lead healthier lives.