Training the Teachers in a School's Biggest Classroom: the Cafeteria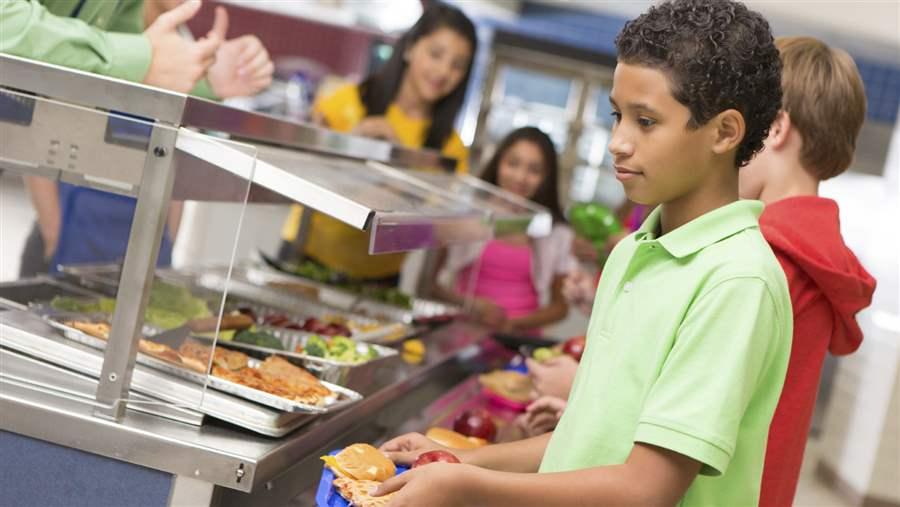 iStock
Middle school students getting lunch items in cafeteria line.
Bridgette Matthews is the School Nutrition Director for Elbert County Schools in Elberton Georgia, and a peer mentor with the U.S. Department of Agriculture's Team Up for School Nutrition Success Initiative. This month the Kids' Safe and Healthful Foods Project talked with her about her experience with nutrition education and to find out what she's doing to improve school meals in Elbert County cafeterias.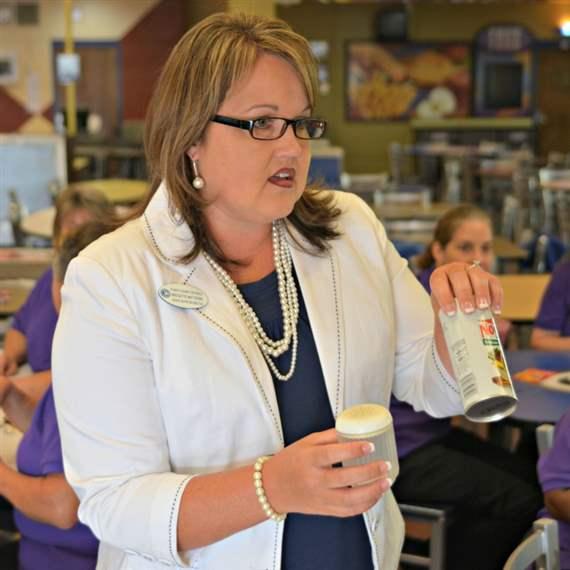 Dot Rutherford, Media Specialist, Elbert County Comprehensive High School
Q: How do you ensure that kids are not only eating well, but understanding the importance of good nutrition?
A: Training in nutrition is key. Like their fellow educators down the hall, the school nutrition professionals I work with must be prepared to answer tough questions from students. That's why staff training and development are crucial parts of our school meal program—for me as the director and for our whole team.
This is particularly important for my front-line servers and cashiers, because they're the ones who interact the most with students each day. How they respond to a seemingly minor question, such as "May I have more salt?" can affect children's choices and overall impression of our program.
Improving staff training also has been a frequent topic in my role as a peer mentor with Team Up. The initiative pairs school nutrition directors who are facing programming challenges with mentors who have overcome similar obstacles in their school districts. One of my main tasks in this capacity is to empower others to find and address the root cause of each problem. If a director is struggling, say, with staff members who are critical of the menu and whose negativity is rubbing off on the kids they serve, we may work on an action plan for more staff development.
Q: What sort of training have you implemented in your district?
A: My team and I talk a lot about the science behind the healthier menus we've introduced and how to communicate nutritional lessons to kids. One of the biggest topics for us right now is sodium—that's the buzzword our kids are talking about. When a child asks, "Why doesn't this sandwich have pickles?" the answer should never just be "because Bridgette made the menu that way."
Instead, we've worked to ensure that everyone on our team is comfortable explaining the health risks of eating excess salt—how too much sodium can lead to high blood pressure, how that can cause kidney problems, which in turn could lead to serious chronic conditions—and then to go to the next step and discuss good nutrition in the context of our menus.
Recently, we analyzed the sodium content in one of our traditional lunches: a ham sandwich with lettuce, tomato and pickles; baked potato chips; carrots with a little ranch dressing; fruit; and chocolate milk. This meal is often considered one of our healthier options, because it is low in fat and calories. But when we tallied it up, the total came out to 1,993 milligrams of sodium—nearly the recommended maximum amount for an entire day! Through this exercise, my staff was able to see exactly why we removed pickles from our deli sandwiches—because close to 20 percent of the sodium in that meal came from just 1 ounce of pickles.
Q: It seems like what we're talking about here is balance. Among the menu modifications you've made to meet federal nutrition standards, is there one that handled this particularly well and was popular with students?
A: You're right. And yes, here in the Deep South, our kids love biscuits with breakfast. Historically, our meal participation rate was always highest on biscuit day. So, we worked out a way to make them a daily option in our new Biscuit Bistro. And thanks to our training sessions, my team was able to explain to our kids why serving more biscuits meant we would no longer offer chocolate milk at breakfast. To maintain that healthy balance, higher sodium biscuits needed to be offset with a lower sodium drink like white milk.
Q: Why have you made not only serving, but understanding healthy food such a priority in your career?
A: At the end of the day, this is about the students. The more informed and confident our nutrition staff members are, the better equipped they are to teach our students to eat healthy diets that support their readiness to learn each day and throughout their lives. I've had amazing mentors in my career who never let me forget that thriving school nutrition programs require a team effort, and I'm grateful for the opportunity to share those lessons through Team Up. Helping others grow, learn, and succeed is why we are in the education business, so the more training and education we have about nutritious food, the more knowledge we can pass on to the next generation.