School Celebrates Grandparents Day With Healthy Thanksgiving Feast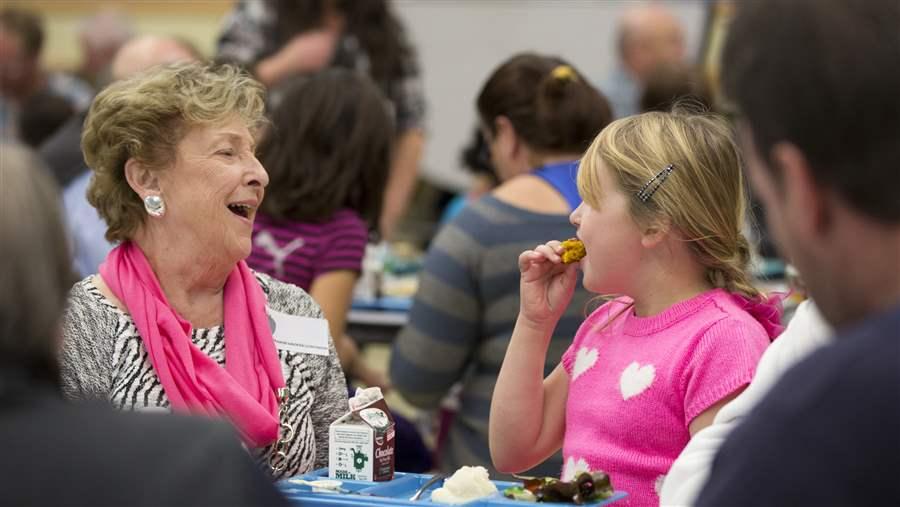 The Pew Charitable Trusts
Third-graders enjoy a delicious school lunch with loved ones on Grandparents Day at Horace Mitchell Primary School.
Picture this: Juicy roast turkey is plated next to fluffy, melt-in-your-mouth mashed potatoes and topped with creamy gravy. Locally grown butternut squash adds sweet and savory flavors, complemented by crisp fall apples and fresh vegetables. A warm pumpkin cake rounds out the meal.
This spread may sound too decadent to be healthy, but in fact it's the delicious and nutritious menu served Nov. 19 to students at Horace Mitchell Primary School in Kittery Point, Maine. The meal not only met national school lunch standards, but was also the highlight of the school's annual third-grade Grandparents Day festivities.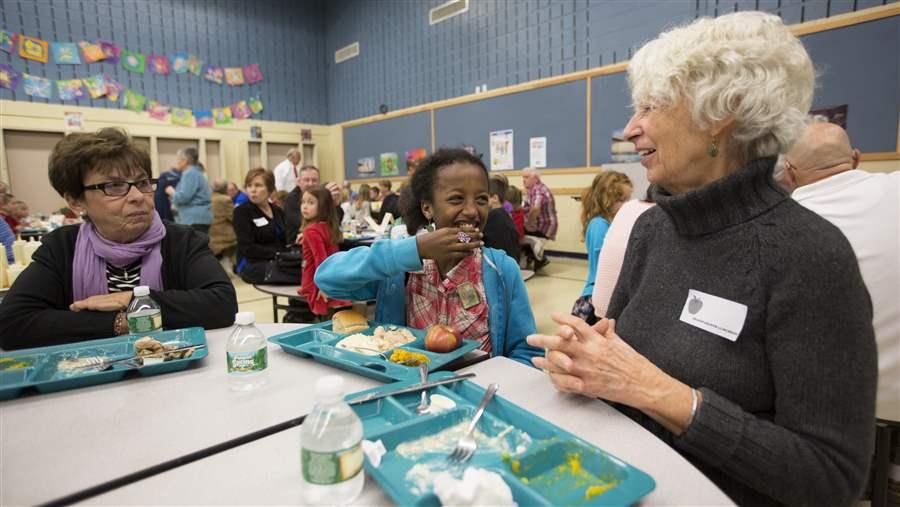 The Pew Charitable Trusts
Students and adults alike rave about the Thanksgiving lunch, part of a Grandparents Day tradition dating back 26 years.
Students, families, and staff at Horace Mitchell have been celebrating Grandparents Day with a Thanksgiving-style feast for 26 years. And when nutrition standards for school meals were updated to provide children with healthier choices, the Horace Mitchell team modified the recipes to make the tradition even healthier. The district's nutrition director, Wendy Collins, and her team adapted their menu, reducing sodium, improving the salad bar, and developing a dessert made with whole grain-rich ingredients.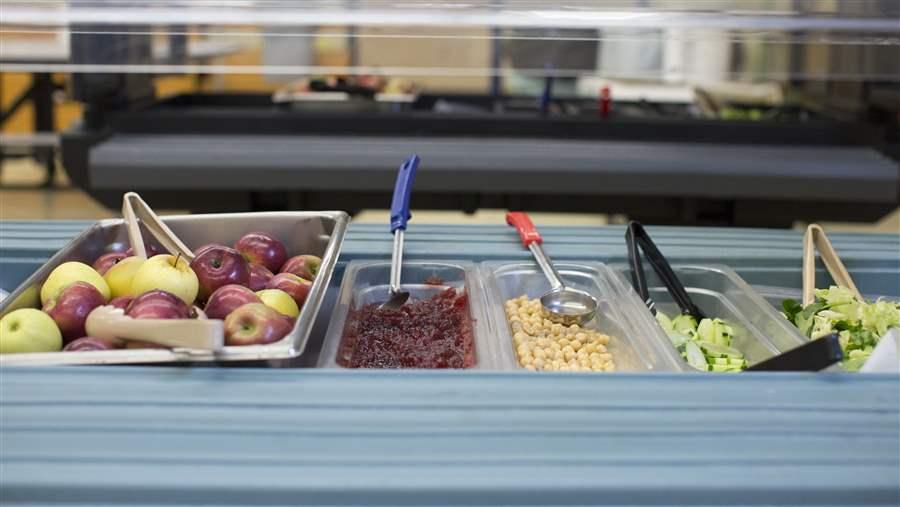 The Pew Charitable Trusts
Maine apples and cranberry sauce are among the offerings on the salad bar.
Collins builds dishes in her Thanksgiving menu and other meals from recipes tested by the U.S. Department of Agriculture, making small changes as needed to suit her students' preferences while ensuring they remain within the limits on calories, saturated fat, and sodium. For example, she substituted pumpkin in an applesauce cake recipe to cook up a warm and healthy fall-flavored treat.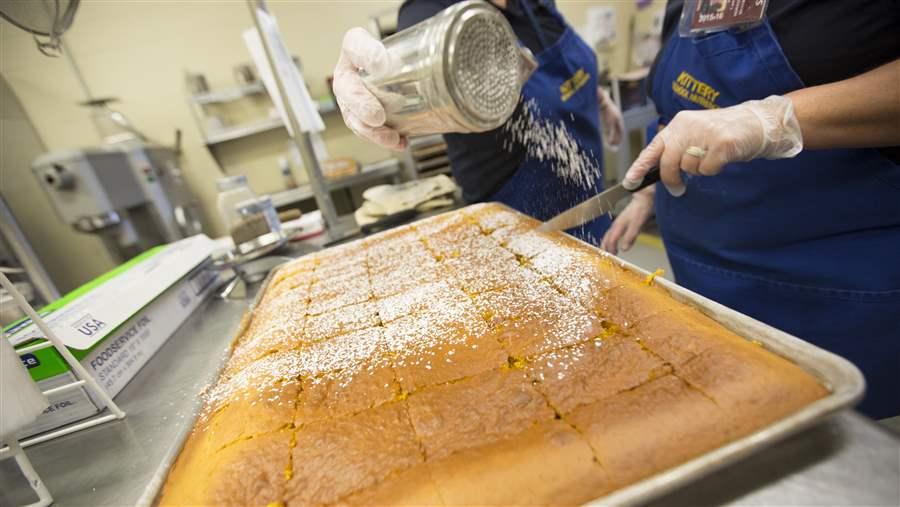 The Pew Charitable Trusts
Nutrition staff members put the finishing touches on a pumpkin cake made with whole grain-rich ingredients.
The event also celebrated the community's agricultural traditions, with help from the state's farm-to-school program. The butternut squash was grown nearby, and the apples came from Maine orchards. These additions benefit the local economy and provide kids with fresh, nutritious produce.
Principal David Foster said that when students were asked about their favorite part of the day, most mentioned eating lunch with their special adult guests, and children and grandparents alike raved about the delicious food. The mashed potatoes and pumpkin cake were the most popular dishes of the day.
The Pew Charitable Trusts
Students look forward to sharing their special school meal with loved ones.
Download the Thanksgiving dessert recipe here—but don't forget to swap pumpkin for the applesauce!