Illegal Fishing Off Italy Undermines Atlantic Bluefin Recovery
Europe can combat illicit activity with electronic tracking of trade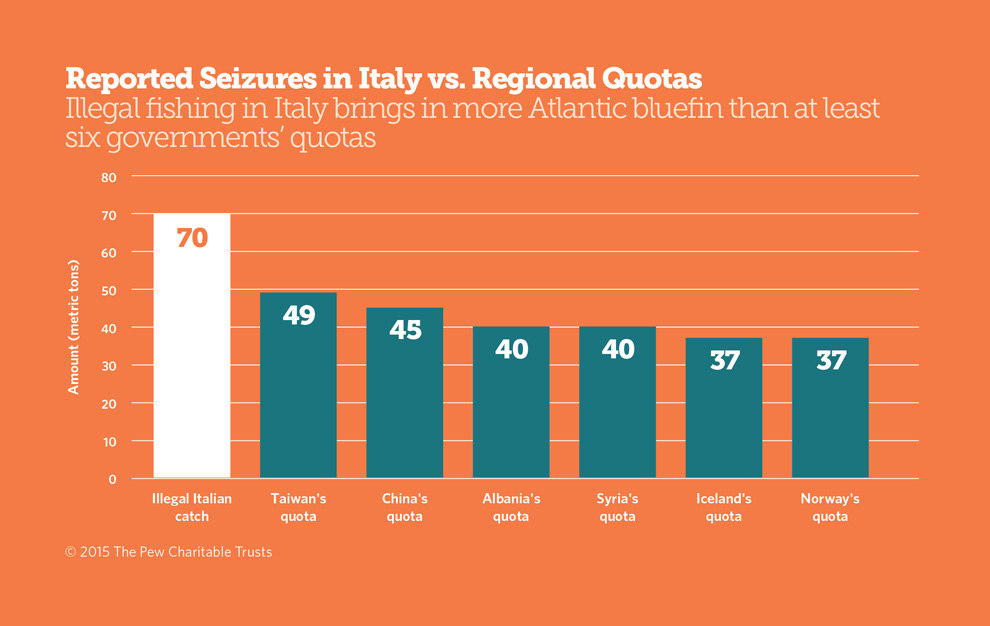 Access to information is a core component of effective fisheries management, and a new analysis of news reports on the illicit catch of Atlantic bluefin tuna in the Mediterranean Sea highlights ongoing concerns about illegal fishing and trade.
Atlantic bluefin are finally rebounding after years of unsustainable fishing and, in the midst of this admittedly fragile recovery, catch quotas are on the rise. But if authorities cannot ensure compliance with these limits, bluefin could end up back in trouble.
According to news media reports analyzed by Mediterranean Recovery Action (MedReAct), a group that focuses on the recovery of Mediterranean ecosystems, the tonnage of fish recovered by Italian officials this year in seizures of illegally caught bluefin tuna is greater than the legitimate quotas of China, Albania, Syria, Iceland, Norway, or Taiwan (Province of China). And these numbers reflect only the instances in which illegal operators were caught and journalists reported the seizures. The actual numbers are likely to be much higher.
Mentions by the news media don't account for every bust or seizure. Other fish caught illicitly almost certainly reach the market. In fact, a fishing industry representative in Italy recently told the news program "Pressa Diretta" that 90 percent of the bluefin tuna sold in Italy was caught illegally. If that number is close to accurate, that's a lot of illegally taken fish.
For some time, we've known of an effective way to stop this—full implementation of the electronic bluefin catch documentation system, or eBCD. In a recent commentary on ending rogue fishing, key former officials from the European Union, Japan, and the United States—Maria Damanaki, Yoriko Kawaguchi, and Jane Lubchenco—highlighted the benefits of using "affordable, sophisticated technology for seafood traceability."
"Such efforts—for example, the electronic documentation scheme for the Atlantic bluefin tuna catch—represent one of the most effective tools to eliminate illicit fishing," the three experts wrote.
In November, fishery managers and regulators will meet in Malta for the annual meeting of the International Commission for the Conservation of Atlantic Tunas. There they will decide whether to implement this electronic system to substantially reduce loopholes for illegal bluefin trade, particularly within the Mediterranean. The system is ready. Now it is time for action.
Amanda Nickson directs Pew's global tuna conservation initiative.