Director's Note: Expanded Opportunities on National Voter Registration Day
Today is National Voter Registration Day, which was launched in 2012 to raise awareness of the ways in which Americans can register to vote. Each year on this day, organizations across the country mobilize volunteers to help citizens register to vote, update their registrations after a move, and pledge to turn out and vote. Election officials are also urging voter registration: the National Association of Secretaries of State (NASS) has declared September to be National Voter Registration Month and is encouraging participation in today's activities.
This year, more eligible citizens than ever before have access to new or expanded registration technologies. For example, Nebraska today joined 23 other states and the District of Columbia in implementing online voter registration, and several other states have passed legislation to do the same. In New Mexico, the Department of Motor Vehicles is using new touch-screen technologies and streamlined administrative processes to improve its motor voter program.
The map below shows—in blue—jurisdictions that offer online voter registration. Voters should click on the state links below the map to register to vote or update their information. Voters in other states can begin new registrations or update their information through the National Voter Registration Day portal.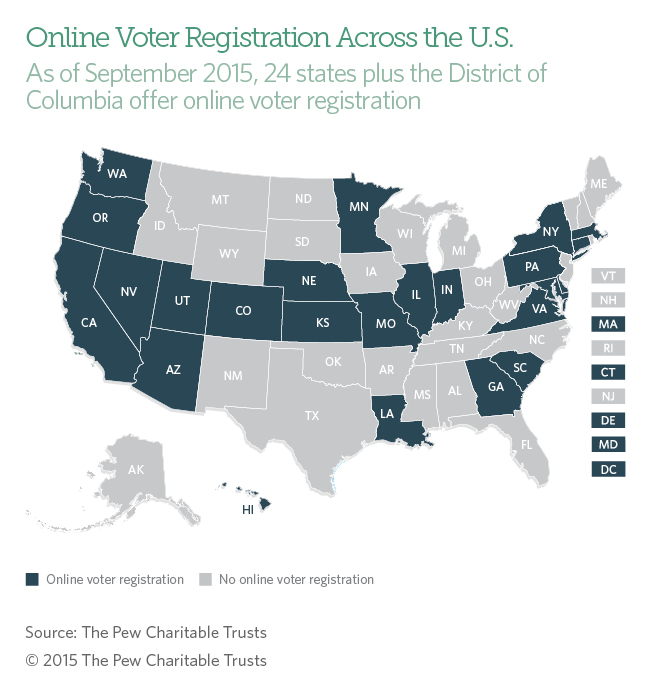 The Pew Charitable Trusts is strongly committed to upgrading voter registration processes, technologies, and outcomes nationwide. In addition to supporting state efforts to implement online voter registration and improve motor voter programs, Pew helped launch the Electronic Registration Information Center (ERIC), a data-sharing system run by participating states to update their voter rolls. ERIC has helped states to identify more than 2.5 million voters who have moved and over 100,000 who have died; the center also has led approximately 700,000 new voters to register online, efficiently and conveniently.
Follow us on Twitter using #electiondata and get the latest data dispatches, research, and news by subscribing today.