Families Affected by Contaminated Peanut Butter Pivotal to Enactment and Implementation of Food Safety Law
A highly decorated Korean War veteran—a triple Purple Heart recipient—we thought dad could win in any battle and overcome every obstacle. I never would have thought that something he ate would cost him his life.

Lou Tousignant, testimony before Congress on February 11, 2009
In September, a federal court in Albany, Georgia, will sentence three former Peanut Corporation of America (PCA) executives for crimes committed during one of the worst foodborne illness outbreaks in recent history. A jury found last year that the PCA executives knowingly shipped peanut butter and paste contaminated with a virulent strain of Salmonella that was used in ice cream, crackers, granola bars, and hundreds of other items. In late 2008 and early 2009, more than 700 people were sickened and nine died after eating tainted peanut products.
The outbreak—which occurred as Congress was debating the first update of the U.S. food safety oversight system in more than 70 years—demonstrated to lawmakers that one contaminated ingredient used in hundreds of products could produce devastating results. Members of Congress also saw that reacting to a food safety problem was not enough; prevention had to be built into the system. These illnesses and deaths were a major factor in lawmakers' decision to move forward legislation that became the FDA Food Safety Modernization Act (FSMA).
…It is in [my mother's] memory that I am here. I believe that the proposed preventive-control rule is designed to prevent outbreaks like the one that killed my mom.

Jeff Almer, testimony before Congress on February 11, 2009
The act requires makers of processed foods such as peanut butter to develop plans that identify possible sources of contamination, put in place measures to minimize contamination, and then monitor the process to make sure the plan is working. Most importantly, the law gives FDA the authority to shut down any plant that fails to take any one of these steps, and therefore keep contaminated food from being distributed.
Family members whose loved ones died or were sickened after eating contaminated PCA products have not been sitting on the sidelines while the case has worked its way through the judicial system. In fact, many were instrumental in getting FSMA enacted. Weeks after losing a parent or nursing a child through a Salmonella infection, they were on Capitol Hill telling their stories and urging their representatives to take action so that other families might be spared the painful effects of tainted food products. Their efforts continued after President Barack Obama signed FSMA into law in January 2011, with testimony at FDA public meetings—not only about rules to implement the law's provisions for processed foods, but also about prevention-based requirements for fresh produce and food imports.
The Pew Charitable Trusts
Pete Hurley and son, en route to testify in Washington, DC.
As a citizen, you figured that when the bill became law, you were done…But it's three years later, and we're not getting money to make the food supply safer.

Pete Hurley, testimony before Congress on February 11, 2009
Every year since FSMA was enacted, family members affected by the PCA case write letters to congressional appropriators, urging them to grant FDA the funding necessary to put the law's public health protections in place. After the sentencing hearing in Georgia is over, they plan to continue to push for adequate funding to implement FSMA by reminding lawmakers that the next two years—as regulations are being finalized—are critical to the law's success.
Peanut butter, caramel apples, and ice cream should not be a source of concern or a cause of illness. When finalized, adequately funded, and fully implemented, FSMA will reduce the number of foodborne illnesses and improve public health. As the mother of one PCA victim testified before the U.S. Senate: "Just one family impacted by foodborne illness is one too many."
I hope that [my son] understands someday how lucky he was…I don't want to be paranoid about the food I eat, but I do want to know that there are laws…that do the job of protecting the U.S. food supply for all who consume.

Gabrielle Meunier, interview, November 2014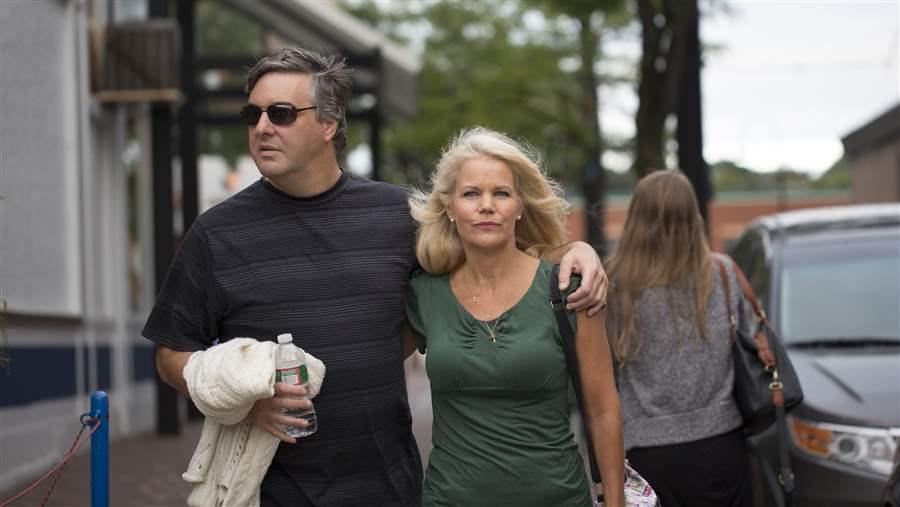 The Pew Charitable Trusts
Gabrielle Meunier in South Burlington, Vermont.