Monitoring the Floe Edge in Nunavut's Eclipse Sound
Socked in under a thick layer of fog on the shores of Nunavut's Eclipse Sound, we begin a day marked by impatience for me. Our research team, a joint project of Pew's Oceans North Canada and the Institute of Marine Science of the Université du Québec à Rimouski, has important work to do and a narrow window in which to do it. But for now, all we can do is wait.
We arrived here last evening after traveling three hours by snowmobile from Pond Inlet, a village on the northern tip of Baffin Island near Lancaster Sound, to mount time-lapse camera stations on two high peaks overlooking the water. The cameras will monitor land-fast ice—ice that is attached to the shore—before, during, and after it breaks up, with the goal of answering key questions about the potential impact of a proposed extension of the Mary River iron ore mine's shipping season.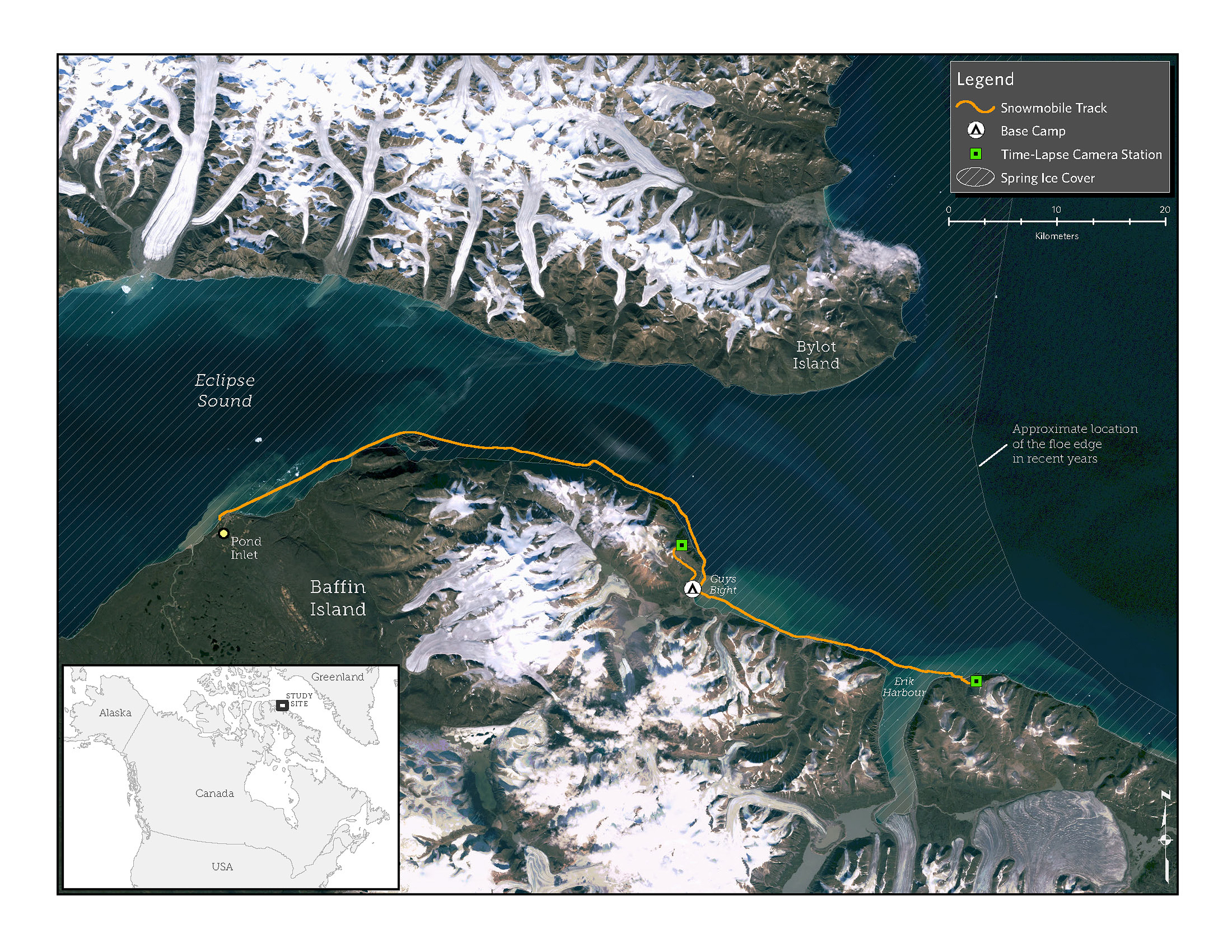 The Mary River mine sits on one of the largest high-grade iron ore deposits in the world. Local residents want the mine to succeed, but they also want to ensure that it doesn't jeopardize the bountiful ecosystem or their cultural and economic connection to it. The mine's ships must travel through Lancaster Sound, a region that the federal government has pledged to protect by creating a national marine conservation area. The national marine park has not yet been finalized.
Last fall, the mine's owner, Baffinland, a subsidiary of steel giant ArcelorMittal, proposed extending its season for shipping to European steel mills through Eclipse Sound to include winter and spring, as well as summer and fall. This would require intensive, unprecedented icebreaking on the same route we've just traveled. Our study will provide data to help answer critical questions, including, "What would this mean for Inuit families who travel and hunt on the sea ice?" and "How would it affect the incredibly productive ecosystem that thrives on this balance of ice and sea?"
Despite warnings that ice conditions were rough this year, Alex Ootoowak, a hunter from Pond Inlet, guided us here. The sea ice was in fairly good shape for May, and we had to jump only a few big cracks. We established a camp at Guys Bight, a beach backed by narrow glacial ridges called eskers. As soon as we settled close to the floe edge in an old cabin owned by Alex's mother- and father-in-law, Alex suggested that we set out right away for our first camera installation.
Easy for him to say! He wouldn't be the one climbing up the mountain if the route proved too tough for the snowmobiles, known locally simply as "machines," as if every other kind of machine is a lesser derivative.
But conditions turned out to be perfect. It was a calm night, insofar as night exists in this land of perpetual springtime sun. But since our team of seven includes two High Arctic rookies, I made the call to take the evening off and start fresh in the morning.
So we spent the evening exploring. Behind our cabin, glacial tongues droop between jagged mountains. Massive icebergs, holding water that froze before mammoths walked the earth, float placidly in the bay. There are half a dozen old shacks, which run the gamut from tiptop shape to disrepair. Fortunately, Alex's family's cabin has more amenities than we could have wished for, including beds, a diesel stove, and a generator. People used to live off the land year-round here, traveling to Pond Inlet to trade and obtain provisions. Now, most people live in town and use these cabins only during hunting season.
The floe edge is a magical place where the open ocean meets land-fast sea ice in a crescendo of life. The spring sun fosters a huge algal bloom under the sea ice that feeds plankton, which feed cod, which feed whales and seals, which feed polar bears and humans.
To study how icebreakers could affect this delicate ecosystem, we have partnered with Professor Dany Dumont of the Université du Québec à Rimouski. Our research plan hinges on having two autonomous cameras at high points overlooking the Sound to collect data. On this trip, we'll mount the cameras inside insulated boxes powered by external batteries and solar panels. To execute the setup, Dany has sent the equipment and a cheerful technician named Paul Nicot. He and Jeremy Davies, a Pew geographic information systems (GIS) expert, are the technical brains of this operation. The rest of us—including Trevor Taylor, fisheries conservation director for Oceans North Canada; Alex's son Qaunirq Ootoowak; and Ben Savard, another guide from Pond Inlet—are here to help get our equipment to the top of the ridges. For months, Jeremy and Dany traded emails containing satellite imagery and topographic maps to choose the best locations.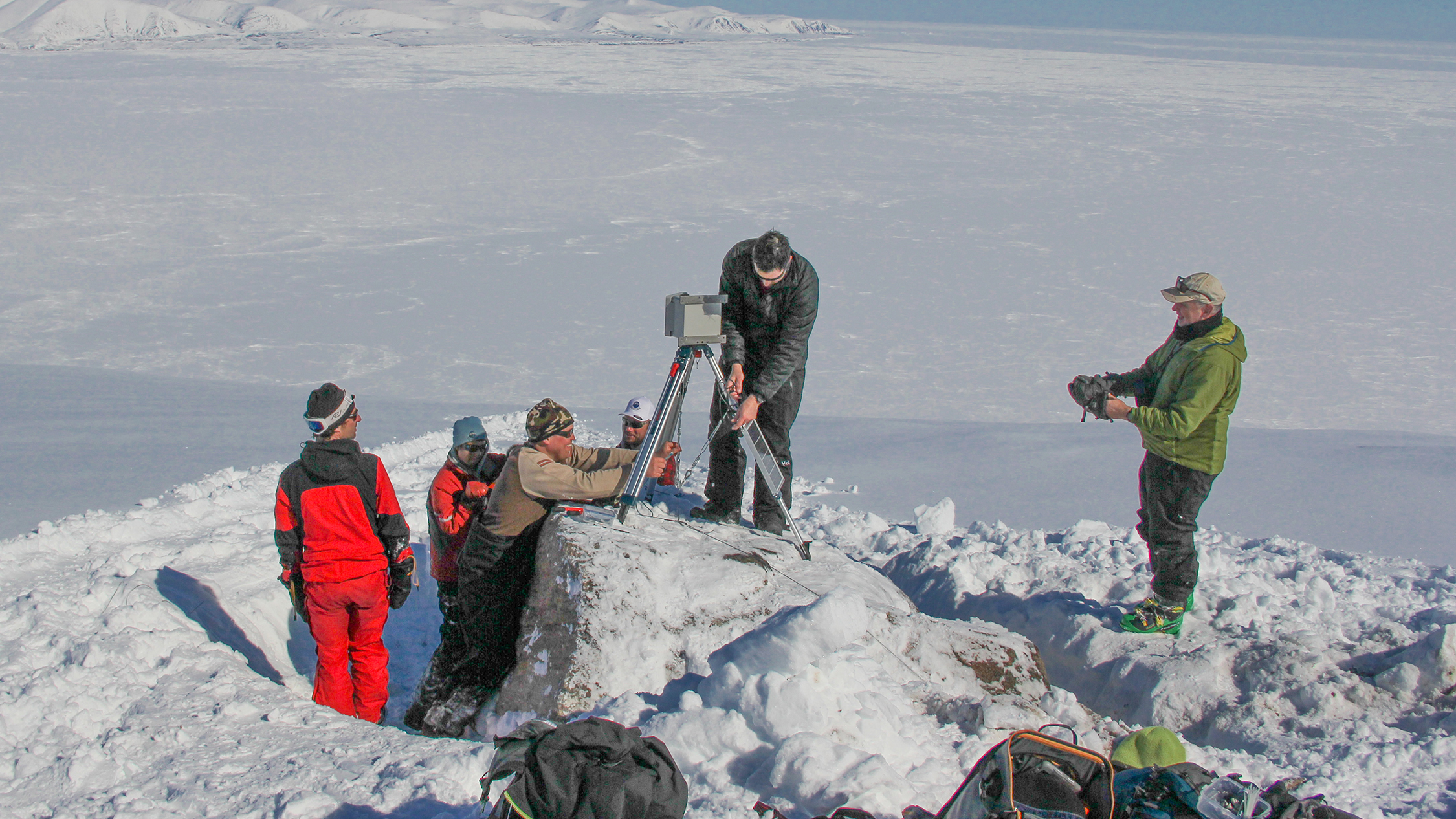 © Trevor Taylor
The research team installs the second camera.
Before I had a chance to even make coffee this morning, Alex, who has logged many miles with me on other expeditions, began teasing me about not setting off the night before. The fog has swallowed everything—shacks, mountains, eskers, beach, icebergs. The sea ice is indistinguishable from the sky. So we wait. Finally, late in the afternoon, the fog lifts enough for us to see the outline of the first ridge we need to climb. We scramble out of the cabin to start our work.
When we arrive at the base of the mountain, conditions are rapidly deteriorating. It is clearly too dangerous to attempt a snowmobile climb up the glacier. We just manage to sketch out a boulder-strewn ridgeline route to the top as a snow squall hits. But we've seen the route and we make a quick plan. Alex, Qaunirq, and Ben will stay at the bottom with the machines. Trevor, Jeremy, Paul, and I will head for the summit, hoping that at some point during the ascent the sky will clear.
Things get tough fast. A layer of ice lies just below the top of the snowpack, and we slide back with each step. The crampons and ice axe I'd worried were overkill become essential, and with my alpine boots I manage to kick-step up the steep grade. Meanwhile, despite carrying the heaviest load, Trevor makes the ascent with the light steps of a mountain goat.
We radio Alex at set intervals during the climb, and finally, after about two hours, we reach the summit. Exhausted and chilled by a howling wind, we hardly notice during the last 30 minutes of the climb that the fog has lifted, revealing Eclipse Sound and a sea of icebergs and pressure ridges below us.
Paul finds a boulder platform, and we work quickly to drill anchors and crimp wires to hold the camera and solar panel in place. An hour passes and we are finally standing as a team in front of the camera.
Though the camera will eventually capture three months of floe edge movement, its first photo is of us, grinning at our accomplishment.
The next day is postcard perfect, with calm weather and blue skies, and we finish the second installation without a hitch.
By the end of August, we should have preliminary data to help answer the big questions about the effects of shipping on the sea ice that matters so much to the people of Pond Inlet.
Chris Debicki is a consultant and the Nunavut projects director for Oceans North Canada, a project led by The Pew Charitable Trusts in partnership with Ducks Unlimited Canada.