Congress Hears From States on Improvements to Public Safety
Judicial, legislative, and executive leaders from three states came to Capitol Hill on June 17 to discuss their states' recent sentencing and corrections reforms, which could prove instructive to the federal criminal justice system.
South Dakota Governor Dennis Daugaard and General Counsel Jim Seward, Utah Supreme Court Chief Justice Matthew Durrant, and South Carolina state Senator Gerald Malloy joined Pew's Adam Gelb for a discussion, co-hosted by U.S. Representatives Jim Sensenbrenner (R-WI) and Bobby Scott (D-VA), about bipartisan efforts in their states that have reduced prison growth and taxpayer costs while improving public safety.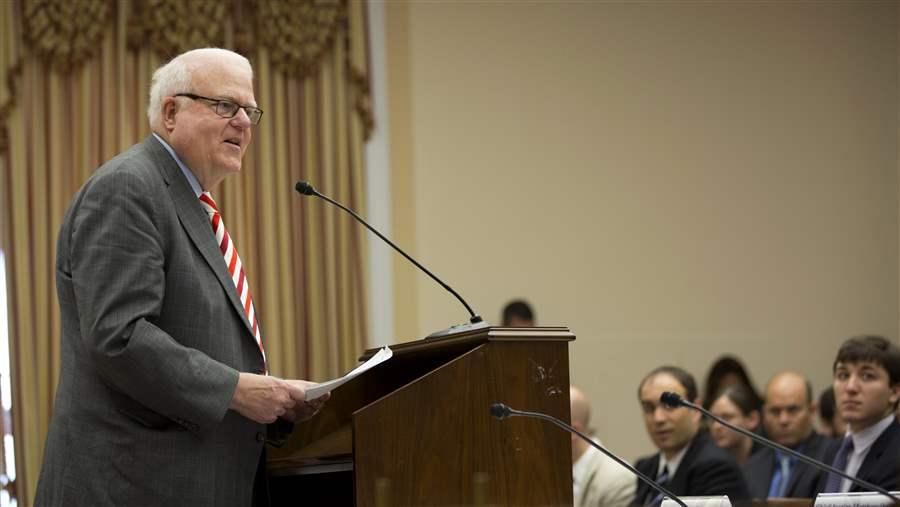 © 2015 The Pew Charitable Trusts
Representatives Jim Sensenbrenner (R-WI), top, and Bobby Scott (D-VA), below, speak about the need for sentencing and corrections reform at the federal level during a Capitol Hill briefing in Washington on June 17, 2015.
© 2015 The Pew Charitable Trusts
Since 2007, more than half of the states have enacted comprehensive reforms to their sentencing and corrections systems, helping to stabilize America's surging incarceration rate and saving taxpayers billions of dollars. Although the specific reforms vary, all of these states are prioritizing prison space for serious and repeat felons while promoting research-based, cost-effective alternatives to incarceration for nonviolent offenders.
In South Carolina, which enacted its reforms in 2010, the average daily prison population has declined by 9.5 percent to 21,815 inmates in 2015—22 percent lower than the population that was projected without reforms—allowing the state to close 2½ prisons. The number of nonviolent inmates has fallen 30 percent. And crime has also declined in the state. From 2010 to 2013 (the most recent year for which data are available), South Carolina's violent crime rate fell 16 percent, and its property crime rate decreased 7 percent.
Since South Dakota passed major reforms in 2013, the overall prison population has leveled off, beating projections. The state has canceled construction of two prisons and redirected savings into programs that research shows reduce recidivism. The parole completion rate increased from 37 percent of offenders in fiscal 2012 to 60 percent in fiscal 2014, and many parolees have earned credits through good behavior that shorten their periods of supervision. In addition, the parolee population declined 8 percent from June 2013 to February 2015, and the average parole agent caseload fell 16 percent. Meanwhile, the reforms have helped increase capacity in the state's drug courts—which divert low-level offenders from prison and into a combination of treatment and supervision shown to reduce recidivism—by nearly 500 percent since fiscal 2011.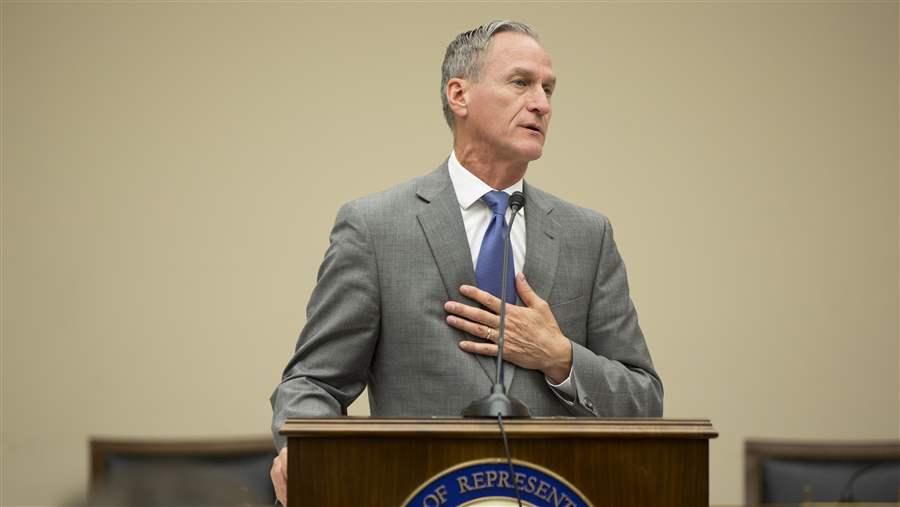 © 2015 The Pew Charitable Trusts
Governor Dennis Daugaard (R-SD) shares lessons learned from his state's passage of major criminal and juvenile justice reforms in 2013 and 2015.
In April 2015, Utah approved a significant package of criminal justice legislation designed to prioritize prison space for serious offenders, strengthen probation and parole, and redirect $13 million of the savings to community re-entry programs. The law is expected to prevent nearly all of projected prison growth, saving taxpayers more than $500 million over the next two decades.
Pew reported earlier this year that states' overall imprisonment rate fell 4 percent from 2003 to 2013, with most of the decline occurring after 2007, when the wave of policy reforms began. The federal imprisonment rate, by comparison, increased 15 percent during the same 10-year span, with prison costs reaching $6.7 billion in 2013—nearly the same amount that taxpayers spent on the entire U.S. Department of Justice in 1980.
States' recent policy changes and growing successes can serve as a guide for Congress as it considers sentencing and corrections reform at the federal level.