Stakeholders Call for More Energy-Efficient Trucks
During the past decade, the United States has made tremendous strides in setting progressive fuel-economy standards for cars and trucks. The resulting benefits include consumer savings at the pump, a decline in the nation's dependence on foreign oil, and reduced carbon pollution. The rules also have spurred development of new technologies that are enabling the auto industry to outperform annual emission requirements and put passenger cars on schedule to achieve efficiency of 54.5 miles per gallon by 2025.
In the next month, the U.S. Environmental Protection Agency and the National Highway Traffic Safety Administration will propose a new rule aimed at improving the energy usage of medium- and heavy-duty trucks, another important and growing class of vehicles. Tractor-trailers, package delivery vans, service trucks, and buses play a central role in the American economy, shipping 20 billion tons of freight and transporting 3.5 million people every day. Even though these classes of trucks make up only 7 percent of vehicles on the road, they account for nearly 25 percent of U.S. transportation energy use, and their operation has a broad impact. According to the Consumer Federation of America: "The average American household spends $1,100 extra on consumer goods and services to cover the costs of fueling up inefficient heavy duty trucks. Companies pass these fuel costs on to consumers through price hikes on everything from a gallon of milk to large appliances."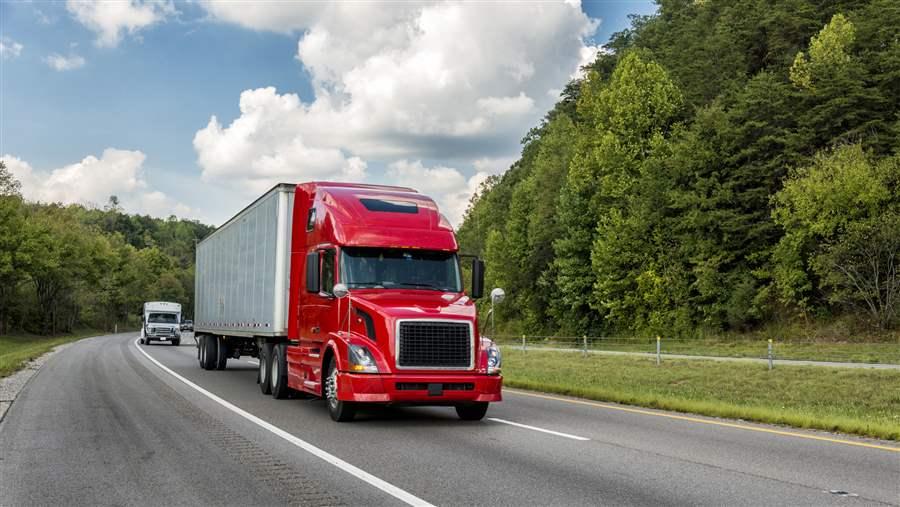 iStock
More than 300 companies and business advocacy groups are calling for strong efficiency standards for these vehicles. Fleet owners, component manufacturers, alternative fuel producers, and firms that ship products via freight understand the benefits of such standards. Between now and 2040, heavy-duty vehicles will represent the largest growth segment among all transportation modes. Until recently, however, no regulations existed to help curb energy usage by these trucks, and their fuel economy ratings were mostly unchanged since the 1970s.
Analysts estimate that medium- and heavy-duty trucks can become 40 percent more energy efficient by 2025 through the use of cost-effective technologies. Increasing fuel economy for combination trailers to more than 10 mpg, from nearly 6 mpg in 2010, will reduce petroleum consumption by more than 570,000 barrels per day while transporting the same amount of goods. With these standards, truck owners could save $30,000 each year at the pump and help prevent 110 million metric tons of carbon pollution.
Robust efficiency policies encourage innovation and make U.S. manufacturing globally competitive. Investment in research, production, and deployment of advanced vehicle technologies gives the United States a market edge. The cost of advanced batteries, for example, has declined 50 percent since 2009, in large part because of incentives for domestic research and development of new processes and products.
After the EPA and NHTSA announce the proposed truck standards in June, support from consumers and businesses will be critical to ensure that the nation remains at the forefront of vehicle innovation. Consider taking action by submitting comments in support of the rule. Let these agencies know that fuel efficiency is important for America's businesses, environment, and energy independence.
For more information, see Pew's fact sheet "Improving Medium- and Heavy-duty Truck Fuel Standards in Model Year 2019."
Visit Pew's fuel efficiency website: www.pewtrusts.org/fuelefficiency.