Richard Carrigan, CEO of United Displaycraft
Clean energy perspectives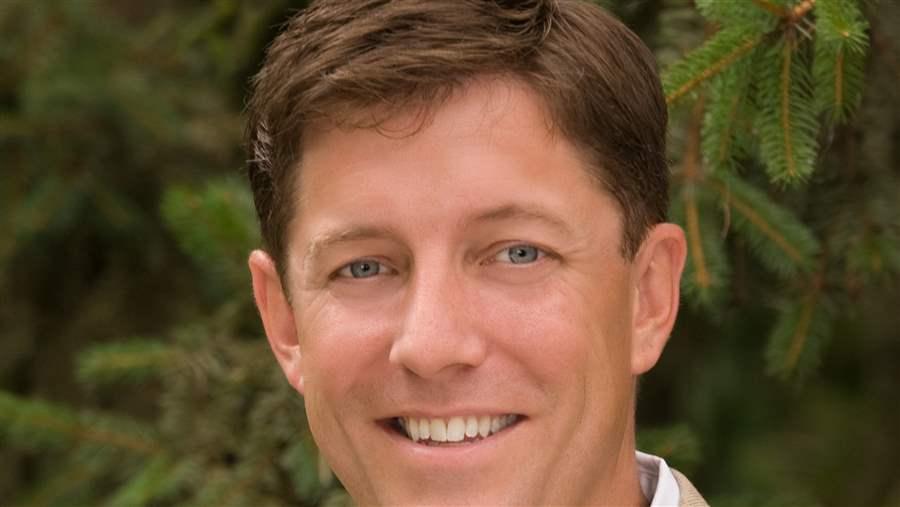 United Displaycraft
For 60 years, United Displaycraft, a family-run retail design firm and manufacturer in Des Plaines, Illinois, has been designing in-store merchandising displays for retailers from a range of industries, including food and beverage, electronics, toys, hardware, and apparel. In 2010, United Displaycraft made a commitment to clean energy and developed the largest solar installation in the state to supply energy to the company's manufacturing facilities. With 1,400 solar photovoltaic panels, the project generates almost 40 percent of the business's electricity needs.
Richard Carrigan, CEO of United Displaycraft, has seen firsthand the positive effect of clean energy technologies in reducing costs and emissions while increasing profit. He sat down with Pew's clean energy initiative to talk about the company's investment in solar power and its commitment to sustainable business operations.
Q: United Displaycraft has several ongoing environmental sustainability initiatives, such as the use of environmentally friendly products, the minimization of wasted material, and the reduction of electricity consumption. How did the company identify these initiatives and the role of clean energy?
A: With today's rising energy costs and increasing awareness of how we all affect the ecosystem, being green is more than a "tree-hugger" mentality. It's an economic, social, and business necessity. United Displaycraft is already a company that consumes tons of steel—surprisingly our planet's most recyclable raw material—as a large part of our business offering.
Back in 2008 we formed a "Green Team" of internal volunteers who were passionate about finding ways to achieve the trifecta—to reduce waste, our carbon footprint, and our costs—all at the same time. As we looked for opportunities to be more efficient in our processes, the role of renewable energy became abundantly clear. Seeing vast unused space on the roof of our manufacturing and distribution facility on a sunny summer day really opened my eyes to the opportunity to introduce solar energy to our process. And I could see the same potential for thousands of other businesses with similar warehouse roofs. Our decision to generate solar electricity at our location was solidified by customers who have in recent years been expressing their own concern about sustainability.
Q: What benefits have resulted from these initiatives?
A: The solar roof installation is just one of several ecofriendly initiatives we've implemented. In recent years, United Displaycraft has put in place such cost-saving green practices as light motion sensors, steel recycling, waterless urinals, and nonphosphate soap that doesn't needed to be heated, thereby helping reduce our consumption of electricity by 24 percent and natural gas by 36 percent. Even more impressive is the fact that these reductions occurred during a period in which we grew operations by 35 percent.
Our 1,400 solar panels alone generate up to 40 percent of the company's energy needs and result in $200,000 in annual savings, as well as a yearly reduction of 300 tons of CO2. It's equivalent to planting 7,000 trees every year.
Q: United Displaycraft expanded its investment in clean energy by doubling the size of the Chicago-area solar array from 152 KW to 366 KW (the full 1,400 solar panels). Can you describe the motivation for this investment?
A: Our first installation of rooftop solar panels in 2010 was so easy and maintenance-free—and delivered such a quick return on investment—that we decided to double down and expand our capacity. That first solar investment paid for itself in just over three years, and this time we expect that return to drop even further to less than two years. The resulting 366-KW array generates almost 40 percent of United Displaycraft's total estimated electricity needs—enough to power almost 50 average-size homes in Illinois. These investments promise to continue delivering significant savings and risk reduction for the long-term, which will help us provide services to customers more competitively.
If anyone is interested in seeing what our solar panels do on a daily basis or in learning more about the project details and background, we have a live feed from our roof.
Q: Net metering* policies and interconnection standards are the rules that govern the relationship between a renewable energy project and the electric grid. Did Illinois' net metering policies and interconnection standards affect your decision to install solar?
A: I can't pretend to be an expert on this issue, but I can say that this was a fun and interesting part of the project. Our local energy provider—ComEd—was required by law to help us with the net metering part of the project. So they replaced our standard meter with one that is able to measure what we contribute to the grid when we have excess production. Roughly six days a week, we immediately consume whatever we produce from our rooftop panels, but on Sundays when we are typically closed, any energy produced flows back into the grid to power homes near our factory. On those days, our meter actually runs backward. So, if you look at our monthly bill on a daily or weekly basis, there are days where ComEd is paying us for the power we are selling to them.
Q: Because of large federal investments, solar costs dropped 56 percent between 2008 and 2012. How much of a driver has this recent affordability been in undertaking and expanding your rooftop array?
A: It's certainly true from our perspective that costs for alternative energy have come down considerably. Photovoltaic panels are more efficient than they used to be, and they continue to get better, bringing down the cost per watt. From the time that we purchased our first panels in March 2010 until this second batch arrived in summer 2014, the overall efficiency of the panels increased by 40 percent while our cost to buy them went down 20 percent.
I think that very soon renewable energy will be less expensive than the grid over the long term, especially when federal and state incentives are considered. The increase in cost efficiency, along with the reduced risk of exposure to volatile fossil fuel prices, has tipped the scales for wider adoption of solar energy by industry. It is already profitable for us, beneficial for our customers, and great for our planet. It will become a standard way of doing business in the future, and we just want to stay ahead of that curve. The dropping costs behind the technology and continued incentives available through state and federal governments really should get a lot of companies to start considering clean energy.
Q: In a highly competitive sector such as retail and manufacturing, how are clean energy technologies giving your company an additional edge?
A: Simply put, energy is an organizational priority for us. Our efficient and responsible use of it is an extension of who we are and what we stand for as a company. In addition to helping control future operating costs, having a forward-thinking energy philosophy is much more in tune with our customers and our community. The solar roof project, for example, goes far beyond the kilowatts produced. It reflects our ongoing commitment to our environment, to our customers, and to energy efficiency. This investment will provide reliable access to clean electricity for a significant portion of our daily operations and production projects going forward. It also gives us a competitive advantage in our industry with a growing number of companies who are adopting similar standards for their own operations. As more of our customers consider how their suppliers affect the environment, United Displaycraft stands to gain.
Q: What advice would you give to other retail and manufacturing companies that are considering investing in renewable energy and energy-efficient technologies, including rooftop solar? And what do you think the role of clean energy will be in the future for retail and manufacturing industries?
A: I've actually addressed several audiences from my own industry and others on this topic, and I'm proud to say that several of my suppliers and competitors have already followed our lead in this area. If executives are genuinely forward-looking, they'll understand the need to look at new ways of using energy—for both economic and strategic reasons. Let's face it, there are a lot of warehouse roofs in the United States that could be put to much more productive use, reducing our impact on the environment and our reliance on limited fossil fuels. And it was important to us that almost all—98.6 percent—of the solar panels in our system were produced domestically.
An ever-increasing number of businesses, including large manufacturing facilities like ours, are discovering the practical benefits of implementing solar. There is no maintenance and no moving parts. They simply sit up there and produce free electricity. We saw the increased investments in solar, recycling, and other energy-efficient practices as ways to maximize the potential of our property and do business in a more efficient way for our customers. In that very real sense, it is no different than what business leaders already do: look for ways to be more productive and more profitable. Now these tools—solar, wind, geothermal, and biomass—are all available and realistic options for an increasing number of companies to start implementing.
* Net metering establishes an agreement between the business, institution, or residential customer and the utility that determines the credit due to a customer for any excess electricity delivered to the grid, while interconnection standards are legal rules and procedures for integrating a renewable energy project into the grid.